---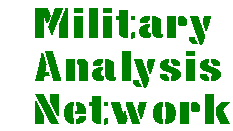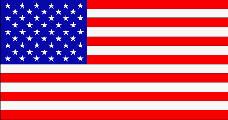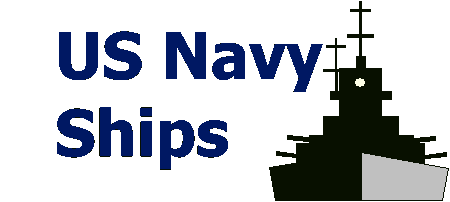 ---
FFG-7 OLIVER HAZARD PERRY-class
The Perry class FFG forms a capable undersea warfare [USW] platform with the LAMPS-III helicopter onboard. The Mk 13 Mod 4 missile launcher provides secondary anti-air capability. Ships of this class are often referred to as "FFG-7" (pronounced FIG-7) after the lead ship, U.S.S. Oliver Hazard Perry (FFG-7).

Frigates fulfill a Protection of Shipping (POS) mission as Anti-Submarine Warfare (ASW) combatants for amphibious expeditionary forces, underway replenishment groups and merchant convoys. PERRY-class frigates are primarily Undersea Warfare ships intended to provide open-ocean escort of amphibious ships and convoys in low to moderate threat environments in a global war with the Soviet Union. They could also provide limited defense against anti-ship missiles extant in the 70ís and 80ís. The ships are equiped to escort and protect carrier battle groups, amphibious landing groups, underway replenishment groups and convoys. They can also conduct independent operations to perform such tasks as counterdrug surveillance, maritime interception operations, and exercises with other nations. The addition of NTDS, LAMPS helicopters, and the Tactical Towed Array System (TACTAS) has given these ships a combat capability far beyond the class program expectations of the mid-1970's, and has made the ships an integral and valued asset in virtually any war-at-sea scenario and particularly well suited for operation in the littoral.

The Navy's fleet of PERRY-class FFG 7 frigates will remain in the fleet well into the second decade of the 21st century. The most capable FFG-7s will be retained the longest. The goal of current plans is to transform the FFG-7 force into an all SH-60 helicopter capable force by FY'03. The primary mission of the ships will remain antisubmarine warfare and escort.

While the guided missile frigates (FFG) bring an anti-air warfare (AAW) capability to the frigate mission, they have some limitations. The FFG-7 Class has good capability against (2 or less) medium and high altitude ASMs. If equipped with the SM-1 BLK VIB and Mod 6 FCS, it also has a good capability against low altitude ASMs. It features an improved 2D air search radar, and high SM-1 salvo rate against a single target. However, the cycle time for SM-1 is relatively long, and the capability against low ASMs for Mod 2/SM-1 BLK VIA ships is poor. Radar illuminator blockage zones are excessive, and the radars must illuminate target continuously during missile flight. The long range air search radar is 2D, and track capacity is limited.

Designed as cost effective surface combatants, they lack the multi-mission capability of modern surface combatants faced with multiple, high technology threats. The Perry class were originally fitted with Raytheon's AN/SLQ-32(V)2, a self-defence electronic support measures (ESM) system offering limited frequency-cover and questionable security. The SLQ-32 antennas in a Perry are carried at about 50ft above the waterline, providing an intercept range of only 23nm. Following the Iraqi air-launched Exocet attack on the USS Stark (FFG-31) on 17 May 1987 it was decided to upgrade the (V)2 installation by adding a jammer codenamed "Sidekick". The new variant was later designated SLQ-32(V)5, and to date a number of (V)2s have been brought to the new standard, including most but not all the Perrys.

The class has only a limited capacity for further growth. Despite this, the FFG-7 class is a robust platform, capable of withstanding considerable damage. This "toughness" was aptly demonstrated when USS Samuel B. Roberts struck a mine and USS Stark was hit by two Exocet cruise missiles. In both cases the ships survived, were repaired and have returned to the fleet. The FFG-7 class was designed from the keel up as a total warfare system, capable of operating independently or as an integral part of a carrier or surface action group. Innovations in high speed digital computer technology enable the on-board weapons system to instantly detect and evaluate contacts at greater ranges with minimum human interface, thus providing increased reaction time. To enhance the on-board anti-surface/anti-submarine capabilities, the new LAMPS Mark III Helicopter System adds significantly to the ship's sensor and weapons delivery range.

The Navy developed the FFG 7 class using the minimal manning concept. This concept has a profound effect on engineering organization. Supervisors must accomplish all tasks with fewer people than larger ships. Below decks, two gas turbine engines (similar the engines on the wings of a DC 10) provide power for propulsion that enables the ships to reach speeds in excess of 25 knots. Gas turbine engines are more cost effective than steam or diesel propulsion ships. These advanced propulsion units allow a ship to get underway quickly and rapidly change operating modes. The propulsion plant as well as the electrical power plant is computer controlled and monitored to ensure a smooth running and efficient system. The gas turbine engines can be started and be ready to come up to full power in five minutes. This quick reaction time allows the ship to be more maneuverable and reduces the preparation time to get underway.

PERRY-class ships were produced in two variants, known as "short-hull" and "long-hull", with the later variant being eight feet longer than the short-hull version. The long-hull ships [FFG 8, 28, 29, 32, 33, 36-61] carry the SH-60B LAMPS III helicopters, while the short-hull units carry the less-capable SH-2G. These ships have a full load displacement of that ranges from 3,658 tons to 4,100 tons, are either 445 or 453 feet in overall length, have a 45 foot beam and a draft of 22 feet. They are powered by a single shaft driven by 2 LM2500 gas turbines. Their maximum sustained speed is about 29 knots and the have a 4,200 nautical mile range at 20 knots. The ships active complement is about 15 officers and 179 enlisted personnel.

A total of 55 FFG-7 OLIVER HAZARD PERRY-class ships were built, including 51 for the US Navy and four for the Royal Australian Navy. Of these, 33 are in active commissioned service and 10 are in the Naval Reserve Force (NRF). The "short-hull" Perry-class frigates are being retired at an advanced rate, even though they have 20 years left on their life. The Navy had hoped to phase out construction of this class with the FY 83 ships, FFG 59 and 60, but Congress authorized (but did not fully fund) FFG 61 in FY 84.

Two ships of this class suffered heavy damage while patrolling in the Persian Gulf. On 17 May 1987, two Iraqi fired Exocet SSMs hit the U.S.S. Stark (FFG-31), one of which detonated near berthing spaces resulting in heavy loss of life. On 14 April 1988 the U.S.S. Samuel B. Roberts (FFG-58) struck a mine which detonated an estimated 250 pounds of TNT. The explosion heavily damaged propulsion systems and blew a nine-foot hole under the keel. In both attacks, the ships suffered intense fires aggravated by the all aluminum construction of the hull. Nevertheless, exceptional damage control efforts carried out by their crews kept both ships on the surface and enabled them to reach friendly ports in the Persian Gulf. The Stark returned to the United States on her own power and underwent repairs. The Roberts was transported to the United States on the Dutch-flag heavy-lift ship, Mighty Servant 2.

The Naval Reserve currently operates 10 Oliver Hazard Perry (FFG 7)-class frigates These ships maintain full readiness status and deploy with their Active Component counterparts when needed. One of their primary missions, which they fulfill simply by being available, is to make it possible for the Active Component to maintain its operating tempo at acceptable levels. Incidences of Reserve ships playing a part in what used to be exclusively Active force mission areas are becoming common. Perry-class frigates have been responsible for 16.3 percent of Navy steaming days in support of counter-narcotics operations and will continue to relieve the operational and personnel tempo of Active combatants by assuming more forward presence deployments. By the year 2000, seven of the 10 FFG 7s in the NRF will be modernized to Flight III baselines. These ships fulfill an important role in reducing the Active force's operational and personnel tempo by responding to contingencies such as the Haitian embargo, counter-narcotics operations, and overseas deployments.

In 1996 one FFG 7 supported Baltic Sea operations, two served in the Western Pacific for Carat 96, and three others patroled the Caribbean in counter-narcotics operations. One Reserve FFG (USS Wadsworth) to deploy in support of Carat 97, one FFG (USS Estocin) participated in BALTOPS 97.
Specifications

Power Plant
2 - General Electric LM 2500 gas turbine engines
1 shaft, 41,000 shaft horsepower total.
Length
Short: 445 feet (133.5 meters)
Long: 453 feet (135.9 meters) with LAMPS III modification
Beam
45 feet (13.5 meters)
Displacement
4,100 tons (full load)
Speed
29 plus knots (33.4+ miles per hour)
Aircraft
Long: Two SH-60 (LAMPS III) in FFG 8, 28, 29, 32, 33, 36-61
Short: One SH-2F (Lamps Mk-I) in FFG 9-27,30, 31,34.
Crew
ACTIVE: 13 Officers, 287 Enlisted
NRF: 83 Active, 76 TAR, 57 SELRES
Armament
Standard Missile (MR)
Harpoon (from Standard Missile Launcher)
6 - MK-46 torpedoes(from two MK 32 SVTT triple mounts)
1 - 76 mm (3-inch)/62 caliber MK 75 rapid fire gun
1 - Phalanx close-in-weapons system
Combat Systems
AN/SPS-49 Air Search Radar
AN/SPS-55 Surface Search Radar
Mk92 Fire Control System
AN/SLQ-32 Electronics Warfare System
AN/SQS-56 Sonar
Mk36 SRBOC Decoy System
AN/SQR-19 Towed Array Sonar System
AN/SQQ-89 ASW Integration System
Unit Operating Cost
Annual Average
$16,000,000 [source: [FY1996 VAMOSC]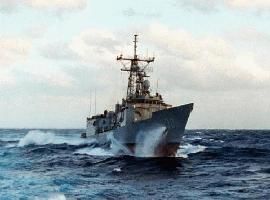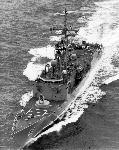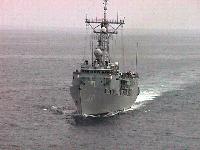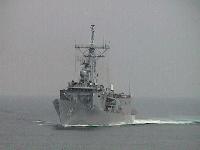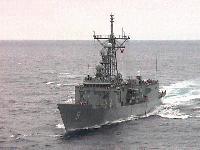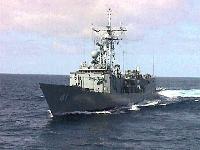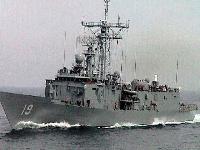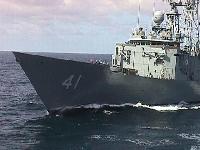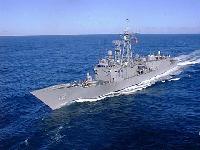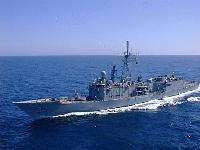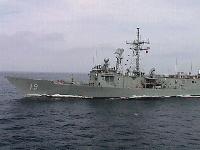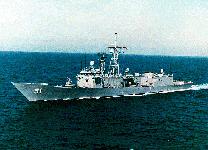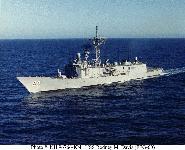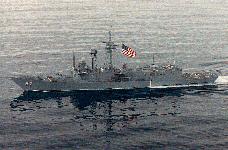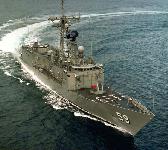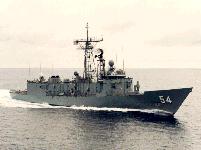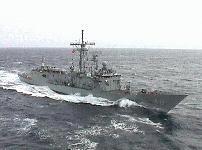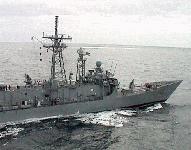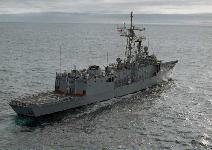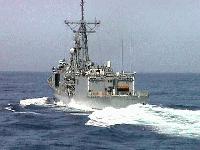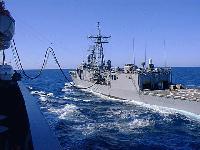 Sources and Resources
---
---
http://www.fas.org/man/dod-101/sys/ship/ffg-7.htm
Maintained by Robert Sherman
Originally created by John Pike
Updated Monday, February 14, 2000 4:50:53 PM