---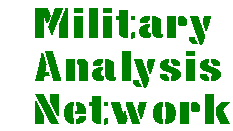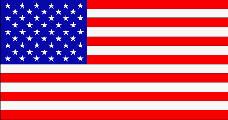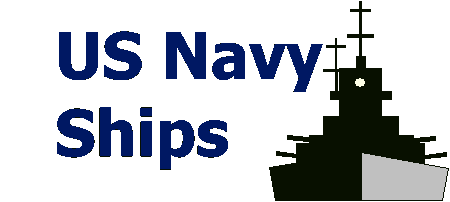 ---
LHA-1 Tarawa class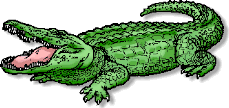 The primary war-fighting mission of the LHA-1 Tarawa class is to land and sustain United States Marines on any shore during hostilities. The ships serve as the centerpiece of a multi-ship Amphibious Readiness Group (ARG). Some 3,000 Sailors and Marines contribute to a forward-deployed ARG composed of approximately 5,000 personnel. The ships are designed to maintain what the Marine Corps calls "tactical integrity" - getting a balanced force to the same place at the same time. One LHA can carry a complete Marine battalion, along with the supplies and equipment needed in an assault, and land them ashore by either helicopter or amphibious craft. This two pronged capability, with emphasis on airborne landing of troops and equipment, enables the Navy and Marine Corps to fulfill their present-day mission. Whether the landing force is involved in an armed conflict, acting as a deterrent force in an unfavorable political situation or serving in a humanitarian mission, the class offers tactical versatility.

The Tarawa class is designed to operate independently or as a unit of a force, as a flagship or individual ship unit in both air and/or surface assaults, these ships are key elements of the amphibious assault forces for the Navy. They incorporate the best design features and capabilities of several amphibious assault ships currently in service: the Amphibious Assault Ship (LPH), Amphibious Transport Dock (LPD), Amphibious Cargo Ship (LKA), and Dock Landing Ship (LSD).

A capital ship, the Tarawa class can simultaneously fulfill six war-fighting requirements: flagship for embarked amphibious squadron, flag or general officer staff; aircraft carrier, with a 35-aircraft complement including AV-8B fighter/attack V/STOL Harrier jets, AH-1 helicopter gunships, CH-53E Super Sea Stallion "heavy lift" and CH-46D/E Sea Knight helicopters; amphibious assault launching platform, employing a variety of surface assault craft including the Navy's newest 40+ knot LCAC, 135-foot Landing Craft Utility (LCU), and other amphibious assault vehicles; hospital ship, equivalent to the nation's finest local hospitals with 17 ICU beds, 4 operating rooms, 300 beds, a 1,00-unit blood bank, full dental facilities, and orthopedics, trauma, general surgery, and x-ray capabilities; command and control (C4I) ship, with the Navy's most sophisticated SHF and EHF satellite communications capability; and assault provisions carrier able to sustain embarked forces with fuel, ammunition and other supplies.

The LHA's full length flight deck can handle ten helicopters simultaneously, as well as the AV-8 HARRIER jump-jet aircraft and OV-10 BRONCO fixed-wing turboprop reconnaissance aircraft. There is also a large well deck in the stem of the ship for a number of amphibious assault craft, both displacement hull and air cushion. Although the LHA usually doesn't carry Landing Craft, Air Cushioned (LCAC) boats onboard, they frequently operate with them and control them.

The ships have an extensive command, communication and control suite. These electronic systems give the amphibious task force commander nearly unlimited versatility in directing the assault mission. The heart of the LHA's electronic system is a tactical amphibious warfare computer which not only keeps track of the landing force's positions after leaving the ship, but tracks enemy targets ashore. With current information on troop positions in relation to enemy targets, the tactical data system can also direct the targeting of the guns and missiles from the ship as well as the support ships. Additionally, the system maintains air and surface traffic control during the landing not only for her own helicopters and assault craft, but for the combat air control and task force support ships as well.

Nearly three football fields in length and 20 stories high, these ships are capable of embarking 3,000 Sailors and Marines when deployed. The ship's two-acre flight deck, 18,519 square-foot hangar deck, and 250-foot well deck enable an embarked landing force to accomplish its mission around the globe. Two-marine boilers provide steam to the turbines which drive the twin screw ship, providing 70,000 total shaft horsepower. The ships have a range of 10,000 miles at a speed of 20 knots.

The ships have an extensive mechanical system for vertical and horizontal movement of containerized and palletized supplies from deep cargo holds to assault craft or helicopters. A system of five centerline elevators, conveyor lines and a monorail system move cargo and supplies. Two large elevators, one aft and one portside, move aircraft and equipment from the hangar deck to the flight deck. Wheeled vehicles, trucks, jeeps and tanks can be driven or pulled from any deck level storage position via inclined ramps to either awaiting craft in the well deck or helicopters on the flight deck.

BELLEAU WOOD participated in her first full-scale operation in 1979 off the coast of Hawaii. BELLEAU WOOD's third successful SEVENTH Fleet deployment ran from January to July 1984. The ship then completed an 11-month complex overhaul at Puget Sound Naval Shipyard, Bremerton, Washington. BELLEAU WOOD entered her second complex overhaul in Long Beach California in 1990. Major work included an upgrade to CIWS and installation of the Rolling Airframe Missile System.

Four additional units were canceled in 1971.

The Navy's current plan is to conduct a service life extension program (SLEP) overhaul on the Tarawa class amphibious assault ships when they reach the 35 year point in their operating life. The SLEP would provide another 15 years of life at a cost of nearly $1.0 billion per SLEP. The SLEP would extend the machinery operating life and provide communications upgrades. However, stability would remain a main concern and the LHA has limited capabilities to support 21st century littoral warfare systems such as the landing craft air cushion (LCAC) and MV-22 Osprey tilt-rotor aircraft.
Specifications

Power Plant
Two boilers, two geared steam turbines, two shafts, 70,000 total shaft horsepower
Length
778 feet (237.1 m) waterline
820 feet (249.9 m) overall
Beam
Extreme Beam: 106 ft
Waterline Beam: 106 ft
Draft
Maximum Navigational Draft: 26 ft
Draft Limit: 27 ft
Displacement
Light Displacement: 26255 tons
Full Displacement: 39925 tons
Dead Weight: 13670 tons
Speed
24 knots (27.6 miles per hour)
(22 knots sustained)
Aircraft
(Actual mix depends upon mission) 6 AV-8B Harrier attack planes
4 AH-1W SuperCobra attack helicopter
12 CH-46 Sea Knight helicopters
9 CH-53 Sea Stallion helicopters
4 UH-1N Huey helicopters


---

OR
6 AV-8B Harrier attack planes
12 CH-46 Sea Knight helicopters
9 CH-53 Sea Stallion helicopters
Boats
2 LCU
1 LCAC
4 LCPL
Elevators
1 deck edge (40,000-pound capacity)
1 stern (80,000-pound capacity)
Crew
Ships Company: 82 officers, 882 enlisted
Marine Detachment 1,900 plus
Armament
2 - 21 Cell Rolling Airframe Missile (RAM)
4 - 25mm MK38 Gun Mounts
2 - 20-mm Close In Weapons System Block 1
5 - .50 Cal Mounts
2 - SLQ-25 NIXIE
6 - Mk 36 Super Rapid-Blooming Off Board Chaff System (SRBOC)

Sensors:
Mk-23 Target Acquisition System (TAS) Mod 5
SPS-67 surface search radar
SPS-40E air search radar
SPS-48E 3-D air search radar
SPS-64 navigation radar
SPN-35A aircraft control/approach radar
SPN-43C aircraft control/approach radar
SLQ-32(V)3 electronic warfare suite
URN-25 TACAN
Furuno navigation radar
Unit Operating Cost
Annual Average
$75,000,000 [source: [FY1996 VAMOSC]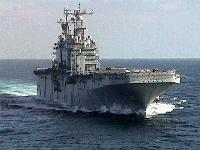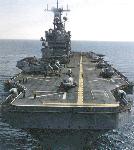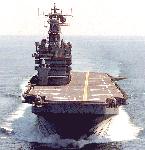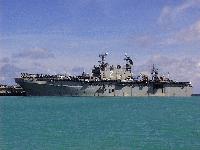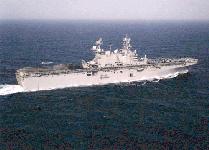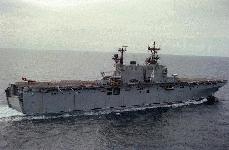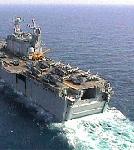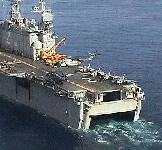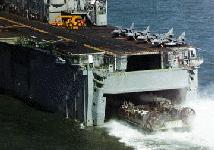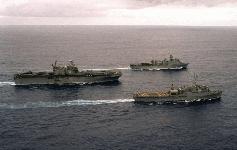 Sources and Resources
FY1996 Ships Class Average Report Navy Visibility and Management of Operating and Support Costs (VAMOSC)
TARAWA --Back in Action COMNAVSURFPAC Press Release 99-343 -- After nearly a year of replacing decks, installing new equipment and renovating spaces, the crew of the TARAWA participated in this year's amphibious operations training exercise.
---
---
http://www.fas.org/man/dod-101/sys/ship/lha-1.htm
Maintained by Robert Sherman
Originally created by John Pike
Updated Saturday, October 30, 1999 10:48:02 AM