---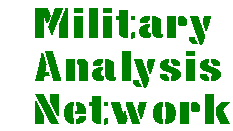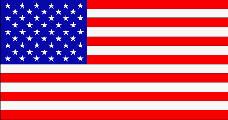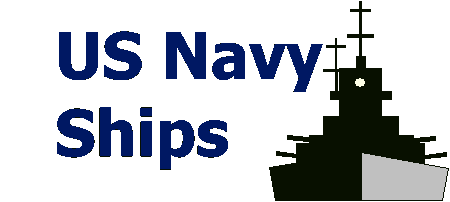 ---
Landing Craft Utility (LCU)
Landing craft are used by amphibious forces to transport equipment and troops to the shore. They are capable of transporting tracked or wheeled vehicles and troops from amphibious assault ships to beachheads or piers. The use of landing craft in amphibious assault dates from World War II. The craft are carried aboard amphibious assault ships to the objective area. The mission of the LCU is to land/retrieve personnel and equipment (tanks, artillery, equipment, motor vehicles) during amphibious operations. LCU's are scheduled to land personnel and equipment after the initial assault waves of an amphibious operation. The LCU has the capability of sustained sea operations for approximately seven days. Each LCU has its own galley and berthing spaces.
LCU 1610, 1627 and 1646 Class
The LCUís built in the 1970s are 135 feet long and can hold 11 crew members. Although the Navy now has a newer craft, the Landing Craft Air Cushion (LCAC), the LCUs have the backbone for heavier loads. It can carry 180 tons of equipment or 400 combat equipped Marines. Its development and design updated the landing craft used in World War II, made famous by the invasion of Normandy Beach and immortalized in numerous news reels and movies. However, the LCU requires a 9 foot draft beneath itís keel to operate safely, making it less versatile than the LCAC, which flies on top of water or ground. Another difference between the two landing craft is the LCU is home away from home for its crew, because it can operate independent of the amphibious ships on which it embarks. It contains living compartments that include sleeping quarters, a wash room with shower, a clothes washer and dryer, a lounge with a television and a complete galley.

The 189 ton LCU are designed to carry 3 M-60 tanks, as many as 450 combat equipped troops or a variety of other support equipment such as surf cranes, bulldozers, trucks or artilleries. An LCU has a complement of a ten man crew consisting of a Radioman, Engineman, Electricians, Mess Management Specialist, Quartermasters and Boatswainmate, under the command of a Chief or First Class Craftmaster. The Craftmaster is wholly responsible for this craft and crew.

Assault Craft Unit ONE located at the Naval Amphibious Base Coronado CA is the only assault craft unit in the Pacific Fleet. It's Atlantic Fleet counterpart ACU TWO is located at the Naval Amphibious s Base, Little Creek VA. During the mid-60's, ACU-1 received the first Landing Craft Utility. ACU-1 operates 18 LCU, of three classes, 1627, 1610 and 1646. ACU-1 is an element of the Naval Beach Group ONE. The mission of Assault Craft Unit ONE Is to operate, maintain and provide assault craft as required by the Amphibious Task Force Commander for water borne ship to shore movement during and after and amphibious assault. ACU-l works together with it's sister commands, Amphibious Construction Battalion ONE and the Beachmaster Unit ONE to fulfill a variety of missions and tasks. ACU-l's various tasks regularly include the provision of assault craft in support of the landing of a Marine Amphibious Brigade and a Marine Amphibious unit simultaneously over one colored and one numbered beach. ACU-1 also provides assault craft for assault operations within short distances of the assault beaches, and for transportation and installation of the amphibious assault bulk fuel system.
LCU 2000
The LCU 2000 moves containers/general/ vehicular cargo. It is used for unit deployment and relocation. It has a bow ramp for Roll-on/Roll-off cargo, and a bow thruster to assist in beaching and beach extraction. The LCU 2000 can carry cargo from deep draft ships to shore ports or areas too shallow for larger ships. The LCU-2000 provides worldwide transport of combat vehicles and sustainment cargo, as well as intratheater movement and can execute cargo operations along coastal MSRs. It is capable of receiving cargo from a ship anchored in the stream and transporting that cargo to shore for discharge over the bow ramp. Because of its shallow draft, the LCU can carry cargo from deep drafted ships to shore ports or areas too shallow for larger ships.
Specifications

LCU-1600
LCU-2000
Length overall
135 feet
174 feet
Beam
42 feet
Draft
8 feet (light)
9 feet (loaded)
Displacement
375 tons
575 long tons (light)
1087 long tons (loaded)
Deck area
2,500 square feet (5 M1 Main Battle Tanks or 12 [24 double stacked] 20í ISO containers)
Payload
170 tons of cargo,
3 tanks or 400 troops
350 tons (equivalent payload of 8 C-17 loads)
Propulsion
Diesel
Range
10,000 nautical miles at 12 knots (light)
6,500 nautical miles at 10 knots(loaded)
Crew size
11
13
Avg. age
6 yrs
Estimated Useful Life - 25 yrs
Inventory
Army = 34 on-hand,
47 required (funded in POM)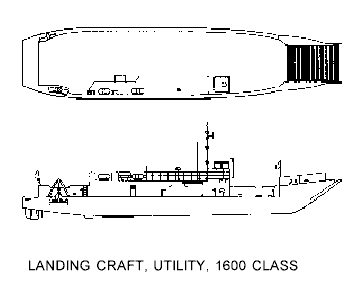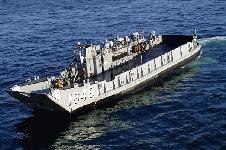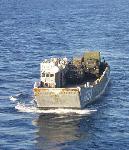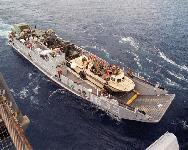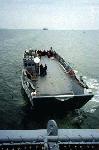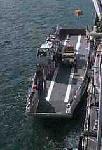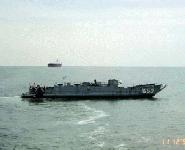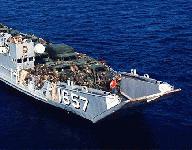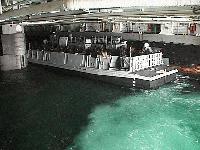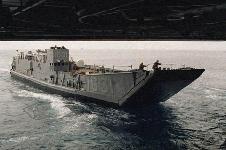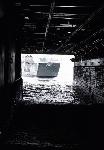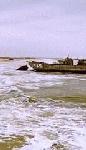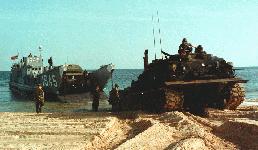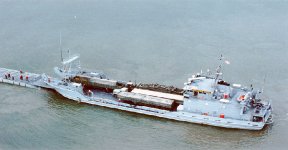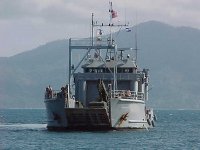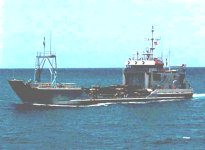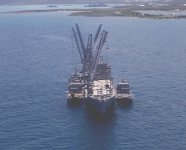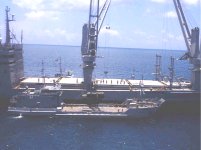 Sources and Resources
---
---
http://www.fas.org/man/dod-101/sys/ship/lcu.htm
Maintained by Robert Sherman
Originally created by John Pike
Updated Sunday, March 07, 1999 9:20:07 AM