---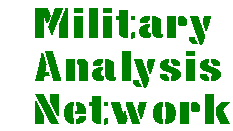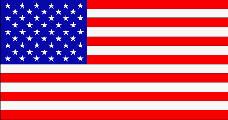 ---
UH-1 Huey Helicopter

The most widely used military helicopter, the Bell UH-1 series Iroquois, better known as the "Huey", began arriving in Vietnam in 1963. Before the end of the conflict, more than 5,000 of these versatile aircraft were introduced into Southeast Asia. "Hueys" were used for MedEvac, command and control, and air assault; to transport personnel and materiel; and as gun ships. Considered to be the most widely used helicopter in the world, with more than 9,000 produced from the 1950s to the present, the Huey is flown today by about 40 countries.

Bell (model 205) UH-1D (1963) had a longer fuselage than previous models, increased rotor diameter, increased range, and a more powerful Lycoming T53-L-11 1100 shp engine, with growth potential to the Lycoming T53-L-13 1400 shp engine. A distinguishing characteristic is the larger cargo doors, with twin cabin windows, on each side. The UH-1D, redesigned to carry up to 12 troops, with a crew of two, reached Vietnam in 1963. The UH-1D has a range of 293 miles (467km) and a speed of 127 mph (110 knots). UH-1Ds were build under license in Germany. UH-1D "Hueys" could be armed with M60D door guns, quad M60Cs on the M6 aircraft armament subsystem, 20mm cannon, 2.75 inch rocket launchers, 40mm grenade launcher in M5 helicopter chin-turret, and up to six NATO Standard AGM-22B (formerly SS-11B) wire-guided anti-tank missiles on the M11 or M22 guided missile launcher. The UH-1D could also be armed with M60D 7.62mm or M213 .50 Cal. pintle-mounted door guns on the M59 armament subsystem. The MedEvac version UH-1V could carry six stretchers and one medical attendant. Bell (model 205A-1) UH-1H (1967-1986) was identical to the UH-1D but was equipped with an upgraded engine that allowed transport of up to 13 troops. The UH-1H has a two-bladed semi-rigid seesaw bonded all metal main rotor and a two-bladed rigid delta hinge bonded all metal tail rotor. The UH-1H is powered by a single Lycoming T53-L-13B 1400 shp turboshaft engine. More UH-1H "Hueys" were built than any other model. The UH-1H was licensed for co-production in the Republic of China (Taiwan) and in Turkey. UH-1H "Nighthawk" was equipped with a landing light and a pintle mounted M134 7.62mm "minigun" for use during night interdiction missions. The AH-1G Cobra was often flown on night "Firefly" missions using the UH-1H "Nighthawk" to locate and illuminate targets.

The UH-1N is a twin-piloted, twin-engine helicopter used in command and control, resupply, casualty evacuation, liaison and troop transport. The Huey provides utility combat helicopter support to the landing force commander during ship-to-shore movement and in subsequent operations ashore.he aircraft can be outfitted to support operations such as command and control with a specialized communication package (ASC-26), supporting arms coordination, assault support, medical evacuation for up to six litter patients and one medical attendant, external cargo, search and rescue using a rescue hoist, reconnaissance and reconnaissance support, and special operations using a new navigational thermal imaging system mission kit.
The goal of the USMC H-1 Upgrades Program is to achieve a platform that meets the growing needs of the Marine Corps. The 4BW and 4BN will be an upgraded version of the current AH-1W and UH-1N Helicopters. The 4BW and 4BN will share a common engine, Auxiliary Power Unit, four-bladed main and tail rotor system, transmission, drive train, and tail boom. The purpose of these modifications is to achieve commonality in both aircraft, thereby reducing logistical support, maintenance workload, and training requirements. The replacement of the two bladed rotor system with a common four bladed rotor system will achieve improved performance, reliability, and maintainability. The addition of an infrared suppresser to the aircraft will improve survivability. The 4BW will also include a newly developed cockpit, which will result in nearly identical front and rear cockpits that simplify operator and maintainer training and maintenance.
Specifications

Primary function
Utility helicopter
Manufacturer
Bell Helicopter Textron
Power plant
Pratt and Whitney T400-CP-400
Power
Burst: 1290 shaft horsepower (transmission limited)
Continuous: 1134 shaft horsepower (transmission limited)
Length
57.3 feet (17.46 meters)
Height
14.9 feet (4.54 meters)
Rotor Diameter
48 feet (14.62 meters)
Speed
121 knots (139.15 miles per hour) at sea level
Ceiling
14,200 feet (4331 meters)
(limited to 10,000 feet (3050 meters) by oxygen requirements)
Maximum takeoff weight
10,500 pounds (4,767 kilograms)
Range
172 nautical miles (197.8 miles)
Crew
Officer: 2
Enlisted: 2
Armament
M-240 7.62mm machine gun or
GAU-16 .50 caliber machine gun or
GAU-17 7.62mm automatic gun
All three weapons systems are crew-served, and the GAU-2B/A can also be controlled by the pilot in the fixed forward firing mode.
The helicopter can also carry two 7-shot or 19-shot 2.75" rocket pods.
Introduction date
1971
Unit Replacement Cost
$4,700,000
Marine Corps Inventory
107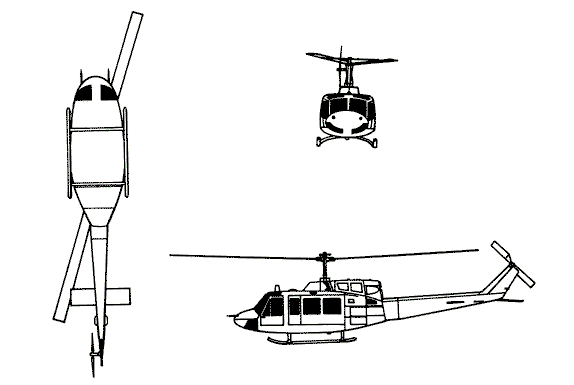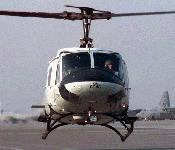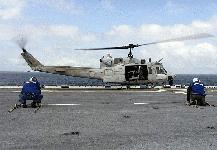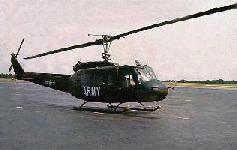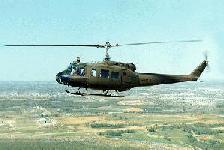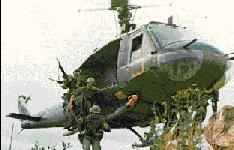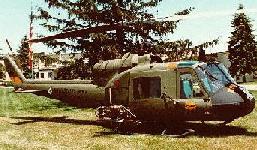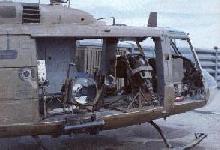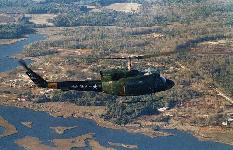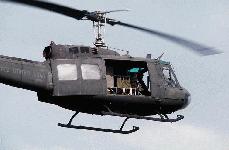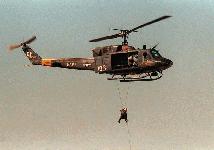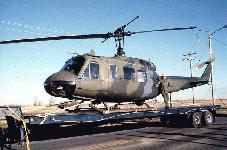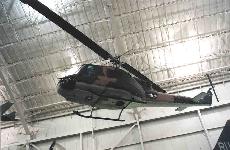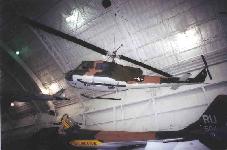 UH-1N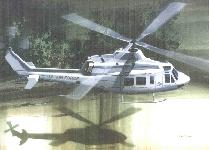 Sources and Resources
---
---
http://www.fas.org/man/dod-101/sys/ac/uh-1.htm
Maintained by Robert Sherman
Originally created by John Pike
Updated Friday, March 12, 1999 7:56:18 PM