---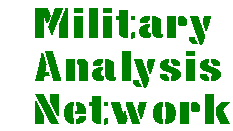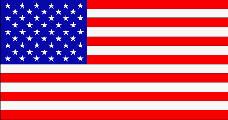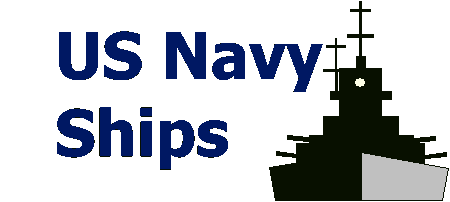 ---
LPD 4 Austin class
The LPD 4 Austin class of ship combines the functions of three different classes of ships; the landing ship (LSD), the tank landing ship (LST), and the attack cargo ship (LKA). The Amphibious Transport, Dock, is used to transport and land Marines, their equipment and supplies by embarked landing craft or amphibious vehicles augmented by helicopters in amphibious assault. Although their capabilities are less than those of the new LSD-41 class, the ships of the Austin class, built between 1965-1971, were considered sufficiently modern to have their service lives extended, and the Navy had planned to inaugurate an overhaul program for all 11 of them commencing in early 1988. Their modernization could have extended their service lives to 2005. However, Congress did not authorize funding for the program. Although the predecessor LPD-1 Raleigh class was retired after three decades of service, the ships of this class will remain in service for nearly four decades until they are replaced by the LPD-17 class beginning in 2003.

These ships are configured as a flagship and provide extensive command, control and communications facilities to support an Amphibious Task Force Commander and Landing Force Commander. In an amphibious assault, the ship would normally function as the Primary Control Ship that would be responsible for coordinating boat waves and vectoring landing craft to the beach.

A secondary mission is evacuation and civilian disaster relief. Hundreds of tons of relief materials can be carried aboard and can be delivered to disaster victims within minutes of the ship's arrival on the scene. The ships' medical and dental facilities can provide limited hospitalization care, as well as out-patient treatment for hundreds of sick or injured. USS SHREVEPORT departed Norfolk VA on June 8, 1998 as for Exercise MARCOT/Unified Spirit. SHREVEPORT, acting as Advanced Force Command ship, along with several other ships, was a test platform for the new Joint Countermine Application (JCA). JCA is a JMCIS application being developed to support all aspects of countermine warfare. The JCA's functions include collection and distribution of the mine countermeasure picture, allowing units to receive and analyze data. The ships have has a large flight deck for helicopter operations and a well deck that carries amphibious landing vehicles. The ships can carry one landing craft air cushion (LCAC), or one utility landing craft (LCU) boat, or four mechanized landing craft (LCU), and six CH-46 amphibious transport helicopters, or three CH-53 helicopters, and over 800 combat troops. They can also cary 2,000 tons of supplies and equipment, all in addition to her crew of 400 officers and enlisted men. The LPD 4 Austin class has a helicopter platform built over a well deck in the rear of the vessel. This provides the tactical advantage of being able to lift troops, their combat equipment and supplies onto the same ship. Therefore, the ship contributes to all phases of the amphibious assault. The well decks are upper and lower vehicle storage areas, which hold most of the embarked troops' heavy combat equipment, such as tanks, tracked amphibious landing vehicles (AAV), jeeps and trucks. The well deck is capable of holding one (1) LCU or one (1) LCAC and two (2) LARC-5. A mix of LCM-8 and LCM-6 is possible up to four (4) LCM-8 or two (2) LCM-8 and three (3) LCM-6. To facilitate the docking and loading of various sized landing craft, the ship can ballast down in the water, thereby flooding the well deck with enough water to enable the landing craft to enter the well deck through the stern gate door. Once docked inside the well deck, troops, supplies and combat equipment can be loaded into or off of the amphibious boats and vehicles while simultaneously transporting troops and equipment via helicopter from the flight deck.

The ships can simultaneously land or launch two (2) H-1, H-2 , H-3, CH-46, CH-53 type aircraft from the landing spots on the flight deck. The ship is certified for expanded flight deck operations and four (4) H-1 or two (2) H-1 and one (1) H-46 type aircraft can be on deck and turning at the same time. All helicopters will be launched or landed one at a time. One AV-8 can be landed under VFR conditions during daylight hours only.

Propulsion consists of two Foster Wheeler 600 psi boilers, powering two De Laval GT turbines, driving two propellers, providing 12,000 Shaft Horsepower (SHP) each. The four electrical power generators, which are powered by the steam from the boilers, can generate enough electricity to power a city of 26,000 people. The ships have laundry and pressing services, barbershop, ship's store, disbursing, administration, post office, library, welding shop, machinery repair shop, valve shop, diesel engine repair shop, AC&R shop, two evaporators capable of 25,000 gallons of water a day, each. The ships have their own doctor and dentists, with a twelve bed medical ward, bacteriological laboratory, X-ray facilities, sterilizing room and dental operatory. Storerooms and refrigerated spaces, can subsist 1,500 crew members for 60 days, or 500 men for 90 days.
Specifications

Power plant
Two boilers, two steam turbines, two shafts, 24,000 shaft horsepower
Length
Overall Length: 569 ft
Waterline Length: 548 ft
Beam
Extreme Beam: 105 ft
Waterline Beam: 84 ft
Draft
Maximum Navigational Draft: 22 ft
Draft Limit: 23 ft
Ballasted: 34 feet
Displacement
Light Displacement: 9201 tons
Full Displacement: 16914 tons
Dead Weight: 7713 tons
Speed
21 knots (24.2 mph, 38.7 kph)
Aircraft
Up to six CH-46 Sea Knight helicopters
Well Deck Capacity:
1 - Landing Craft, Air Cushion (LCAC), or
1 - Landing Craft, Utility (LCU), or
4 - LCM-8 Landing Craft, Mechanized (LCM), or
9 - LCM-6 Landing Craft, Mechanized (LCM), or
24 AAV Amphibious Assault Vehicle
Crew
Ship's Company: 420 (24 officers, 396 enlisted)
Marine Detachment: 900
Combat Systems
SPS-40 - Air Search Radar
SPS-60 - Surface Search Radar
SPS-64 - Navigational Radar
Furuno - Navigational Radar
Armament
2 - 25mm Mk 38 guns
2 - Phalanx CIWS
8 - .50-calibre machine guns.
Unit cost
$235-419 million
Unit Operating Cost
Annual Average
~$22,500,000 [source: [FY1996 VAMOSC]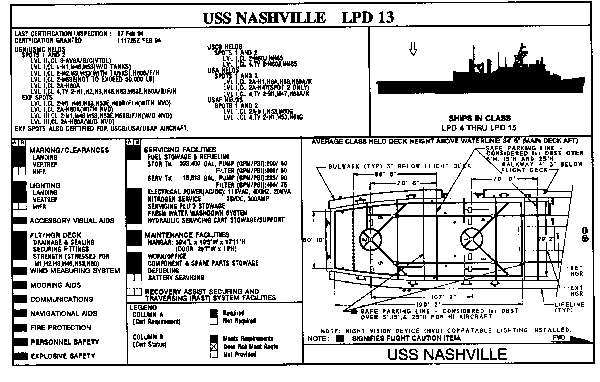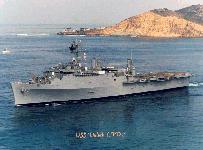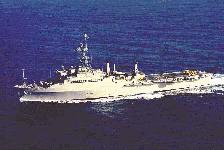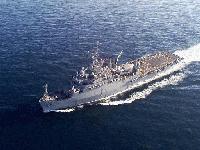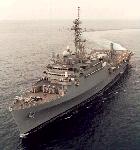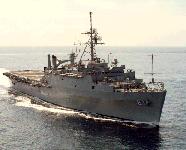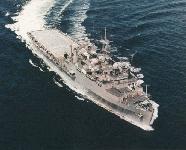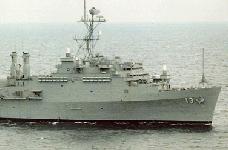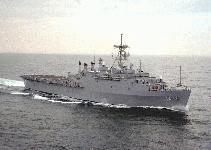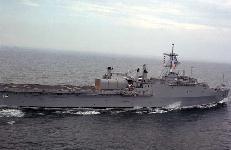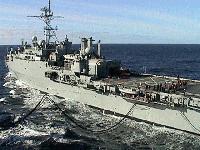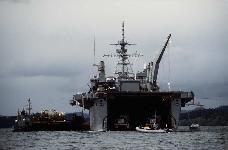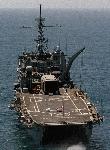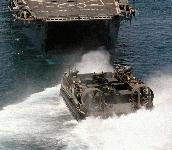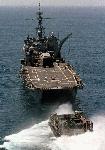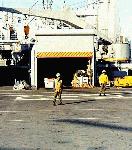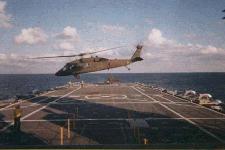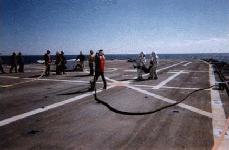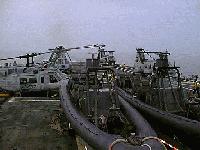 Sources and Resources
---
---
http://www.fas.org/man/dod-101/sys/ship/lpd-4.htm
Maintained by Robert Sherman
Originally created by John Pike
Updated Saturday, October 30, 1999 10:48:02 AM