AIRCRAFT CARRIERS
---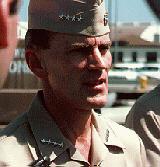 A carrier battle group provides the National Command Authority and warfighting
Commanders-in-Chief with a flexible force to respond to a wide variety of international
challenges. An aircraft carrier represents four and one-half acres of sovereign -
and mobile - American territory that can project U.S. power wherever it might be
required. Maintaining the carrier force requires a carefully crafted plan that combines
new construction with the preservation of existing carrier assets.




THE AIRCRAFT CARRIER PLAN: A DUAL-TRACK STRATEGY
To support a continuous forward presence in the "strategic hubs" of the Mediterranean Sea, Indian Ocean, and western Pacific Ocean would require 15 aircraft carriers. Presently, a force of 12 aircraft carriers (11 active and one operational reserve) meets this requirement at an acceptable level of risk. The current carrier replacement plan, depicted in the accompanying chart, shows how the Navy will preserve and modernize its carrier force in the future.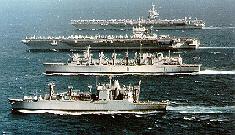 A comprehensive plan to modernize our aircraft carrier force for the next century is based on a dual-track strategy. This strategy includes the modernization of existing carriers and the addition of new ships to the force, creating a phased replacement plan that maintains essential capabilities and force structure. The "near-term" element of the dual- track strategy is the procurement of the tenth and final Nimitz-class carrier, CVN 77, in FY 2002. Scheduled for commissioning in 2008, CVN 77 will replace the conventionally powered USS Kitty Hawk (CV 63) after 47 years of service. CVN 77 will be a "smart" transition ship, incorporating new technologies resulting from research and development efforts that are currently underway.
The second element of the dual-track strategy is the design of an entirely new class of aircraft carriers, now referred to as CVX. CVX is being designed on a "clean sheet of paper," but will retain the core capabilities resident in our carriers today. CVX will feature improved characteristics in selected areas, such as launch and recovery equipment, flight deck layout, C4I systems, information networks and propulsion systems. These ships also will incorporate features that will make them more affordable to operate. The lead CVX will be procured in FY 2006, and will enter service in FY 2013.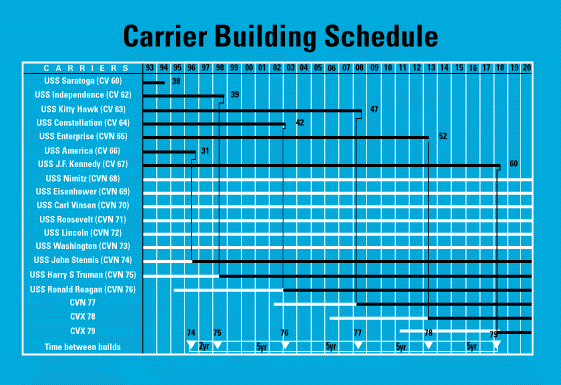 CARRIER MODIFICATIONS AND IMPROVEMENTS
Major improvements and equipment upgrades to existing ships' systems will continue to keep our current carrier force ready to meet the challenges of the future. We are also revamping our maintenance plans, decreasing the number of long-term shipyard maintenance periods our carriers must undergo.

Nimitz-class carriers are transitioning from the Engineering Operating Cycle (EOC) to the Incremental Maintenance Plan (IMP). The IMP supports the demanding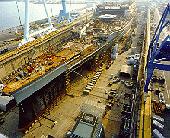 carrier operation schedule, and also contributes to steadier, less volatile workloads at both public and private shipyards. These new shipyard periods - called Planned Incremental Availabilities (PIA) and Docking Planned Incremental Availabilities (DPIA) - should last approximately six months and 10 months, respectively. Longer availabilities will still be required for some maintenance evolutions. In 1998, for instance, USS Nimitz (CVN 68) will commence a three-year Refueling Complex Overhaul (RCOH) at Newport News Shipbuilding. The later ships of the class will also be refueled and overhauled at regular intervals following the completion of Nimitz's RCOH.
Carrier upgrades and modifications continue to increase the operational effectiveness, technical efficiency, and maintainability of our carrier force. In the area of command and control, USS Dwight D. Eisenhower (CVN 69) recently received the CEC system in conjunction with the Advanced Combat Direction System Block 1. Permanent Extremely High Frequency (EHF), Super High Frequency (SHF) including Commercial "C" Band Challenge Athena III, and upgraded Ultra High Frequency (UHF) satellite communication suites provide vastly improved access to information databases worldwide. Link 16/JTIDS, being installed in all carriers, provides a new dimension in tactical information exchange. Numerous processing and display system upgrades will ensure that our joint planners, decision makers, and warfighters in carriers have near real time access to the latest data available.
Radar upgrades continue to increase the reliability of current systems and improve their maintainability and performance in littoral operating areas. Plans are in place to upgrade the aircraft carrier's self-defense weapons mix. AN/SPS-48E radars were recently installed on USS Abraham Lincoln (CVN 72) and USS George Washington (CVN 73). The AN/SPQ-9B horizon search radar will replace the currently installed Target Acquisition System. The Evolved Sea Sparrow Missile will be the successor to the RIM-7P Sea Sparrow ship self-defense missile system.
In the area of aircraft launch and recovery systems, the Improved Carrier Optical Landing System, which includes the Improved Fresnel Lens Optical Landing System and the Long-Range Line-up System will provide optical displays so that the pilot can make early corrective actions to prevent landing accidents and improve aircraft boarding rates.
Other upgrades of carrier systems are more prosaic, but are also critical to the performance of carriers and their crews. For instance, during a recent complex overhaul, Eisenhower received an additional air conditioning plant as well as upgrades to the chilled water distributive system. These same modifications have also been performed in Lincoln, and are scheduled for USS Carl Vinson (CVN 70) and USS Enterprise (CVN 65) during their next availabilities.
Aircraft carriers are also being modified to make them more environmentally "friendly." As part of our Pollution Control Program, R12 refrigerant conversions began in FY 1996 on Lincoln; this upgrade will be incorporated on all carriers by the year 2000. R114 refrigerant conversions will take place from FY 2000 through FY 2005. Planning is also underway for the installation of oily water separators and plastic waste processors in all carriers.
These upgrades, and the construction of new ships incorporating emerging technologies and concepts, will ensure that the United States maintains a combat-ready carrier force, one that can spearhead the Navy's forward presence, crisis-response, and warfighting efforts well into the 21st century.


System Overview

Safety

Affordable Avionics

C4/ISR

Aircraft Carriers

Carrier Air Wings

F-14 Tomcat

F/A-18 Hornet

Joint Strike Fighter

Airborne Reconnaissance Vision

E-2C Hawkeye

S-3B Viking

ES-3A Shadow

Common Support Aircraft

EA-6B Prowler

Helicopter Master Plan

Marine Corps Fixed-Wing Aircraft

Marine Corps Rotary-Wing Aircraft

P-3C Orion

EP-3E Aries II

E-6A/B Mercury

Air-to-Air Missiles

Air-to-Ground Weapons

Air-to-Subsurface Weapons

Naval Reserve Aviation

Logistics Airlift

Training Aircraft

Aircrew Training

Aviation Specialized Skills Training

Logistics

Expeditionary Airfields

Air Traffic Control

Ranges and Airfields