---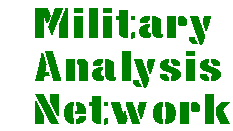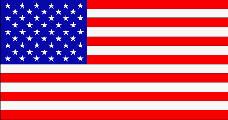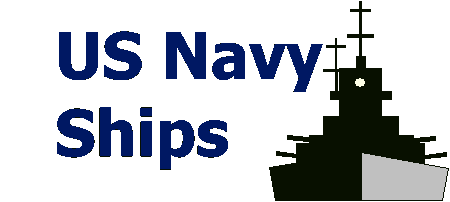 ---
LSD-41 Whidbey Island class
Dock Landing Ships support amphibious operations including landings via Landing Craft Air Cushion (LCAC), conventional landing craft and helicopters, onto hostile shores. These ships transport and launch amphibious craft and vehicles with their crews and embarked personnel in amphibious assault operations.

The LSD 41 is a modified version of the LSD 36 class with design efforts directed to support emerging amphibious warfare concepts.The ships transport and launch loaded amphibious craft and vehicles with their crews and embarked personnel in amphibious assault operations. The ships feature a 440-foot well deck capable of holding four LCACs, a flight deck able to land and launch up to two CH-53E helicopters, the Navy's latest diesel propulsion and engineering technology, advanced repair facilities, complete medical and dental facilities, and troop berthing accommodations for up to 627 embarked Marines. Limited docking and repair service are provided for both conventional and air cushion craft.

The LSD 41 class ship program replaced the eight aging LSD 28 class ships which reached the end of their service lives during the period 1984-1990. LSD-41 was designed specifically to operate LCAC vessels. It has the largest capacity for these landing craft (four) of any U.S. Navy amphibious platform. The ships use a well deck which is flooded to launch and recover landing craft. LCACs are assault landing craft capable of speeds in excess of 40 knots when carrying a 60-ton payload. Using this versatile craft, RUSHMORE is able to carry out an amphibious assault against a wider range of beaches at distances that were not operationally feasible in the past. After departing the ship, the assault craft are directed toward the shore by the ship's Combat Information Center (CIC).

The LSD-41/49 Class Smart Gator Enabling Technologies (Enabling Technologies) upgrade replaces specified existing machinery control and monitoring systems units/consoles plus the addition of specific equipment. Overcoming component obsolescence, reducing equipment support costs, and reducing workload are key objectives in the Navy's upgrade plan. Reducing the number of different assembly types and total number of assemblies required are considered key factors in meeting this objective. The descriptions of Enabling Technologies follows:
The Local Area Network (LAN) is installed as a ship wide fiber optic communications network used to interface with the Enabling Technology multi-functional workstations (MFWS), view ports and interface input/output (I/O) devices. The LAN will be installed with expansion in mind to support future additional users/technologies. The new Machinery Control System, Damage Control Quarters/Ballast Control System, Integrated Bridge System, and Integrated Condition Assessment System ships Enabling Technology network will utilize this LAN.
The Machinery Control System (MCS) installation replaces specified existing machinery control and monitoring systems units/consoles associated with both the Main Propulsion (MP) and Electric Plant (EP) control systems. The MCS consists of software-based control system utilizing MFWS and Data Acquisition Units (DAUs) controlling the main propulsion, electric plant and selected auxiliary systems.
The Damage Control Quarters (DCQ)/Ballast Control System (BCS) consists of several software-based LAN-resident subsystems including, but not limited to: Damage Control sensor/systems integration; firemain and ventilation/control and display, ballast system control and display. The system will replace the individual control allowing creation of a "central control station" (CCS) in what is currently Damage Control Central (DCC). The Government will provide the DCQ/BCS software, Programmable Logic Controller (PLC) software and Interface Control Documents (ICDs) for DCQ/BCS.
The Integrated Bridge System (IBS) converts legacy navigational information sources, such as; GPS, Speed Log, Gyro, Wind bird and depth sounder, into digital data formats and provides them throughout the ship via the LAN. The IBS contains a computer program that uses the navigational data and interfaces with MCS and the steering gear to provide steering and propulsion control both on the bridge and in CIC. The capabilities of the IBS shall include the traditional non-follow-up control, hand electric, auto pilot and track steering.
The Integrated Condition Assessment System (ICAS) software products provide a computerized engineering tool to implement Condition Based Maintenance (CBM) and equipment availability management. Inputs to ICAS consist of both manually collected and on-line sensor data. ICAS shares on-line sensors with the MCS. New ICAS specific on-line sensors shall also be installed by the contractor. ICAS continuously assesses machinery performance conditions and transmits the information over the LAN to be viewed at the applicable MFWS(s). The Government will provide HMI software, PLC software, and ICDs for ICAS.
The Wireless Internal Communications System (WICS) is an internal wireless communications system installed to provide internal communications for command and control of combat systems, damage control, security, beach guard, sea and anchor detail, administration, and integrated team training. The system shall consist of an antenna/transmission/receiving system, portable radio units, and charging stations.
The Smart Gator Enabling Technology upgrade provides for electronic technology modernization by replacing the existing rigid HMI console designs with Software Alterable Graphic Interfaced multi-functional workstations.
Specifications

Propulsion
Four Colt Industries 16 Cylinder Diesels,
two shafts, 33,000 shaft horsepower
Two five-blade Controllable Pitch Propellers
Length
Overall Length: 610 ft
Waterline Length: 580 ft
Beam
Extreme Beam: 84 ft
Waterline Beam: 84 ft
Draft
Maximum Navigational Draft: 21 ft
Draft Limit: 21 ft
Displacement
Light Displacement: 11471 tons
Full Displacement: 16360 tons
Dead Weight: 4889 tons
Well Deck
440 feet long, 50 feet wide, floodable to 10 feet aft, 6 feet forward
Water Barrier
12 feet 3 inches high, 50 feet long,
divides well deck into forward (dry) and aft (wet) compartments
Helicopter Deck
Two spots, 212 feet long, 83 feet wide
Speed
20+ knots (23.5+ miles per hour)
Landing Craft
4 LCAC Landing Craft, Air Cushion
Combat Systems
AN/SPS-49 Air Search Radar
AN/SPS-67 Surface Search Radar
AN/SPS-64 Navigation Radar
AN/SLQ-32 Electronic Counter Measures set
MK-36, MOD-6 SRBOC
AN/SLQ-25 (NIXIE) Torpedo Counter Measures system
Armament
2 - 25mm MK 38 Machine Guns
2 - 20mm MK 15 Phalanx CIWS mounts
2 - .50 cal. machine guns
Generators
Four Fairbanks-Morse 12 cylinder Ship Service Diesel Generators, each capable of producing 1300 kw.
Ship's Boats
One Mk-6 50 foot Utility boat
Two Mk-12 36 foot LCP (L)'s
One 14 foot punt
Cranes
One 15-ton gantry crane
One 20-ton fixed kingpost crane
One 60-ton fixed kingpost crane
Turntables
36 foot diameter, 360 degree rotation, capable of handling two MK-55 trucks
Crew
Ships Company: 22 officers, 391 enlisted
Marine Detachment: 402 plus 102 surge
Unit Operating Cost
Annual Average
$20,000,000 [source: [FY1996 VAMOSC]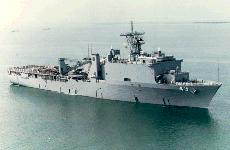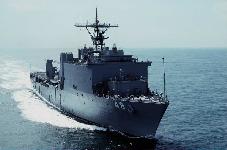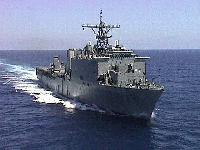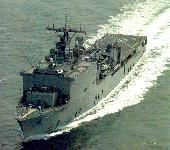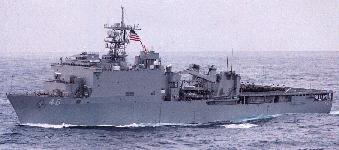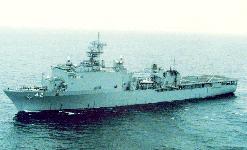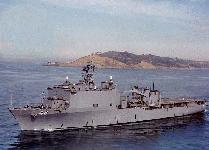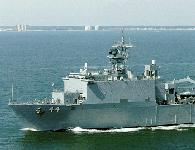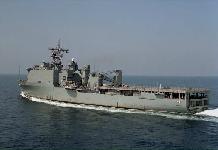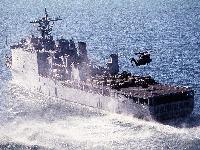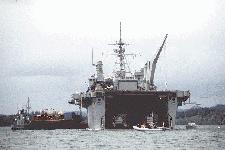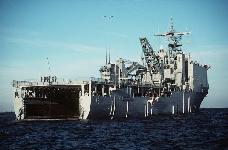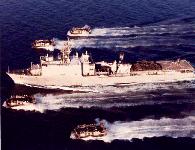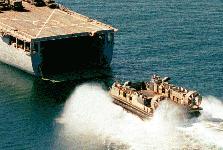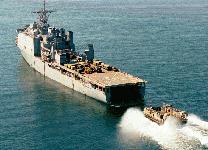 Sources and Resources
---
---
http://www.fas.org/man/dod-101/sys/ship/lsd-41.htm
Maintained by Robert Sherman
Originally created by John Pike
Updated Friday, November 26, 1999 7:41:16 PM