---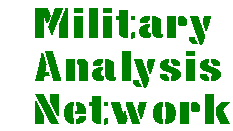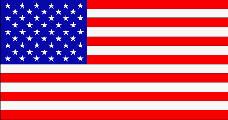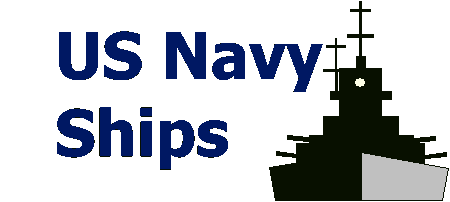 ---
CVX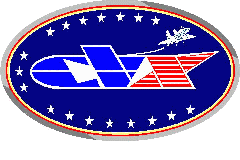 The CVX is a new ship class that is the second and long-term part of the Navy's two-track strategy for aircraft carrier recapitalization. The Navy's vision for CVX is to develop a new class of aircraft carriers to significantly reduce total ownership cost and incorporate an architecture for change and flexibility, while maintaining the core capabilities of Naval aviation (high-volume firepower, survivability, sustainability and mobility) for the 21st Century and beyond. Achieving this vision will require significant design changes to incorporate advances in technology and to focus the design on enhanced affordability since little carrier research and development has been undertaken since the 1960's.

The Joint Requirements Oversight Council approved a mission needs statement (MNS) for a New Tactical Aviation Sea-Based Platform for the 21st Century, the CV(X), in March 1996. Among the potential alternatives that may compete with CV(X) in meeting the operational requirements of the MNS are the Mobile Offshore Base (MOB) and the Arsenal Ship, as well as land-based aircraft. For CVX purposes, in terms of aircraft spots, large is considered a ship carrying approximately 80 aircraft , medium a ship capable of carrying approximately 60 aircraft, and small is a ship capable of carrying approximately 40 aircraft.

The Navy's FY 1999 plan for CVX includes $40 million in RDT&E funding for feasibility and trade studies supporting CVX design and a Milestone I decision. The FY 1999 request for CVX also includes $149.5 million in RDT&E funding for the development of critical technologies. These R&D efforts include: advanced technology catapult, advanced propulsion concepts, enhanced survivability features, integrated information management technologies, automation for reduced manning, and computer aided design tools. These critical technologies are started in FY 1999 to ensure that CVX can reduce the total cost of ownership of its aircraft carriers and meet its required Initial Operational Capability date of 2013, when the first CVX is slated to relieve the 52 year-old Enterprise (CVN 65).

CVNX-1 will feature a new design nuclear propulsion plant leveraging three generations of submarine reactor technology. The requirement for a new nuclear propulsion system reflects a need for a reduction in manning, maintenance, acquisition, and life cycle costs. This new powerplant will enable CVNX-1 to meet the large-scale electrical demands predicted for 21st century shipboard technology. A new electrical generation distribution system will also be a critical feature of the CVNX design. This feature will result in immediate warfighting enhancements in several areas:
Survivability. A redundant grid electrical system will enhance damage control features. Electrical auxiliary systems will require reduced maintenance and allow the ship to utilize all generated electric power more effectively than the current design, where the carrier cannot always efficiently access all power available.
Availability. Reduced maintenance and greater reliability will enable CVNX-1 to have a greater availability in reduced shipyard periods.
Flexibility. The advanced electrical features of this new powerplant will allow for the rapid reconfiguration of CVNX-1 to utilize advanced technologies, as they become available.
The tentative goals with CVNX-1 will also include a further reduction in operating costs and manpower requirements from CVN-77.

CVNX-2 will be the culmination of the evolutionary carrier design program started with CVN-76. Key features of CVNX-2 will include an electromagnetic aircraft launching system that will have reduced manpower and maintenance as well as lower wind over deck requirements for aircraft launch and recovery. This system will also extend aircraft life, as peak loads on the airframe will be reduced. This design utilizes technology similar to that used by European rail systems to propel 'bullet' trains. The benefits will be freeing the catapults from dependence on ship-generated steam, as well as an increase in available energy and a major reduction in both weight and volume. Consideration had been given to an internal combustion catapult that would utilize a combination of JP-5 and an oxidizer to propel the launch assist mechanism. A drawback to this system was the separate storage and piping systems required for the oxidizer, as well as the drain on JP-5 resources. CVNX-2 will be designed with modular architecture and systems that are reconfigurable to provide operational flexibility. CVNX-2 will have an advanced armor system to improve her combat survivability. Commercial systems will be adapted for use in ship operations, habitability, mooring, and maneuvering. An advanced weapons information management system will automate the process of weapons inventory control, weapons movement, and weapons deployment from the magazine to the aircraft. The long-term goals with CVNX-2 envision additional reductions in total operating costs and manpower requirements.

The Navy remains committed to a 21st century aircraft carrier utilizing advanced technological applications. The goal is to create a sea based tactical air platform that not only retains the warfighting relevance of the NIMITZ class, but also is designed with architecture for change. This approach will allow the Navy to take advantage of maturing technologies that not only enhance warfighting capabilities but also provide opportunities to reduce life cycle costs. While this new ship will be the most advanced sea-based aviation platform ever deployed by the Navy, it will be an evolutionary progression of the current NIMITZ design. CVNX will have stealthier features than current carriers but will not be a completely stealth design. The stealth wave piercer design seen in speculative drawings is definitely not the shape of things to come.

The Navy has adopted an evolutionary design approach for future carriers, beginning with the CVN 77 as a transition ship and retains the Nimitz-class hull form largely unchanged through at least CVNX 2. The FY2001 budget request included $21.9 million for advance procurement and advance construction of long lead time components for CVNX 1. The Navy's long-term plan is to provide full funding for CVNX 1 in fiscal year 2006. There are a number of castings for the large machinery associated with an aircraft carrier propulsion plant that have a very long production lead time. To maintain the schedule for CVNX 1 and deliver these needed pieces of machinery as required by the construction sequence, the Navy needs to obligate funds for some of these components in fiscal year 2001. On 13 July 2000 the Senate authorized the Secretary of the Navy to procure the aircraft carrier to be designated CVNX-1. The Secretary may enter into one or more contracts for the advance procurement and advance construction of components for the ship, with $21,869,000 authorized for the advance procurement and advance construction of components (including nuclear components) for the CVNX-1 aircraft carrier program.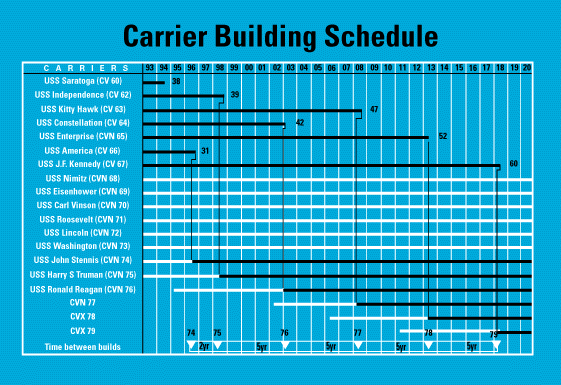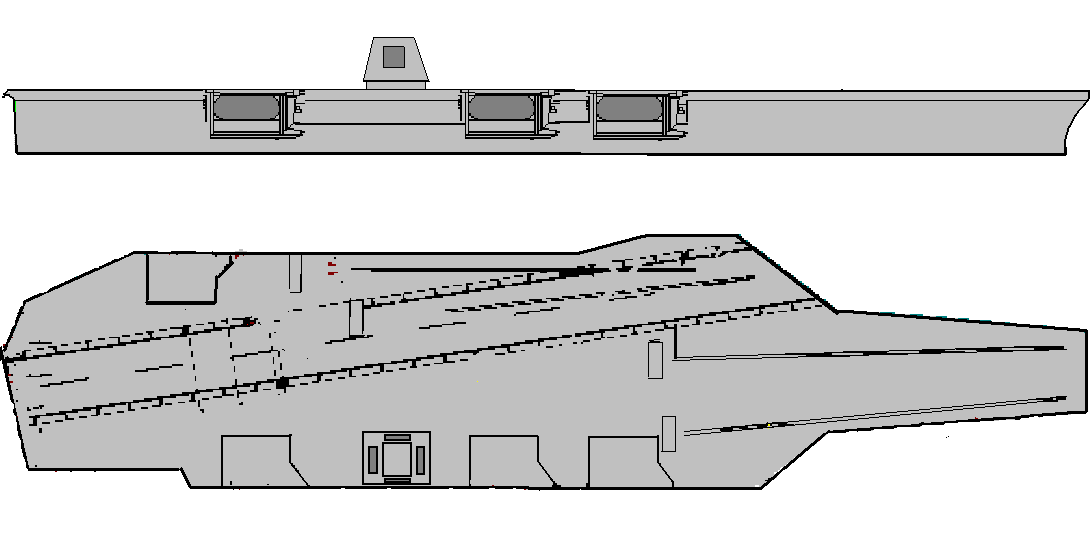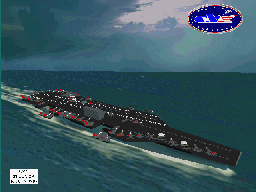 Specifications

Builder
Power Plant
Length
feet
Beam
feet
Draft
feet
Displacement
tons
Capacity
Speed
knots ( mph)
Crew
Aircraft
Ships

Name
Number
Builder
Homeport
Ordered
Commissioned
Decommissioned
CVX-78
Newport News
2006
2013
2063
CVX-79
Newport News
2011
2018
2068
Sources and Resources
---
---
http://www.fas.org/man/dod-101/sys/ship/cvx.htm
Maintained by Robert Sherman
Originally created by John Pike
Updated Sunday, October 15, 2000 10:57:42 AM