---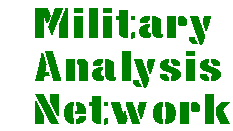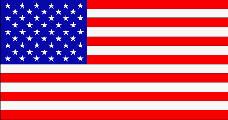 ---
F-15 Eagle
The F-15 Eagle is an all-weather, extremely maneuverable, tactical fighter designed to gain and maintain air superiority in aerial combat. The Eagle's air superiority is achieved through a mixture of maneuverability and acceleration, range, weapons and avionics. The F-15 has electronic systems and weaponry to detect, acquire, track and attack enemy aircraft while operating in friendly or enemy-controlled airspace. Its weapons and flight control systems are designed so one person can safely and effectively perform air-to-air combat. It can penetrate enemy defense and outperform and outfight current or projected enemy aircraft.

The F-15's superior maneuverability and acceleration are achieved through high engine thrust-to-weight ratio and low wing loading. Low wing-loading (the ratio of aircraft weight to its wing area) is a vital factor in maneuverability and, combined with the high thrust-to-weight ratio, enables the aircraft to turn tightly without losing airspeed.

A multimission avionics system sets the F-15 apart from other fighter aircraft. It includes a head-up display, advanced radar, inertial navigation system, flight instruments, UHF communications, tactical navigation system and instrument landing system. It also has an internally mounted, tactical electronic-warfare system, "identification friend or foe" system, electronic countermeasures set and a central digital computer.

Through an on-going multistage improvement program the F-15 is receiving extensive upgrade involving the installation or modification of new and existing avionics equipment to enhance the tactical capabilities of the F-15.

The head-up display projects on the windscreen all essential flight information gathered by the integrated avionics system. This display, visible in any light condition, provides the pilot information necessary to track and destroy an enemy aircraft without having to look down at cockpit instruments.

The F-15's versatile pulse-Doppler radar system can look up at high-flying targets and down at low-flying targets without being confused by ground clutter. It can detect and track aircraft and small high-speed targets at distances beyond visual range down to close range, and at altitudes down to tree-top level. The radar feeds target information into the central computer for effective weapons delivery. For close-in dog fights, the radar automatically acquires enemy aircraft, and this information is projected on the head-up display.

The APG-63 radar was developed over 20 years ago and has an average mean time between failure less than 15 hours. APG-63 LRUs have become increasingly difficult to support both in the field and at the depot. First, individual parts have become increasingly unavailable from any source; incorporating newer technology parts often entails module redesign and fails to address the root cause. Second, continuing reliability deterioration impacts both sustainment, particularly during deployment, as well as ACC's ability to implement two-level maintenance. In addition, the APG-63 radar has virtually no remaining processing and memory capacity to accommodate software upgrades to counter evolving threats. The APG-63(V)1 radar has been designed for improved reliability and maintainability to address user requirements. The radar incorporates components designed for improved reliability and lower failure rates and enhanced diagnostics for improved fault detection and fault isolation. Along with other design features, these should improve radar reliability to 120 hours MTBM, an order of magnitude better than the existing APG-63.

An inertial navigation system enables the Eagle to navigate anywhere in the world. It gives aircraft position at all times as well as pitch, roll, heading, acceleration and speed information.

The F-15's electronic warfare system provides both threat warning and automatic countermeasures against selected threats. The "identification friend or foe" system informs the pilot if an aircraft seen visually or on radar is friendly. It also informs U.S. or allied ground stations and other suitably equipped aircraft that the F-15 is a friendly aircraft.

The Fiber Optic Towed Decoy (FOTD) provides aircraft protection against modern radar-guided missiles to supplement traditional radar jamming equipment. The device is towed at varying distances behind the aircraft while transmitting a signal like that of a threat radar. The missile will detect and lock onto the decoy rather than on the aircraft. This is achieved by making the decoy's radiated signal stronger than that of the aircraft.

A variety of air-to-air weaponry can be carried by the F-15. An automated weapon system enables the pilot to perform aerial combat safely and effectively, using the head-up display and the avionics and weapons controls located on the engine throttles or control stick. When the pilot changes from one weapon system to another, visual guidance for the required weapon automatically appears on the head-up display.

The Eagle can be armed with combinations of four different air-to-air weapons: AIM-7F/M Sparrow missiles or AIM-120 Advanced Medium Range Air-to-Air Missiles on its lower fuselage corners, AIM-9L/M Sidewinder or AIM-120 missiles on two pylons under the wings, and an internal 20mm Gatling gun (with 940 rounds of ammunition) in the right wing root.

The current AIM-9 missile does not have the capabilities demonstrated by foreign technologies, giving the F-15 a distinct disadvantage during IR dogfight scenarios. AIM-9X integration will once again put the F-15 in the air superiority position in all arenas. The F-15/AIM-9X weapon system is to consist of F-15 carriage of the AIM-9X missile on a LAU-128 Air-to-Air (A/A) launcher from existing AIM-9 certified stations. The AIM-9X will be an upgrade to the AIM-9L/M, incorporating increased missile maneuverability and allowing a high off-boresight targeting capability.

Low-drag, conformal fuel tanks were especially developed for the F-15C and D models. Conformal fuel tanks can be attached to the sides of the engine air intake trunks under each wing and are designed to the same load factors and airspeed limits as the basic aircraft. Each conformal fuel tank contains about 114 cubic feet of usable space. These tanks reduce the need for in-flight refueling on global missions and increase time in the combat area. All external stations for munitions remain available with the tanks in use. AIM-7F/M Sparrow and AIM-120 missiles, moreover, can be attached to the corners of the conformal fuel tanks.

The F-15 Eagle began its life in the mid 1960s as the Fighter Experimental (FX) concept. Using lessons learned in Vietnam, the USAF sought to develop and procure a new, dedicated air superiority fighter. Such an aircraft was desperately needed, as no USAF aircraft design solely conceived as an air superiority fighter had become reality since the F-86 Sabre. The intervening twenty years saw a number of aircraft performing the air-to-air role as a small part of their overall mission, such as the primarily air-to-ground F-4 Phantom and the F-102, F-104 and F-106 interceptor designs. The result of the FX study was a requirement for a fighter design combining unparalleled maneuverability with state-of-the-art avionics and weaponry. An industry-wide competition ended on December 23, 1969 when McDonnell Douglas was awarded the contract for the F-15.
The first F-15A flight was made on 27 July 1972, culminating one of the most successful aircraft development and procurement programs in Air Force history. After an accident-free test and evaluation period, the first aircraft was delivered to the Air Force on Novermber 14, 1974. In January 1976, the first Eagle destined for a combat squadron was delivered to the 1st Tactical Fighter Wing at Langley Air Force Base, Va. Three hundred and sixty-five F-15As were built before production of the F-15C began in 1978. In January 1982, the 48th Fighter-Interceptor Squadron at Langley Air Force Base became the first Air Force air defense squadron to transition to the F-15. After twenty years of service, the F-15A has recently been reassigned from active duty Air Force fighter squadrons to Air National Guard units. The F-15A is flown by Air National Guard squadrons in the states of Oregon, Missouri, Georgia, Louisiana, Hawaii, and Massachussets.
The first flight of the two-seat F-15B (formerly TF-15A) trainer was made in July 1973. The first F-15B Eagle was delivered in November 1974 to the 58th Tactical Training Wing, Luke Air Force Base, Ariz., where pilot training was accomplished in both F-15A and B aircraft. The F-15B incorporates a tandem seating configuration, with a second crewmember position aft of the pilot's seat. The primary purpose of the F-15B is aircrew training, with an instructor pilot occupying the rear seat while an upgrading pilot mans the front seat controls. The rear seat pilot has a full set of flight controls and can fly the aircraft throughout the envelope, including takeoff and landing. Even though space is sacrificed to accomodate the second crew member, the F-15B retains the same warfighting capability as the F-15A. In keeping with the trainer concept, however, the rear seat is not equipped with controls for the combat avionics and weaponry. In fact, the rear seat is not a mandatory crew position, and F-15Bs are often flown with empty rear cockpits.
The F-15C is an improved version of the original F-15A single-seat air superiority fighter. Additions incorporated in the F-15C include upgrades to avionics as well as increased internal fuel capacity and a higher allowable gross takeoff weight. The single-seat F-15C and two-seat F-15D models entered the Air Force inventory beginning in 1979. Kadena Air Base, Japan, received the first F-15C in September 1979. These new models have Production Eagle Package (PEP 2000) improvements, including 2,000 pounds (900 kilograms) of additional internal fuel, provision for carrying exterior conformal fuel tanks and increased maximum takeoff weight of up to 68,000 pounds (30,600 kilograms). Externally, the differences between the F-15A and F-15C are so slight as to make identification difficult; the only reliable indicator is the aircraft serial number. All F-15As have tail numbers starting with 73- through 77-, while F-15Cs have tail numbers beginning with 78- through 86-. The F-15C is the Air Force's primary air superiority fighter, serving with active duty units at Langley AFB, VA, Eglin AFB, FL, Mountain Home AFB, ID, Elmendorf AFB, AK, Tyndall AFB, FL, Nellis AFB, NV, Spangdahlem AB, Germany, Lakenheath AB, England and Kadena AB, Okinawa. The operational F-15C force structure is approximately 300 aircraft assigned to operational units. In the mid-1990s the F-15C experienced declining reliability indicators, primarily from three subsystems: radar, engines, and secondary structures. A complete retrofit of all three subsystems could be done for less than $3 billion.
The F-15D is a two-seat variant of the single-place F-15C. The primary purpose of the F-15D is aircrew training, with an instructor pilot occupying the rear seat while an upgrading pilot mans the front seat controls.

F-15C's, D's and E's were deployed to the Persian Gulf in 1991 in support of Operation Desert Storm where they proved their superior combat capability with a confirmed 26:0 kill ratio.
The F-15C has an air combat victory ratio of 95-0 making it one of the most effective air superiority aircraft ever developed. The US Air Force claims the F-15C is in several respects inferior to, or at best equal to, the MiG-29, Su-27, Su-35/37, Rafale, and EF-2000, which are variously superior in acceleration, maneuverability, engine thrust, rate of climb, avionics, firepower, radar signature, or range. Although the F-15C and Su-27P series are similar in many categories, the Su-27 can outperform the F-15C at both long and short ranges. In long-range encounters, with its superiorr radar the Su-27 can launch a missile before the F-15C does, so from a purely kinematic standpoint, the Russian fighters outperform the F-15C in the beyond-visual-range fight. The Su-35 phased array radar is superior to the APG-63 Doppler radar in both detection range and tracking capabilities. Additionally, the Su-35 propulsion system increases the aircraft's maneuverability with thrust vectoring nozzles. Simulations conducted by British Aerospace and the British Defense Research Agency compared the effectiveness of the F-15C, Rafale, EF-2000, and F-22 against the Russian Su-35 armed with active radar missiles similar to the AIM-120 Advanced Medium Range Air-to-Air Missile (AMRAAM). The Rafale achieved a 1:1 kill ratio (1 Su-35 destroyed for each Rafale lost). The EF-2000 kill ratio was 4.5:1 while the F-22 achieved a ratio of 10:1. In stark contrast was the F-15C, losing 1.3 Eagles for each Su-35 destroyed.
F-15E Strike Eagle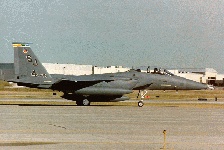 Although the slogan of the F-15's original design team was "Not a pound for air-to-ground," the F-15 has long been recognized as having superior potential in the ground attack role. In 1987 this potential was realized in the form of the F-15E Strike Eagle. The mission of the Strike Eagle is as succinct as that of its air-to-air cousin: to put bombs on target. The F-15E is especially configured for the deep strike mission, venturing far behind enemy lines to attack high value targets with a variety of munitions. The Strike Eagle accomplishes this mission by expanding on the capabilities of the air superiority F-15, adding a rear seat WSO (Weapon Systems Operator) crewmember and incorporating an entirely new suite of air-to-ground avionics.

The F-15E is a two seat, two engine dual role fighter capable of speeds up to MACH 2.5. The F-15E performs day and night all weather air-to-air and air-to-ground missions including strategic strike, interdiction, OCA and DCA. Although primarily a deep interdiction platform, the F-15E can also perform CAS and Escort missions. Strike Eagles are equipped with LANTIRN, enhancing night PGM delivery capability. The F-15E outbord and inboard wing stations and the centerline can be load with various armament. The outboard wing hardpoint are unable to carry heavy loads and are assign for ECM pods. The other hardpoints can be employed for various loads but with the use of multiple ejection racks (MERs). Each MER can hold six Mk-82 bombs or "Snakeye" retarded bombs, or six Mk 20 "Rockeye" dispensers, four CBU-52B, CBU- 58B, or CBU-71B dispensers, a single Mk-84 (907 kg) bomb F- 15E can carry also "smart" weapons, CBU-10 laser quided bomb based on the Mk 84 bomb, CBU-12, CBU-15, or another, laser, electro-optical, or infra-red guided bomb (including AGM-G5 "Marerick" air-to-ground) missiles.

Conformal Fuel Tanks were introduced with the F-15C in order to extend the range of the aircraft. The CFTs are carried in pairs and fit closely to the side of the aircraft, with one CFT underneath each wing. By designing the CFT to minimize the effect on aircraft aerodynamics, much lower drag results than if a similar amount of fuel is carried in conventional external fuel tanks. This lower drag translate directly into longer aircraft ranges, a particularly desirable characteristic of a deep strike fighter like the F-15E. As with any system, the use of CFTs on F-15s involves some compromise. The weight and drag of the CFTs (even when empty) degrades aircraft performance when compared to external fuel tanks, which can be jettisoned when needed (CFTs are not jettisonable and can only be downloaded by maintenance crews). As a result, CFTs are typically used in situations where increased range offsets any performance drawbacks. In the case of the F-15E, CFTs allow air-to-ground munitions to be loaded on stations which would otherwise carry external fuel tanks. In general, CFT usage is the norm for F15Es and the exception for F-15C/D's.

The F-15E Strike Eagle's tactical electronic warfare system [TEWS] is an integrated countermeasures system. Radar, radar jammer, warning receiver and chaff/flare dispenser all work together to detect, identify and counter threats posed by an enemy. For example, if the warning receiver detects a threat before the radar jammer, the warning receiver will inform the jammer of the threat. A Strike Eagle's TEWS can jam radar systems operating in high frequencies, such as radar used by short-range surface-to-air missiles, antiaircraft artillery and airborne threats. Current improvements to TEWS will enhance the aircraft's ability to jam enemy radar systems. The addition of new hardware and software, known as Band 1.5, will round out the TEWS capability by jamming threats in mid-to-low frequencies, such as long-range radar systems. The equipment is expected to go into full production sometime in late 1999.

The Defense Department plans to sustain production of the F-15E for at least two more years, purchasing three aircraft in both FY 1998 and FY 1999. Without FY 1998 procurement, the F-15 production line would begin to close in the absence of new foreign sales. These six additional aircraft, together with the six aircraft approved by Congress in FY 1997, will sustain the present 132-plane combat force structure until about FY 2016. Under current plans by 2030, the last F-15C/D models will have been phased out of the inventory and replaced by the F-22.
Service Life
Designed in the 1960s and built in the 1970s, the F-15A - D aircraft has now been in service for over twenty years. While the Eagle's aerodynamics and maneuverability are still on a par with newer aircraft, quantum leaps in integrated circuit technology have made the original F-15 avionics suite obsolete. The objective of the Multi-Stage Improvement Program (MSIP) was to set the Eagle in step with today's vastly improved information processing systems. Some F-15C/D aircraft (tail numbers 84-001 and higher) came off the assembly line with MSIP in place. All F-15A/B/C/D aircraft produced before 84-001 will receive the MSIP retrofit at the F-15 depot. Improvements incorporated via MSIP vary between F-15A/B and F-15C/D aircraft; the C/D MSIP has been completed. However, all air-to-air Eagles gain improved radar, central computer, weapons and fire control, and threat warning systems. The purpose of the F-15 Multi-stage Improvement Program (MSIP) was to provide maximum air superiority in a dense hostile environment in the late 1990s and beyond. All total, 427 Eagles received the new avionics upgrades. Along with later model production aircraft, these retrofitted aircraft would provide the Combat Air Forces (CAF) with a total MSIP fleet of 526 aircraft. The MSIP upgraded the capabilities of the F-15 aircraft to included a MIL-STD-1760 aircraft/weapons standard electrical interface bus to provide the digital technology needed to support new and modern weapon systems like AMRAAM. The upgrade also incorporated a MIL-STD-1553 digital command/response time division data bus that would enable onboard systems to communicate and to work with each other. A new central computer with significantly improved processing speed and memory capacity upgraded the F-15 from 70s to 90s technology, adding capacity needed to support new radar and other systems. The original Eagle had less computer capacity than a 1990s car. Some of the work prefaced the addition of the Joint Tactical Information Distribution System, adding space, power, and cooling that would allow the new avionics to run in the harsh environments in which the Eagle operates. The new programmable armament control set (PACS) with a multi-purpose color display (MPCD) for expanded weapons control, monitoring, and release capabilities featured a modern touch screen that allowed the pilot to talk to his weapons. A data transfer module (DTM) set provided pre-programmed information that customized the jet to fly the route the pilot had planned using mission planning computers. An upgrade to the APG-63 Radar for multiple target detection, improved electronic counter-countermeasures (ECCM) characteristics, and non-cooperative target recognition capability enabled the pilot to identify and target enemy aircraft before he was detected or before the enemy could employ his weapons. An upgrade of the advanced medium range air-to-air missile (AMRAAM), that carried up to eight missiles, represented an improvement that complimented the combat-proven AIM-7 Sparrow by giving the pilot capability to engage multiple targets to launch and leave, targeting and destroying enemy fighters before they could pose a threat. The upgraded Radar Warning Receiver (RWR) and an enhanced internal countermeasures set (ICS) on F-15C/D models improved threat detection and self-protection radar jamming capability that allowed pilots to react to threat and to maneuver to break the lock of enemy missiles.

The F-15 initial operational requirement was for a service life of 4,000 hours. Testing completed in 1973 demonstrated that the F-15 could sustain 16,000 hours of flight. Subsequently operational use was more severely stressful than the original design specification. With an average usage of 270 aircraft flight hours per year, by the early 1990s the F-15C fleet was approaching its service-design-life limit of 4,000 flight hours. Following successful airframe structural testing, the F-15C was extended to an 8,000-hour service life limit. An 8,000-hour service limit provides current levels of F-15Cs through 2010. The F-22 program was initially justified on the basis of an 8,000 flight hour life projection for the F-15. This was consistent with the projected lifespan of the most severely stressed F-15Cs, which have averaged 85% of flight hours in stressful air-to-air missions, versus the 48% in the original design specification.

Full-scale fatigue testing between 1988 and 1994 ended with a demonstration of over 7,600 flight hours for the most severely used aircraft, and in excess of 12,000 hours on the remainder of the fleet. A 10,000-hour service limit would provide F-15Cs to 2020, while a 12,000-hour service life extends the F-15Cs to the year 2030. The APG-63 radar, F100-PW-100 engines, and structure upgrades are mandatory. The USAF cannot expect to fly the F-15C to 2014, or beyond, without replacing these subsystems. The total cost of the three retrofits would be under $3 billion. The upgrades would dramatically reduce the 18 percent breakrate prevalent in the mid-1990s, and extend the F-15C service life well beyond 2014.

The F-15E structure is rated at 16,000 flight hours, double the lifetime of earlier F-15s.
Foreign Military Sales
The Eagle has been chosen by three foreign military customers to modernize their air forces. Japan has purchased and produces an air-to-air F-15 known as the F-15J. Israel has bought F-15A, B, and D aircraft from USAF inventories and is currently obtaining an air-to-ground version called the F-15I. Similarly, Saudi Arabia has purchased F-15C and D aircraft and acquired the air-to-ground F-15S.
F-15I Thunder
Israel has bought F-15A, B, and D aircraft from USAF inventories and is currently obtaining an air-to-ground version called the F-15I. The two seat F-15I, known as the Thunder in Israel, incorporates new and unique weapons, avionics, electronic warfare, and communications capabilities that make it one of the most advanced F-15s. The F-15I, like the US Air Force's F-15E Strike Eagle, is a dual-role fighter that combines long-range interdiction with the Eagle's air superiority capabilities. All aircraft are to be configured with either the F100-PW-229 or F110-GE-129 engines by direct commercial sale; Night Vision Goggle compatible cockpits; an Elbit display and sight helmet (DASH) system; conformal fuel tanks; and the capability to employ the AIM-120, AIM-7, AIM-9, and a wide variety of air-to-surface munitions. F-15 production, which began in 1972, has been extended into 1999 by orders F-151 aircraft for Israel. Israel selected the F-15I in January, 1994 after evaluating a variety of aircraft to meet its defense needs. The government of Israel initially ordered 25 F-15I Thunders, powered by two Pratt & Whitney F100-PW-229 low bypass turbofan engine. This foreign military sale was valued at $1.76 billion dollars. The Israeli Air Force received the first two of 25 F-15I aircraft in January 1998. On 22 September 1998 the US Department of Defense announced the sale to the Government of Israel of 30 F-15I aircraft; 30 AN/APG-70 or AN/APG-63(V)1 radar; and 30 each LANTIRN navigation and targeting pods. Associated support equipment, software development/integration, spares and repair parts, flight test instrumentation, publications and technical documentation, personnel training and training equipment, US Government and contractor technical and logistics personnel services, and other related requirements to ensure full program supportability will also be provided. The estimated cost was $2.5 billion.
F-15S Peace Sun IX
F-15 production has been extended into 1999 by orders for 72 F-15S aircraft for Saudi Arabia. Peace Sun IX is an F-15 Foreign Military Sales production program, with development, to deliver 72 F-15S aircraft including support equipment, spares, and training to the Royal Saudi government. Saudi Arabia has purchased a total of 62 F-15C and D aircraft and later procured the F-15S, which is a two-seater aircraft based on the F-15E airframe, with downgraded avionics, downgraded LANTIRN pods, and a simplified Hughes APG-70 radar without computerised radar mapping. Four F-15S Eagles were delivered in 1995. On 10 November 1999 the last of 72 F-15S aircraft was delivered to Saudi Arabia. In November 1995 Saudi Arabia purchased 556 GBU-15 Guided Bomb Units (including six training units), 48 data link pods, personnel training and training equipment and other related elements of logistics support. The estimated cost is $371 million. Saudi Arabia would use the GBU-15s to enhance the stand off attack capability of the F-15S aircraft.
F-15J Peace Eagle
Japan has purchased and produced a total of 223 air-to-air F-15 known as the F-15J, assembled in Japan from largely indigenously manufactured sub-assemblies and equipment. The Mitsubishi F-15J/DJ Eagle is the principal air superiority fighter operated by the JASDF. These differ from the F-15C/D with the deletion of sensitive ECM, radar warning, and nuclear delivery equipment. The AN/ALQ-135 is replaced by indigenous J/ALQ-8 and the AN/ALR-56 RHAWS is replaced by J/APR-4.
Specifications

Primary Function
Tactical fighter.
Contractor
McDonnell Douglas Corp.
Power Plant
Two Pratt & Whitney F100-PW-100 turbofan engines with afterburners.
Thrust
(C/D models) 25,000 pounds each engine ( 11,250 kilograms).
Length
63 feet, 9 inches (19.43 meters).
Height
18 feet, 8 inches (5.69 meters).
Wingspan
42 feet, 10 inches (13.06 meters)
Speed
1,875 mph (Mach 2.5-plus at sea level).
Ceiling
65,000 feet (19,697 meters).
Maximum Takeoff Weight
(C/D models) 68,000 pounds (30,600 kilograms).
Range
3,450 miles (3,000 nautical miles) ferry range with conformal fuel tanks and three external fuel tanks.
Armament
1 - M-61A1 20mm multibarrel internal gun, 940 rounds of ammunition
4 - AIM-9L/M Sidewinder and
4 - AIM-7F/M Sparrow missiles, or
combination of AIM-9L/M, AIM-7-F/M and AIM-120 missiles.

F-15C Weapon Loads

| | | | | |
| --- | --- | --- | --- | --- |
| AIM | AIM | AIM | AGM | 20 |
| 7 | 9 | 120 | 88 | MM |
| 4 | 4 | | | 900 |
| 4 | 2 | 2 | | 900 |
| 2 | 2 | 4 | | 900 |
| 4 | 4 | | 4 | 900 |
| | 4 | 4 | 4 | 900 |
| | | 8 | | 900 |

F-15E Weapon Loads

12 CBU-52 (6 with wing tanks)
12 CBU-59 (6 with wing tanks)
12 CBU-71 (6 with wing tanks)
12 CBU-87 (6 with wing tanks)
12 CBU-89 (6 with wing tanks)
20 MK-20 (6 with wing tanks)

| | | | | | | | | | | | | |
| --- | --- | --- | --- | --- | --- | --- | --- | --- | --- | --- | --- | --- |
| AGM | AGM | CBU | CBU | CBU | GBU | GBU | GBU | GBU | | AIM | AIM | 20 |
| 65 | 130 | 87 | 89 | 97 | 10 | 12 | 28 | 15 | JDAM | 9 | 120 | MM |
| 4 | | | | | | | | | | | 4 | 500 |
| | 1 | | | | | | | | | | 4 | 500 |
| | | 8 | | | | | | | | | 4 | 500 |
| | | | 8 | | | | | | | | 4 | 500 |
| | | | | 8 | | | | | | | 4 | 500 |
| | | | | | 4 | | | | | | 4 | 500 |
| | | | | | | 8 | | | | | 4 | 500 |
| | | | | | | | 2 | | | | 4 | 500 |
| | | | | | | | | 1 | | | 4 | 500 |
| | | | | | | | | | 4 | | 4 | 500 |
| | | | | | | | | | | 4 | 4 | 500 |
| | | | | | | | | | | 2 | 6 | 500 |

Systems
AN/APG-63 X-band pulsed-Doppler radar [Hughes]
AN/APG-70 X-band pulsed-Doppler radar [Hughes]
[ on F-15E, F-15C/D, F-15A/B MSIP]
AN/APX-76 IFF interrogator [Hazeltine]
AN/ALQ-135(V) internal countermeasures system
AN/ALQ-128 radar warning [Magnavox] suite
AN/ALE-45 chaff/flare dispensers [Tracor]
Crew
F-15A/C: one. F-15B/D: two.
Unit cost $FY98
[Total Program]
$43 million.
Date Deployed
July 1972
Production
[for USAF]
360 F-15A/B
408 F-15C
61 F-15D
203 F-15E
Total Inventory
275 F-15A/B
410 F-15C/D
203 F-15E Approximately 100 F-15s are in storage @ AMARC
PMAI
Primary Mission Aircraft Inventory
45 F-15A/B Air National Guard Air Defense Force
45 F-15A/B Air National Guard
126 F-15C/D Air Combat Command
90 F-15C/D Pacific Air Forces
36 F-15C/D US Air Forces Europe
342 F-15A/C TOTAL 66 F-15E Air Combat Command
18 F-15E Pacific Air Forces
48 F-15E US Air Forces Europe
132 F-15E TOTAL Only combat-coded aircraft and not development/ test, attrition reserve, depot maintenance, or training aircraft.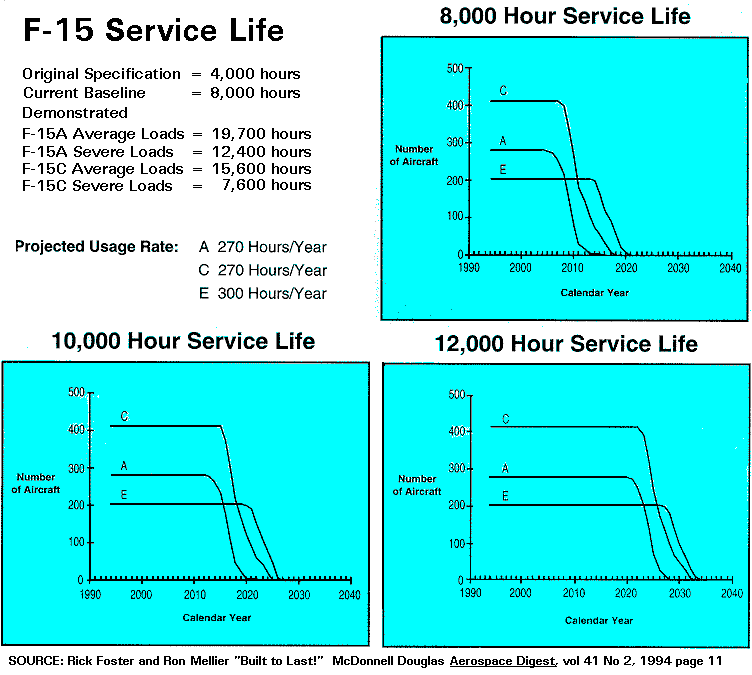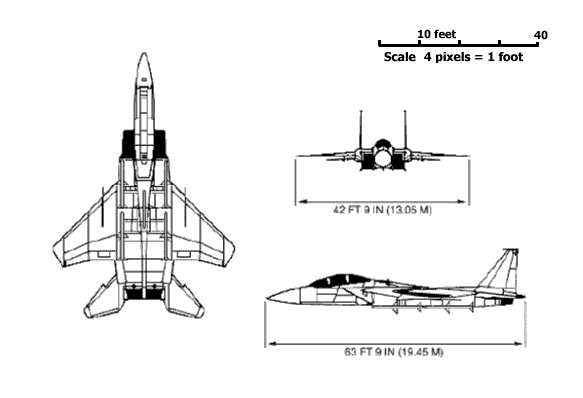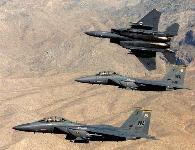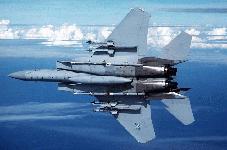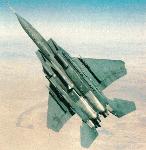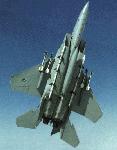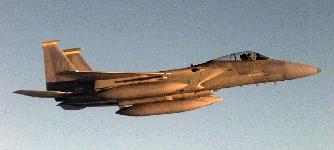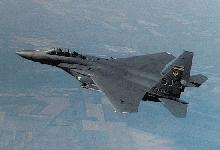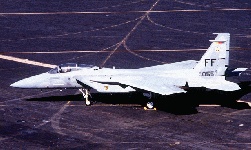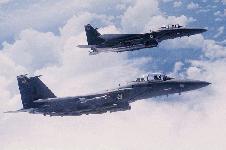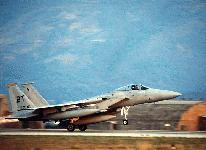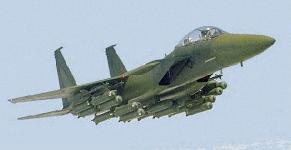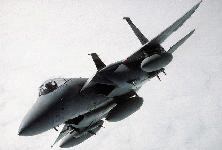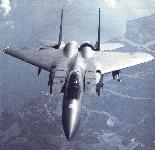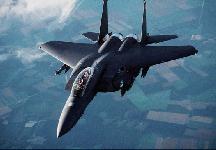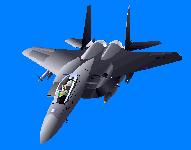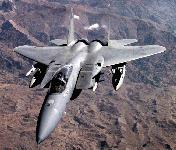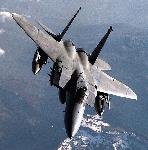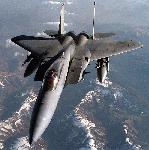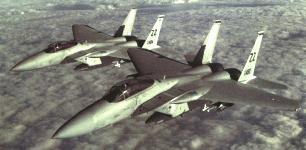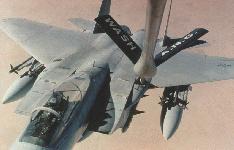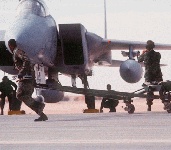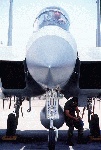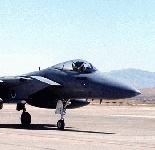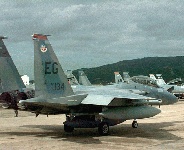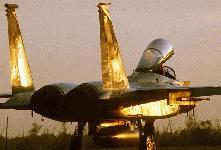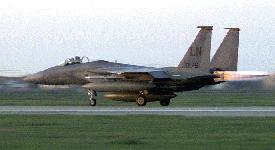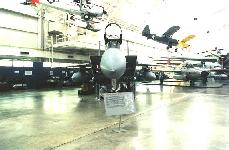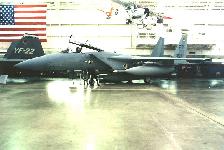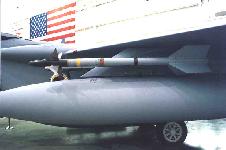 F-15E Strike Eagle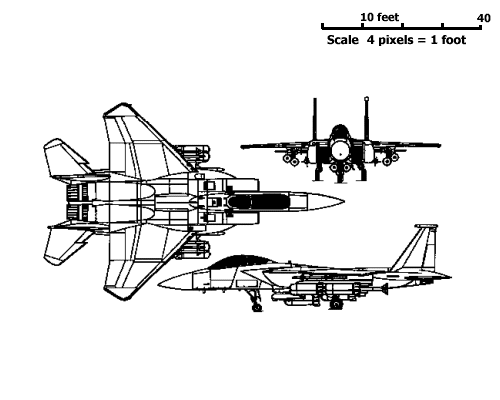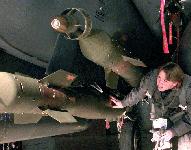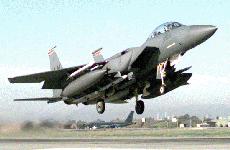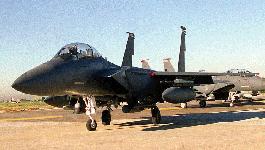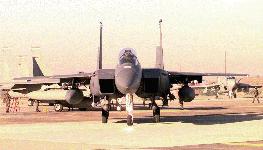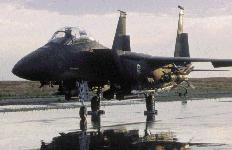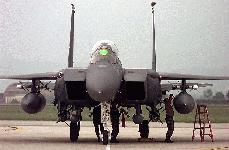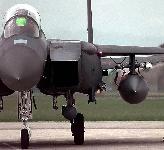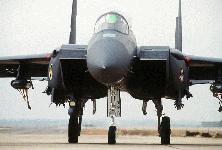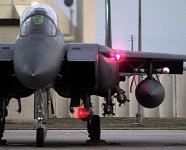 Sources and Resources
McDonnell Douglas F-15 Eagle by Joe Baugher
McDonnell Douglas F-15 "Eagle" @ USAF Museum Fighter Gallery
F-15 Eagle USAF Factsheet
Boeing - F-15 Eagle @ Boeing
AIRCREW OPERATIONAL PROCEDURES--F-15/F-15E MULTI-COMMAND INSTRUCTION 11-F15 VOLUME 3 -- DEC 97 -- [185kb PDF] This instruction, with its complementary Chapter 8, Local Operating Procedures, and Chapter 9, MAJCOM Operating Procedures, prescribes standard operational and weapons employment procedures to be used by all tactical aircrews operating USAF F-15 and F-15E aircraft.
F-15E Squadrons FY98 R&D Budget Request

F-15C -- ANNEX F Common Solution/Concept List (U) Air Force Mission Area Plan (MAP) [as of 11 July 1997 - Rev 10] - Detailed and comprehensive Air Combat Command descriptions of weapon system modernization efforts required to satisfy known needs.
F-15E -- ANNEX F Common Solution/Concept List (U) Air Force Mission Area Plan (MAP) [as of 11 July 1997 - Rev 10] - Detailed and comprehensive Air Combat Command descriptions of weapon system modernization efforts required to satisfy known needs.
Eagle Plus: Air Superiority Into the 21st Century Matthew T. Black; Dennis E. Daley; Kevin C. Smith; James K. Tatum; Rita A. Springer (Faculty Advisor) Air Command and Staff College 1996 -- The current force structure of 300 operational F-15Cs is adequate for a two-MRC scenario. The F-15C can fly to 2010 or beyond if the radar, engine, and structure subsystems are modernized.
Implementing Force Structure Reductions For Air Combat Command F-15's Mark C. Nowland; Glenn W. Carlson (Faculty Advisor) Air Command and Staff College 1998 -- In 1993 the Air Force reduced F-15C squadrons from 24 primary assigned aircraft (PAA) to 18 PAA. This reduction created stress on the F-15C squadrons as they dealt with an increasing operations tempo with reduced manning. Subsequently as part of the Quadrennial Defense Review (QDR) F-15C squadrons will be reinstated to 24 PAA.
Edwards squadron tests new Strike Eagle capability (AFPN) 3 Dec 1998 -- The Edwards-based 413th Flight Test Squadron is testing a new addition to the F-15E Strike Eagle's tactical electronic warfare system, or TEWS.
Eglin F-15 reaches 6,000 flying hours (AFPN) 15 Jan 1999 -- The 33rd Fighter Wing closed out 1998 with one last milestone for the history books, as one of its F-15D Eagles became the first Air Force F-15 to reach 6,000 flying hours Dec. 16.
Liberty Wing celebrates homecoming 7 Jul 1999 Air Force Print News -- Liberty Wing members accomplished several firsts. The first combat use ever of AGM-130 (first used by the wing in Operation Northern Watch and then multiple uses in Operation Allied Force), and first use of the GBU-28, 5,000 pound "bunker-buster" bomb (both munitions can only be employed by the F-15E).
Air Force improves F-15C radar (AFPN) 08 December 1999 -- The Air Force has developed an improved radar that provides increased pilot situational awareness and takes full advantage of the capabilities of the AIM-120 advanced medium range air-to-air missile. Eighteen F-15C aircraft will be modified with an APG-63(v)2 active electronically scanned array radar using APG-63(v)1 radar components.
---
---
http://www.fas.org/man/dod-101/sys/ac/f-15.htm
Maintained by Robert Sherman
Originally created by John Pike
Updated Saturday, June 10, 2000 5:13:51 PM