---

Edwards squadron tests new Strike Eagle capability
Released: 3 Dec 1998
---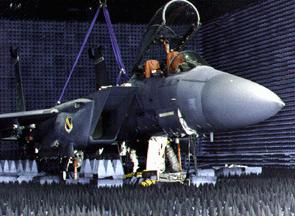 One of the F-15E Strike Eagles used to test the new Band 1.5 electronic warfare capability is pictured in the anechoic facility at Eglin Air Force Base, Fla., during Phase I of the test program. (Courtesy photo)



by Bill McQuillan
Air Force Flight Test Center Public Affairs
EDWARDS AIR FORCE BASE, Calif. (AFPN) -- The Edwards-based 413th Flight Test Squadron is testing a new addition to the F-15E Strike Eagle's tactical electronic warfare system, or TEWS, that will enhance the aircraft's ability to jam enemy radar systems.
A Strike Eagle's TEWS can currently jam radar systems that operate in high frequencies, such as radar used by short-range surface-to-air missiles, antiaircraft artillery and airborne threats.
The addition of new hardware and software, known collectively as Band 1.5, will round out the TEWS capability by jamming threats in mid to low frequencies, such as long-range radar systems.
"Awareness was always there -- pilots could tell there was a low-frequency threat," said Capt. Michael Borgert, Band 1.5 test manager with the 413th Flight Test Squadron, "but pilots had to rely on their skills and tactics to avoid the threat.
"Now pilots will be able to jam a wider range of radar systems, preventing an enemy from tracking the F-15E or launching a missile at it."
TEWS is an integrated countermeasures system. Radar, radar jammer, warning receiver and chaff/flare dispenser all work together to detect, identify and counter threats posed by an enemy. For example, if the warning receiver detects a threat before the radar jammer, the warning receiver will inform the jammer of the threat.
Central to the new capability's success are compact computer modules that calculate the best way to jam specific types of detected radar systems. Since computers have become smaller and faster in recent years, there is room for several of these modules in an F-15E, allowing TEWS to jam more targets simultaneously.
"The new capability will give aircrews more peace of mind," Borgert said. "They'll know that their airplane is doing something to help them out.
"There are some important threats in lower frequencies that are currently not being countered with a jammer. The new equipment will help improve the survivability of the airplane."
Testing the new capability is an extensive process that includes many organizations, according to Borgert.
The 413th Flight Test Squadron is responsible for the developmental test and evaluation portion of the program. Other participating Air Force test organizations include the 46th Test Squadron and the 40th Flight Test Squadron, both from Eglin Air Force Base, Fla. Contractors involved with the new equipment include Northrop Grumman, Boeing and Lockheed Martin. The F-15 System Program Office at Wright-Patterson AFB, Ohio, is managing the overall program.
The 413th-led test team began Phase I of testing in an anechoic facility at Eglin in May. For two weeks they simulated threat signals in the facility to ensure the test airplane reacted as expected.
"We did a heavy concentration of ground testing," Borgert said. "We ran thousands of different scenarios representative of the real world.
"We focused on functionality. We were making sure every system was working properly. Coming out of there we were confident the system would work.
"We did find a problem with some antennas," Borgert added. "After finding the problem in the facility, we checked it while the aircraft was in flight and verified there was indeed a problem."
The test team fixed the problem and ran more tests in the anechoic facility to ensure the solution worked.
Once everything looked good, the team performed some compatibility flight tests at Eglin to ensure basic functions worked and the new system caused no interference with other systems.
The test and training range at Nellis AFB, Nev., was the next stop for testing. The team flew the test aircraft against threat simulators there to see how the improved TEWS performed in realistic situations. These tests brought Phase I to an end in October.
"We fully expected to find some problems, because you can't go through flight test without finding any," Borgert said, "so we planned Phase I to locate any problems without expending a whole lot of money."
Phase II is currently under way. This phase is designed to measure the effectiveness of the new system. Testers are performing minimal ground and compatibility testing in this phase, spending more time at Nellis flying effectiveness missions.
Borgert expects the team will complete Phase II in January. The test team will then send its recommendations to the F-15 System Program Office. If that office finds the system ready for operational testing, it will pass the program along to the Air Force Operational Test and Evaluation Center.
The equipment is expected to go into full production sometime in late 1999, Borgert said, pending successful completion of operational testing.
"We want to ensure this new capability is effective," Borgert said. "We obviously haven't done a final evaluation yet, but everything looks stable so far. It looks like it's working the way it should."

RELATED SITES

* F-15 Eagle
* Air Force Operational Test and Evaluation Center
* Edwards Air Force Base, Calif.
* Eglin Air Force Base, Fla.
* Nellis Air Force Base, Nev.