---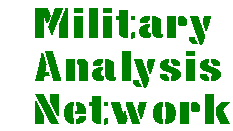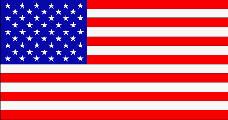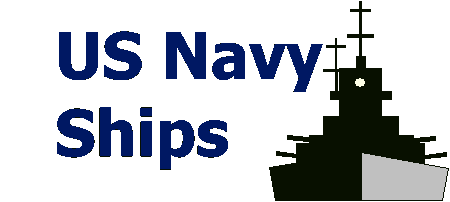 ---
T-AKR USNS Bob Hope
Large, Medium-speed, roll-on/roll-off ships [LMSR]
Military Sealift Command's newest class of ships — Large, Medium-speed, Roll-on/Roll-off Ships, or LMSR — will significantly expand the nation's sealift capability in the 1990s and beyond. Nineteen LMSRs will have been converted or built at U.S. shipyards by the year 2001. The LMSRs will provide afloat prepositioning of an Army heavy brigade's equipment and a corps' combat support, as well as surge capability for lift of a heavy division's equipment from the United States.

The need for additional military sealift ships was identified in a Congressionally-mandated study by the Joint Chiefs of Staff in the early 1990s. The Mobility Requirements Study focused on Department of Defense transportation during the Persian Gulf War. It highlighted the urgent need for greater sealift capacity to transport military equipment and supplies during wartime and other national contingencies. In response to the sealift shortfall, an ambitious Strategic Sealift Acquisition Program was introduced. Plans called for adding 19 LMSRs which will provide five million square feet of capacity early in the next century.

The LMSR program currently has 19 ships, 5 of which will be conversions of existing commercial container vessels to replace the existing fleet of seven RO/ROs , and 14 of which will be newly constructed ships. In FY 98, three newly constructed LMSRs joined the fleet, followed by four more in FY 99-02. At that time, the five converted LMSRs will be removed from service. All 19 ships use common cargo handling systems, procured by the Navy. LMSRs are being built by three contractors. A performance type procurement description was used, therefore specific ship configurations differ as the respective builders interpret the mission requirements. LMSRs can carry an entire U.S. Army Task Force, including 58 tanks, 48 other track vehicles, plus more than 900 trucks and other wheeled vehicles. The ship carries vehicles and equipment to support humanitarian missions, as well as combat missions. The new construction vessels have a cargo carrying capacity of more than 380,000 square feet, equivalent to almost eight football fields. In addition, LMSRs have a slewing stern ramp and a removable ramp which services two side ports making it easy to drive vehicles on and off the ship. Interior ramps between decks ease traffic flow once cargo is loaded aboard ship. Two 110-ton single pedestal twin cranes make it possible to load and unload cargo where shoreside infrastructure is limited or nonexistent. A commercial helicopter deck was added for emergency, daytime landing.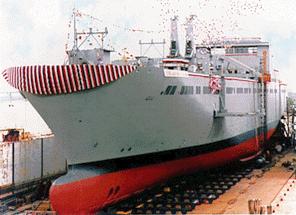 The LMSR ships are Large (950 feet long, 106 feet wide, 55,000 long ton displacement), Medium Speed (24 knots), Roll-on/Roll-off (RO/RO) vessels. The sealift ships will be capable of self-sustained RO/RO and Lift on/Lift off (LO/LO) operations at a pier and in a Logistics-Over-the Shore (LOTS) scenario through stern and side port ramps to a RO/RO Discharge Facility (RRDF). In addition, the LMSR will be capable of self-sustained LO/LO cargo operations in a LOTS scenario by interfacing with lighterage. The LMSR ships are not armed, and do not have a combat system. They do have C3I suite sufficient to perform their intended mission in conjunction with other Naval vessels.

Christening ceremonies for the Navy's new Military Sealift Command (MSC) ship took place 15 March 1997 at Avondale Shipyards in New Orleans. The ship was named Bob Hope (T-AKR 300) in honor of the veteran entertainer's decades of devoted service to US military men and women around the world. Bob Hope is the first of 14 large, medium-speed, roll-on, roll-off ships constructed from the keel up for the Military Sealift Command. Bob Hope joined MSC's Afloat Pre-positioning Force in 1998.

USNS Bob Hope is the lead ship in the new Bob Hope class of sealift ships being built by Avondale Industries. The contract for the lead ship was awarded in September 1993 and called for one ship at a cost of $265 million and included options for up to five additional ships at a total cost of $1.3 billion. On 27 May 1997 Avondale Industries announced that it was awarded a new option for the construction of the seventh ship in the Bob Hope class. The option has a value of $228.2 million upon its exercise which is anticipated in 1999. After consideration of certain additional components and cost escalations, the option when exercised is expected to total more than $250 million. Avondale's peak production on the Sealift vessels is anticipated to involve the direct employment by the company of approximately 3,000 individuals. In addition to the Bob Hope class ships, contracts for other sealift ships have been awarded in 1993 including a $1.3 billion contract to the National Steel and Shipbuilding Company (NASSCO) for one new construction ship plus an option for up to five additional ships, a $426 million contract to Newport News Shipyard for two converted ships and a $635 million contract to NASSCO for three converted ships. On 28 May 1997 National Steel and Shipbuilding Company (NASSCO) received a $227 million Navy contract to build a sixth strategic Sealift ship. And on 14 November 1997 NASSCO announced that the company had been awarded a $195 million contract for the construction of the seventh Strategic Sealift Ship.

Initially it appeared that a total of 14 ships of this class would be constructed, equally divided between NASSCO and Avondale. However, the class will now apparently consist of at least 15 ships, with the addition of TAKR 317, to be delivered in October 2002. The Soderman was originally converted by NASSCO from a commercial containership to a large, medium-speed, roll-on/roll-off (LMSR) vessel and delivered to the Navy in November 1997. Funding for construction of a new LMSR to replace the Soderman in the Navy's combat prepositioning squadron of LMSRs was included in the FY-2001 Defense Appropriations bill approved by Congress in October 1999.

The US Navy's Military Sealift Command ship USNS Bob Hope completed its Balkan operation in early July 1999, moving heavy combat equipment and supplies to U.S. peacekeeping forces in Kosovo. Following Joint Guardian operations, Bob Hope was loaded with Army combat equipment and prepositioned off Diego Garcia in the Indian Ocean.
Specifications

General Characteristics
Bob Hope Class
Watson Class
Builder
Avondale Industries
National Steel and Shipbuilding
Power Plant
4 Colt Pielstick 10 PC4.2 V diesels;
65,160 hp(m) (47.89 MW)
2 GE Marine LM gas turbines;
64,000 hp (7.7 MW);
2 shafts, cp props
Length
951.4 feet (290 meters)
Beam
106 feet (32.3 meters)
Displacement
62,069 tons full load
(63,055.9 long tons)
62,968 tons full load
(63,969.2 long tons)
Cargo capacity
380,000 sq. ft.
393,000 sq. ft.
Speed
24 knots (27.6 mph)
Crew
26 civilian crew (up to 45);
up to 50 active duty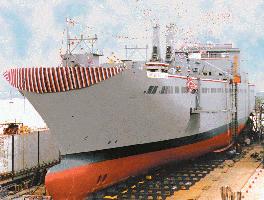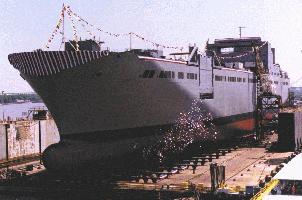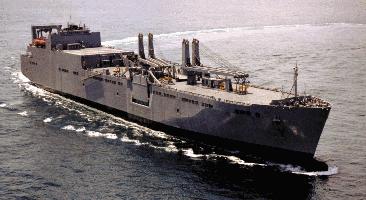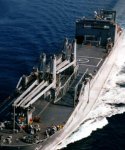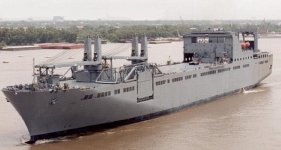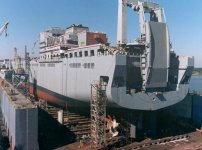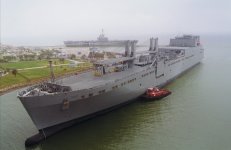 Sources and Resources
---
---
http://www.fas.org/man/dod-101/sys/ship/takr-300.htm
Maintained by Robert Sherman
Originally created by John Pike
Updated Saturday, October 14, 2000 7:12:24 AM