---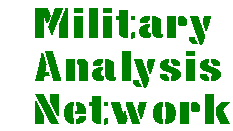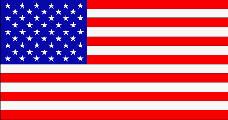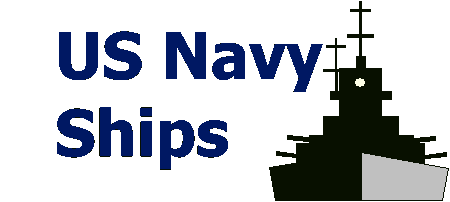 ---
LCC 19 Blue Ridge class
Amphibious Command ships provide command and control for fleet commanders. Commissioned in 1970, these are the only ships to be designed initially for an amphibious command ship role. Earlier amphibious command ships lacked sufficient speed to keep up with a 20-knot amphibious force. Subsequently, both ships became fleet flagships. USS Blue Ridge became the Seventh Fleet command ship in 1979, and USS Mount Whitney became the Second Fleet command ship in 1981.

USS Blue Ridge (LCC-19) was conceived in 1963 and was in the planning and design stage for four years. She was built by the Philadelphia naval Shipyard in 1967 and commissioned November 14, 1970. Unlike her World War II predecessor of the same name, which had to be converted from a merchantman to an Amphibious Force flagship, the new 620-foot United States Ship Blue Ridge (LCC 19) represents a unique effort and achievement in the Navy's Command and Control ship design. Here for the first time is a platform built from the keel up to accomplish the mission of Command and Control coordination. In this 18,500 ton ship are found the facilities to direct and manage every phase of command and control operations. Blue Ridge represents the accumulated knowledge of four decades of the Navy's experience in meeting difficult challenges of Control and Coordination.

Blue Ridge utilizes her "main battery" of computers, communications equipment and other electronic facilities to fulfill her mission as flagship for the United States Seventh Fleet. These systems are also instrumental in her secondary function as a command ship for the Amphibious Task Force and Landing Force Commanders during all phases of fleetwide operations, as well as a Commander Joint Task Force (CJTF) flagship when national interests require it.

The Blue Ridge is the most capable command ship ever built, with an extremely sophisticated Command and Control system. The Joint Maritime Command Information System(JMCIS) consists of numerous powerful computers distributed throughout the ship from which information and data from worldwide sources are entered into a central database. This single integrated database concentrates the available information into a complete tactical picture of air, surface and subsurface contacts, enabling the Fleet Commander to quickly assess and concentrate on any situation which might arise. This ability to access information from military and civilian sources throughout the world gives Blue Ridge a global command and control capability unparalleled in Naval history.

In addition to her sophisticated command and control system, an extremely refined communications system is also an integral part of the ship's radical new design. Through an automated patch panel and computer-controlled switching matrix, any combination of communications equipment desired may be quickly connected. The "clean" topside area is the result of careful design intended to keep the ship's interference to her own communications system at a minimum.

A description of Blue Ridge would not be complete without mention of her twenty-knot plus speed capability. She is a great improvement in ship design, not only in speed, but also in habitability. Fitness rooms, air conditioning, ship's stores, spacious galleys and messing areas all help make life at sea a great deal more pleasant for the crew and embarked staffs. Blue Ridge has accommodations for over 250 officers, 1200 enlisted men and 100 enlisted females.
Specifications

Power Plant
Two boilers, one geared turbine, one shaft; 22,000 horsepower
Length overall
634 feet (190 meters)
Beam extreme
108 feet (32 meters)
Displacement
18,874 tons (16,987 metric tons) full load
Speed
23 knots (26.5 miles, 42.4 km, per hour)
Aircraft
All helicopters except the CH-53 Sea Stallion can be carried
Crew
52 officers, 790 enlisted
Unit Operating Cost
Annual Average
$37,000,000 [source: [FY1996 VAMOSC]
Ships

Name
Number
Builder
Homeport
Ordered
Commissioned
Decommissioned
USS Blue Ridge
LCC 19
Philadelphia Naval Shipyard
Yokosuka, Japan
USS Mount Whitney
LCC 20
Newport News
Norfolk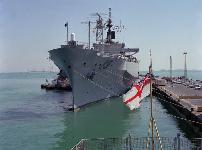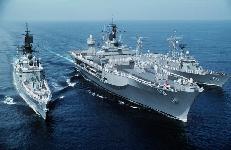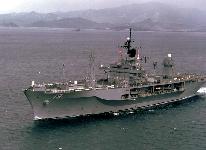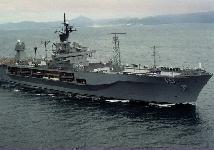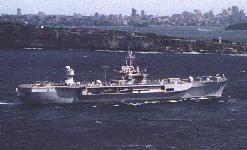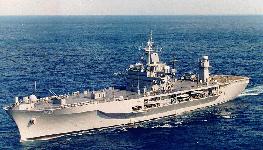 Sources and Resources
---
---
http://www.fas.org/man/dod-101/sys/ship/lcc-19.htm
Maintained by Robert Sherman
Originally created by John Pike
Updated Sunday, January 24, 1999 12:09:21 PM