---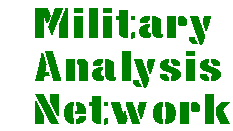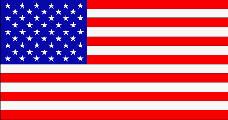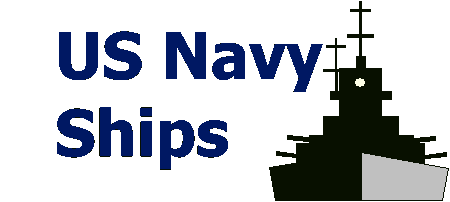 ---
CV 63 Kitty Hawk
USS Kitty Hawk is a conventionally powered aircraft carrier. Combined with the aircraft of Carrier Air Wing FIVE, it carries F-14, F/A-18, EA-6B, S-3 A/B, E-2CA aircraft and SH-60 helicopters, which give a multi-dimensional response to air, surface, and subsurface threats. KITTY HAWK underwent two overhauls in the Bremerton, Wash., Naval Shipyard in 1977 and 1982. The ship's most significant maintenance period, however, was a Service Life Extension Program (SLEP) in the Philadelphia Naval Shipyard beginning from 1987 through 1991. That rigorous four-year overhaul added an estimated 20 years to the planned 30-year life of the ship. Over a three month period in early 1998, nearly 4,000 shipyard workers, Sailors and contractors completed $65 million in repairs (over 500 major jobs) in the Complex Overhaul of the dry-docked Kitty Hawk. All four of the Hawk's screws were repaired (number three was replaced), and all the line shaft bearings were replaced. Containments were built around the shafts to maintain temperature and humidity levels while complex fiberglass work was completed. For the rudders, large holes were cut through the decks, and the rudders and all associated systems were removed. Refurbished rudders were then removed from the decommissioned carrier USS Ranger while that ship was in the water, to be re-machined and installed on the Hawk.

The aircraft carrier USS Kitty Hawk departed from Naval Air Station North Island on 06 July 1998, ending a 37 year relationship with the city of San Diego. USS Kitty Hawk (CV 63) departed to Yokosuka, Japan, on 15 July 1998 where it replaced USS Independence (CV 62) as part of a planned rotation of forward-deployed naval forces. USS Kitty Hawk arrived in Yokosuka in August 1998. Less than a week after arriving in her new homeport, civilian contractors from US Naval Ship Repair Facility (SRF), working with Kitty Hawk Sailors, began over 150 separate jobs. Projects range from repairing water-tight doors and hatches to replacing corroded deck drains. While a majority of the tasks are taking place in out-of-the-way areas, the largest job was replacing non-skid on the Flight Deck. Non-skid is an epoxy/sand compound used to protect the metal decking from corrosion and to provide traction for aircraft and personnel.

Built at the New York Naval shipyard as the second ship in the "Kitty Hawk" class of aircraft carriers, USS CONSTELLATION has more than 30 years of service, which have seen it sail from Yankee Station off the coast of Vietnam to the Gulf of Oman in the Indian Ocean. In February 1990, USS CONSTELLATION departed San Diego, returning to the East Coast for a three-year overhaul. The $800-million Service Life Extension Program (SLEP), completed in the Philadelphia Naval Shipyard in March 1993, added an estimated 15 years to the carrier's operational life. The overhaul saw upgrades to virtually every system on the ship, from the galleys to the engine rooms, and the flight deck to the anchors.

USS Constellation's Combat Systems Suite is one of the most advanced and capable in the fleet. SPS-48E three-dimensional fire control, TAS missile targeting and SPS-49 long-range air search radar systems operate together to allow the ship's Tactical Action Officer to accumulate and assess all hostile contacts. Enhanced by worldwide satellite communications and high frequency data links, information is available for anyplace, at any time. Other state-of-the-art systems, include the Aircraft Carrier Data system, Super High Frequency communications, Automatic Identification and Tracking, Joint Tactical Identification, and Positive Identification, Friend or Foe. The Electronic Chart Display and Information System (ECDIS) can show charts of most of the world's waterways with the simple click of a button. It automatically plots the ship's position by Global Positioning Satellite and keeps a complete record, alleviating yet another time consuming job aboard ship. Available on less than half of the Navy' ships, ECDIS was installed aboard Constellation before its most recent Western Pacific deployment. Also new to the ship is the Flat Panel Display. Seven such displays, strategically placed around Constellation's Bridge and Auxiliary Conn, give the crew instant access to every piece of ship control data available on one notebook sized screen. The displays also make complex computations, such as what course and speed will create enough head wind to launch aircraft from the waistcatapults, automatically.

The recent integration of a Commercial Off-The-Shelf (COTS) computer system with the existing UNIX based system is the first step in a project that will ultimately provide a system which is easier to work with and maintain, and which will be substantially smaller and cheaper to operate. New software gives the Aerographer's Mates (AG's) the ability to detect holes in land-based radars and track overhead orbiting polar satellites and download their images. With the new computer, AG's can log onto the classified Internet and check the status of weather, download imagery from orbiting satellites, or "chat" with other Navy weather commands in real time. This new equipment is the prototype to a METOC system that's still on the drawing board - Tactical Environmental Support System Next Century (TESS NC). The Navy is currently using the TESS 3 version. With TESS NC, several Pentium processors in the OA Division office will be linked and provide the same functions as the current equipment, while generating a substantial savings of time and money.

USS Constellation's Intelligence Center (CVIC) recently augmented its intelligence capabilities with satellite communications and digital imagery technology. These new systems will allow the center to form a more complete and accurate picture of the battle space. The new satellite communication system Challenge Athena III (CA III) allows data to be transmitted and received at the rate of 1.54 megabytes per second, a near real-time connection with the rest of the battle group and other intelligence centers around the world. Digital imaging systems such as the Joint Services Imagery Processing System-Navy allow the battle group commander to plan and execute tactical Tomahawk Land Attack Missile (TLAM) strikes by receiving images over the CA III satellite. Other new imagery systems include a Vexcel Scanner and Digital Camera Receiving Station (DCRS). The DCRS, in combination with the F-14 Tactical Aircraft Reconnaissance Pod System (TARPS) allows CVIC to collect near real time digital images from an airborne F-14 aircraft. Finally, CVIC has installed secure video teleconferencing equipment which can use the CA III satellite. These new systems have made Constellation's CVIC a powerful, versatile intelligence gathering center able to operate independently in a variety of operational situations.

USS CONSTELLATION returned to San Diego on July 22, 1993, following its third transit around Cape Horn at the tip of South America. On April 1, 1997 USS CONSTELLATION beginning a six month deployment to the Western Pacific, Indian Ocean and Arabian Gulf. The USS Constellation Battle Group replaced the USS Kitty Hawk Battle Group which had been forward deployed for six months to a variety of regions including the Western Pacific, Indian Ocean and the Persian Gulf. In October 1997 the USS Constellation battle group returned home on schedule after a highly successful six-month forward deployment to the waters of the Pacific and Indian Oceans and the Arabian Gulf. Carrier Air Wing Two (CVW-2), flew over 1,000 sorties in support of Operation Southern Watch enforcing the no-fly zone over southern Iraq.

USS America CV-66, a slightly modified variant of the Constellation, was de-comissioned on 09 August 1996 after a surprisingly short active career spanning three decades, and is presently in inactive reserve in the Naval Inactive Ship Maintenance Facility (NISMF), Philadelphia, PA. America returned from its last deployment 24 February 1996, where its squadrons flew 250 combat missions over the skies of Bosnia and Herzegovina. The ship and crew also distinguished themselves during Operation Desert Storm. America is the only carrier to have launched strikes against Iraqi targets from both sides of the Arabian Peninsula: Red Sea and Persian Gulf. The aircraft carrier was commissioned Jan. 23, 1965, at Norfolk Naval Shipyard. During its second deployment, America assisted with the rescue and medical treatment of crew members from the technical research ship USS Liberty (AGTR 5) after it was attacked by Israeli torpedo boats and jet fighters, June 8, 1967. America also completed three deployments off the coast of Vietnam, where it spent as many as 112 consecutive days on station.

The de-comissioning of USS America made room in the active fleet for the newly comissioned CVN-74 USS John C.Stennis. USS Constellation is slated for replacement by the new CVN-76 Ronald Reagan in 2003. USS Kitty Hawk is slated for replacement by the as yet un-named CVN-77 in 2008.
Specifications

Power Plant
Eight boilers, four geared steam turbines, four shafts, 280,000 shaft horsepower
Length, overall
1062.5 feet (323.8 meters)
Flight Deck Width
252 feet (76.8 meters)
Beam
130 feet (39 meters)
Displacement
Approx. 80,800 tons (72,720 metric tons) full load
Approx. 78,500 tons (72,720 metric tons) full load CV-66 America
Speed
30+ knots (34.5+ miles per hour)
Aircraft
85
Crew
Ship's Company: 3,150 - Air Wing: 2,480
Armament
Sea Sparrow missiles
3 Phalanx CIWS 20mm mounts
Combat Systems
SPS-48C
SPS-49
SPS-10f or
SPS-67
3 Mk91 Fire Control SLQ-29 EW
WLR- 1 ESM
WLR-11 ESM

Unit Operating Cost
Annual Average
~$141,000,000 [source: [FY1996 VAMOSC]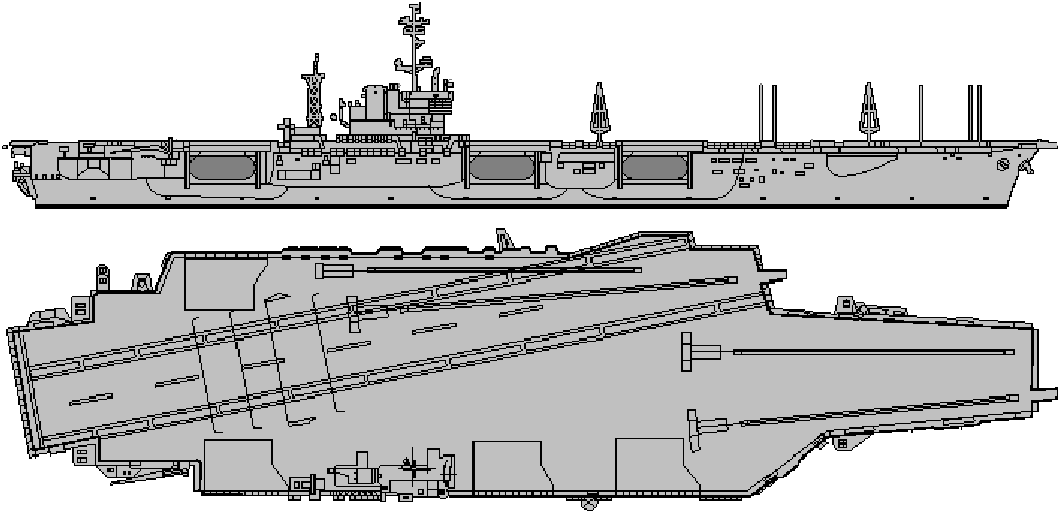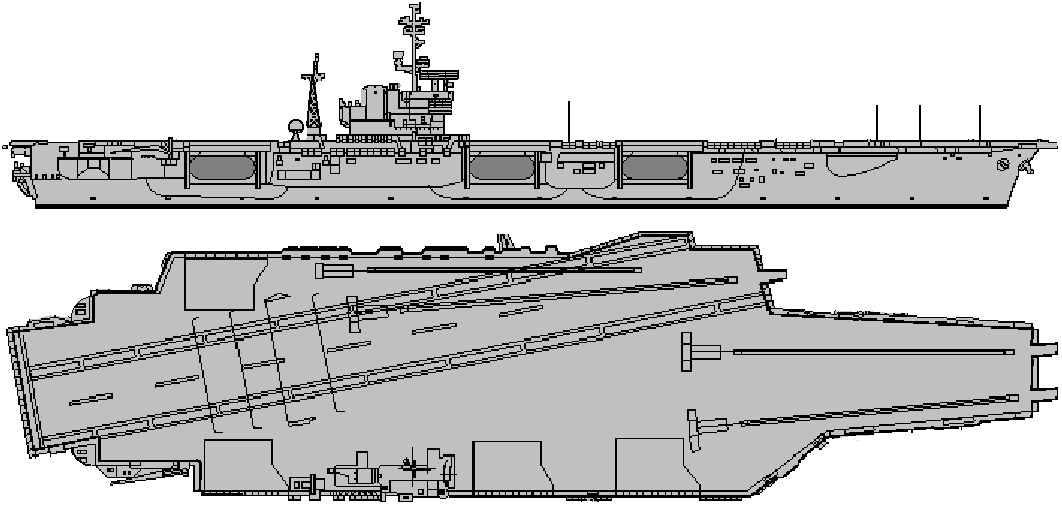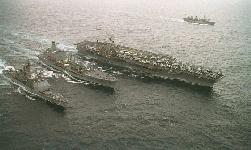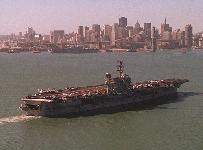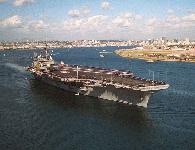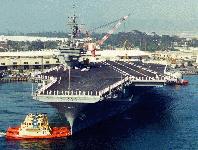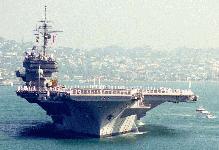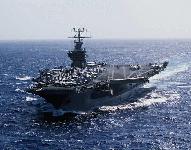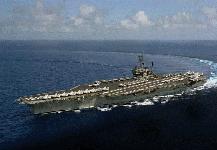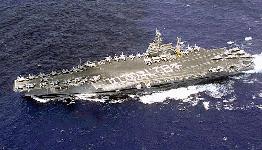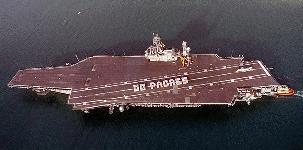 Sources and Resources
FY1996 Ships Class Average Report Navy Visibility and Management of Operating and Support Costs (VAMOSC)
USS Kitty Hawk hoists "Don't Tread On Me" Navy Jack NAVY WIRE SERVICE (NWS) 23 November 1998 -- Kitty Hawk received the First Navy Jack during ceremonies Nov. 20 in Yokosuka, Japan, designating the 37-year-old aircraft carrier as the oldest ship in the fleet.
USS Kitty Hawk /CVW-5 completes Cobra Gold 2000, USS Kitty Hawk Public Affairs, 02 June 2000 -- Wrapping up an intense four days filled with nearly non-stop flight operations, USS Kitty Hawk (CV 63) and Carrier Air Wing (CVW) 5 recently completed their participation in Exercise Cobra Gold 2000.
---
---
http://www.fas.org/man/dod-101/sys/ship/cv-63.htm
Maintained by Robert Sherman
Originally created by John Pike
Updated Sunday, January 24, 1999 10:29:56 AM