---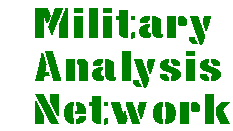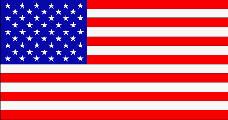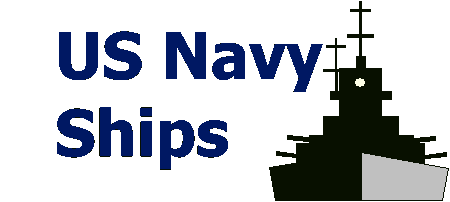 ---
AO-177 Cimarron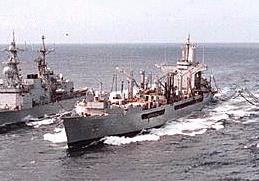 Fleet oilers operate as a unit of an underway replenishment group, replenishing petroleum products and ordnance to the fleet at sea during underway replenishments (UNREPS). The oilers transport bulk petroleum and lubricants from depots to the ships of the battle group. The ships also transport and deliver limited Fleet Freight, mail and personnel to combatants and support units underway. The ships are simultaneously capable of providing three double-probe fuel rigs to port, and two single-probe fuel rigs to starboard, delivering a maximum of 900,000 gallons-per-hour of diesel fuel marine. The number of Navy-manned fleet oilers has decreased as more and more Military Sealift Command ships, manned by a civilian crew and commanded by a civilian master, have assumed responsibilities for supplying deployed ships.

The ship's fully automated two-boiler steam propulsion plant propel them at sustained speed of 20 knots while carrying a load of 150,000 barrels of fuel and 625 tons of ordnance. Liquid cargo transfer is provided by STREAM (Standard Tensioned Replenishment Alongside Method) double-hose stations located on the port and starboard sides. For receiving fuel, there are double receivers on the port and starboard sides. Fuel delivery is controlled by the Ship's Automated Liquid Cargo Control System. There is one replenishment station located on each side to provide the capability to transfer cargo, Fleet freight and personnel. Both replenishment stations have a cargo boom for ship-to-shore transfer of supplies while the ship is in port. In addition, the ship has a flight deck aft for receiving and sending freight and passengers by helicopter.

WILLAMETTE is the first ship of the class to be protected by two MK 15 Phalanx Weapon Systems. Extensive damage control equipment and systems ensure rapid response to control any type of emergency. On September 27, 1991, WILLAMETTE was the second ship of the CIMARRON class to complete jumboization. A 108 foot midbody section was added to the center of the ship. This midbody increased fuel capacity by 30,000 barrels and added an ordnance cargo capability of 625 tons. The midbody also features an additional emergency diesel generator and two standard tensioned replenishment alongside method (STREAM) cargo stations. Ballast and cargo transfer systems are fully automated and designed to effect safe and efficient transfer of bulk petroleum cargo. Habitability has been improved over previous designs, and labor-saving devices have been incorporated to promote a reduced manning plan.
Specifications

Builders:
Avondale Shipyards

Power Plant:
2 - 600psi Boilers (Automated Steam)
24,000 Shaft Horsepower via a Single Shaft and Propeller
ORIGINAL
JUMBOIZED
LENGTH
591 Feet 6 Inches
Overall Length: 700 ft
Waterline Length: 661 ft
BEAM
88 Feet
Extreme Beam: 88 ft
Waterline Beam: 86 ft
DRAFT
31 Feet 4 Inches
Maximum Navigational Draft: 32 ft
Draft Limit: 35 ft
DISPLACEMENT
26,000 Long Tons
Light Displacement: 11645 tons
Full Displacement: 36977 tons
Dead Weight: 25332 tons
SPEED
20 Knots
19 Knots
Cargo capacity [JUMBO]
CAPACITY - FUEL:
Cargo Oil - 75,000 Barrels
JP-5 - 45,000 Barrels
Convertible - 30,000 Barrels
(for a Total of 150,000 Barrels) CAPACITY - ORDNANCE:
625 TONS CAPACITY - PROVISIONS:
Dry Fleet Freight - 360 Tons
Reefer - 60 Tons
Lube Oil 125 55-Gallons Drums
Bottled Gas - 584 Cylinders
ISO Containers - 21

Armament
2 - Phalanx close-in weapons systems
2 - 25MM MK 38 Machine Guns
4 .50-Caliber Machines Guns
Unit Operating Cost
Annual Average
~$16,000,000 [source: [FY1996 VAMOSC]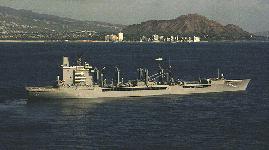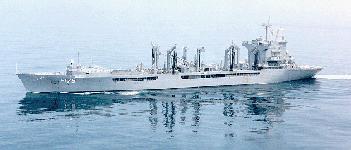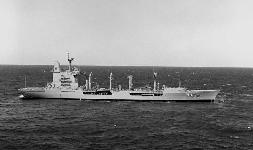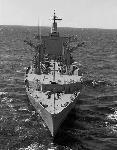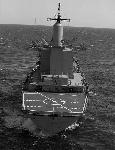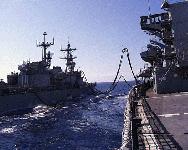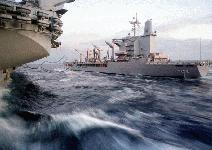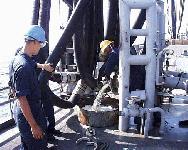 Sources and Resources
---
---
http://www.fas.org/man/dod-101/sys/ship/ao-177.htm
Maintained by Robert Sherman
Originally created by John Pike
Updated Saturday, March 06, 1999 11:04:19 AM