---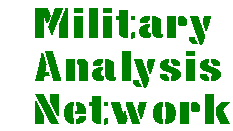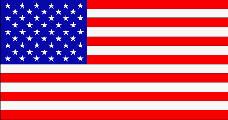 ---
RAH-66 Comanche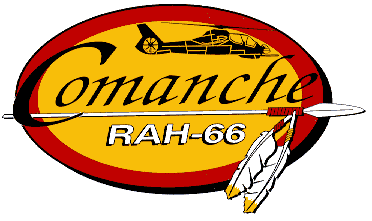 The Boeing-Sikorsky RAH-66 Comanche is the Army's next generation armed reconnaissance helicopter. It also is the first helicopter developed specifically for this role. The Comanche will provide Army Aviation the opportunity to move into the 21st century with a weapon system of unsurpassed warfighting capabilities crucial to the Army's future strategic vision. The Comanche is intended to replace the current fleet of AH-1 and OH-58 helicopters in all air cavalry troops and light division attack helicopter battalions, and supplement the AH-64 Apache in heavy division/corps attack helicopter battalions.
The first Boeing-Sikorsky RAH-66 Comanche prototype was rolled-out at Sikorsky Aircraft, Stratford, Connecticut, May 25, 1995. The prototype's first flight was made on 04 January 1996. The second prototype is scheduled to fly in late March 1999. Six early operational capability aircraft are scheduled to be delivered 2002 to participate in an Army field exercise in 2002-2003, or possibly later in "Corps 04". The Comanche is powered by two Light Helicopter Turbine Engine Co. (LHTEC) T800-801 engines. These advanced engines and a streamlined airframe will be enable the Comanche to fly significantly faster than the larger AH-64 Apache.

The RAH-66 Comanche helicopter's primary role will be to seek out enemy forces and designate targets for the AH-64 Apache Attack helicopter at night, in adverse weather, and in battlefield obscurants, using advanced infrared sensors. The helmet has FLIR images and overlaid symbology that can be used as a headup display in nape-of-the-earth (NOE) flight.
The aircraft has been designed to emit a low-radar signature (stealth features). The Comanche will perform the attack mission itself for the Army's light divisions. The RAH-66 will be used as a scout and attack helicopter to include an air-to-ground and air-to-air combat capability. The Comanche is slated to replace the AH-1 Series Cobra light attack helicopter, the OH-6A Cayuse, and the OH-58A/OH-58C Kiowa light observation helicopters.
The Comanche mission equipment package consists of a turret-mounted cannon, night-vision pilotage system, helmet-mounted display, electro-optical target acquisition and designation system, aided target recognition, and integrated communication/navigation/identification avionics system. Targeting includes a second generation forward-looking infrared (FLIR) sensor, a low-light-level television, a laser range finder and designator, and the Apache Longbow millimeter wave radar system. Digital sensors, computers and software will enable the aircraft to track and recognize advesarys long before they are aware of the Comanche's presence, a key advantage in both the reconnaissance and attack roles.
Aided target detection and classification software will automatically scan the battlefield, identifying and prioritizing targets. The target acquisition and communications system will allow burst transmissions of data to other aircraft and command and control systems. Digital communications links will enable the crew unparalleled situational awareness, making the Comanche an integral component of the digital battlefield.
The armament subsystems consist of the XM301 20mm cannon, and up to 14 Hellfire anti-tank missiles, 28 Air-to-Air Stinger (ATAS) anti-aircraft missiles, or 56 2.75 inch Hydra 70 air-to-ground rockets carried internally and externally. Up to four Hellfire and two Air-to-Air Stinger (ATAS) missiles can be stowed in fully-retractable weapons bays and the gun can be rotated to a stowed position when not in use. This design feature reduces both drag and radar signature.
Mission management, status, and control information is provided over the MIL-STD-1553B databus between the mission equipment packages and the Turreted Gun System. The Comanche will have enhanced maintainability through it's modular electronics architecture and built-in diagnostics.
RAH-66 COMANCHE CAPABILITIES
Sensors and avionics. In the reconnaissance role, the Comanche will be equipped with a new generation of passive sensors and a fully integrated suite of displays and communications. Advance infrared (IR) sensors will have twice the range of OH-58D Kiowa Warrior and AH-64 Apache sensors. The Comanche will be equipped with the Apache Longbow fire control radar and the Helmet Integrated Display and Sight System (HIDSS). The fully integrated avionics system will allow tactical data to be overlaid onto a digital map, allowing the crew to devote more time for target detection and classification. A triple-redundant fly-by-wire system can automatically hold the helicopter in hover or in almost any other maneuver, reducing workload, allowing the pilot to concentrate on navigation and threat avoidance. A hand-on grip permits one-handed operation.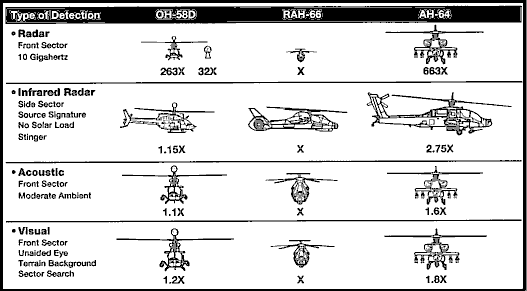 Stealth characteristics. The Comanche incorporates more low-observable stealth features than any aircraft in Army history. The Comanche radar cross-section (RCS) is less than that of a Hellfire missile. To reduce radar cross-section, weapons can be carried internally, the gun can be rotated aft and stowed within a fairing behind the turret when not in use, and the landing gear are fully-retractable. The all-composite fuselage sides are flat and canted and rounded surfaces are avoided by use of faceted turret and engine covers. The Comanche's head-on RCS is 360 times smaller than the AH-64 Apache, 250 times less than the smaller OH-58D Kiowa Warrior, and 32 times smaller than the OH-58D's mast-mounted sight. This means the Comanche will be able to approach five times closer to an enemy radar than an Apache, or four times closer than an OH-58D, without being detected.

Noise suppression. The Comanche only radiates one-half the rotor noise of current helicopters. Noise is reduced by use of a five-bladed rotor, pioneered by the successful Boeing (McDonnell Douglas) MD-500 Defender series of light utility helicopters. The fantail eliminates interaction between main rotor and tail rotor wakes. The advanced rotor design permits operation at low speed, allowing the Comanche to sneak 40% closer to a target than an Apache, without being detected by an acoustical system.

Infrared (IR) suppression. The Comanche only radiates 25% of the engine heat of current helicopters, a critical survivability design concern in a low-flying tactical scout helicopter. The Comanche is the first helicopter in which the infrared (IR) suppression system is integrated into the airframe. This innovative Sikorsky design feature provides IR suppressors that are built into the tail-boom, providing ample length for complete and efficient mixing of engine exhaust and cooling air flowing through inlets above the tail. The mixed exhaust is discharged through slots built into an inverted shelf on the sides of the tail-boom. The gases are cooled so thoroughly that a heat-seeking missile cannot find and lock-on to the Comanche.

Crew Protection. The Comanche features a crew compartment sealed for protection against chemical or biological threats, an airframe resilient against ballistic damage, enhanced crash-worthiness, and reduced susceptibility to electromagnetic interference.

Maintainability Comanche will be easily sustained, will require fewer personnel and support equipment, and will provide a decisive battlefield capability in day, night and adverse weather operations. Comanche has been designed to be exceptionally maintainable and easily transportable. Through its keel-beam construction, numerous access panels, easily accessible line-replaceable units/modules and advanced diagnostics, the RAH-66 possesses "designed-in" maintainability. Comanche aircraft will be able to be rapidly loaded into or unloaded from any Air Force transport aircraft.
Specifications

Manufacturer
Boeing Helicopter Company and
Sikorsky Aircraft Division (joint venture)
Length
46.78 feet (rotor turning)
Width
39.04 feet (rotor turning)
Height
11.0 feet (overall)
Armament
Air-to-air Stinger
Hellfire
20mm three-barrel turreted gun
Hydra-70 rockets

Weight
Empty 7,765 pounds
Combat Mission 10,600 pounds
Mission Equipment
Centralized processing architecture with Ada software
Target acquisition system with aided-target detection/classification and automatic target tracking;
night vision pilotage system, wide field-of-view (35ox52o) helmet-mounted display
Propulsion
Two T800 1,440 SHP gas turbine engines
5-blade main rotor
Fantail anti-torque
Crew
Two
Speed
330 km/hr / 172 knots - Dash speed 315 km/hr / 164 knots - Dash speed
(@ 4,000 feet/95oF / with Longbow)
310 km/hr / 161 knots - Cruise speed
Vertical Rate of Climb
500-850 feet per minute
Range
262 nm Max Range (internal fuel)
1,260 nm self-deployment range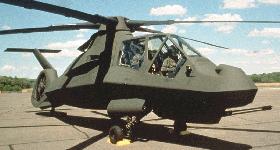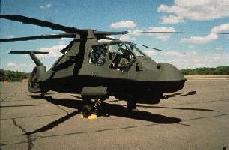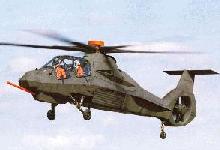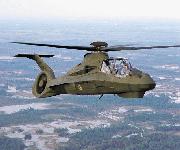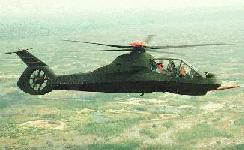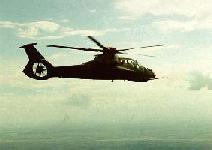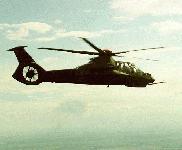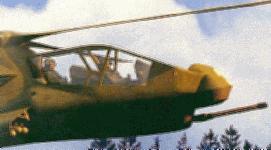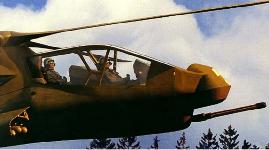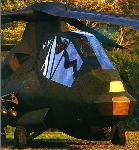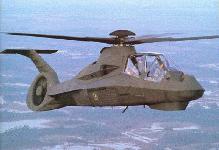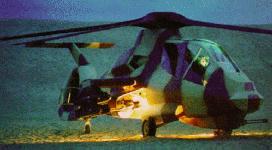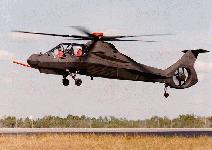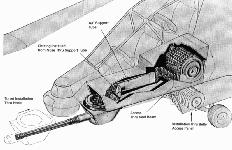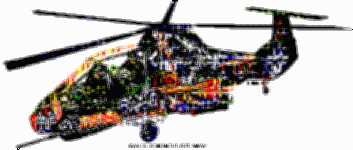 Sources and Resources
---
---
http://www.fas.org/man/dod-101/sys/ac/rah-66.htm
Maintained by Robert Sherman
Originally created by John Pike
Updated Friday, March 12, 1999 5:54:08 PM