---
RAH-66 Comanche--
Eyes and Ears for the 21st Century
---
This article, by Major Eric S. Johnson, AV appeared on pages 22-25 of the May-June 1996 issue of Field Artillery
---
The most significant deficiency in Army aviation today is armed reconnaissance .... Comanche will be the eyes and ears of the commander on the lethal future battlefield. It must deploy rapidly, see without being seen and inform commanders at many levels. If necessary, the Comanche must influence the battle with organic weapons--precision strike--and at times, the Comanche crew must control the maneuver battle....

Comanche's integrated mission equipment system will share critical information digitally with other members of the Army combined arms team and sister services .... and will dramatically compress engagement times in the deep as well as close battles .... The most accurate, current, though perishable data [allows the commander] to control battlespace and the environment he is in.


General Gordon R. Sullivan
Chief of Staff of the Army, 15 March 1994
---
The new RAH-66 Comanche helicopter is designed to maximize the fire support and aviation team as an effective integrated combat force. When fielded after the turn of the century, the Comanche's capabilities will extend the "eyes" of the fire support system, shorten the sensor-to-shooter time line, present a near realtime picture of the battlefield and help synchronize the fight.
As demonstrated in testing, the helicopter's advanced sensors detect and identify threat forces at greater ranges than current aerial platforms. The RAH66 can detect a target and pinpoint its location to within 15 meters. Its integrated digital architecture allows the crew to format and transmit the information in less than three seconds. The RAH-66 can conduct six fire missions simultaneously with an additional 20 preplanned missions in the system, waiting for execution.
Comanche's integrated communications suite enhances the situational awareness of all forces to help commanders synchronize operations and rapidly engage high-payoff targets (HPTs). These sensors also provide accurate, timely battle damage assessment (BDA) for planning future operations.
Comanche will perform the full spectrum of cavalry, attack and air combat operations. It is a weapon system that can get to the battle, fight, survive and sustain itself to fight again.
---
Getting to the Battle and Fighting
The RAH-66 is air-transportable by all Air Force transport aircraft. For example, the Comanche can off-load from a C-130 and be ready to fight in less than 22 minutes with minimal personnel and no special equipment. (See Figure 1.)
| | | | | |
| --- | --- | --- | --- | --- |
| Per Sortie | C-5 | C-17 | C-141 | C-130 |
| Number of RAH-66 | 8 | 4 | 3 | 1 |
| All Ready to Fight | 75 Min | 45 Min | 35 Min | 22 Min |
Figure 1: Rapid Deployability. As Shown in this figure, the Comanche--RAH-66--is air-transportable. This reconnaissance and attack helicopter also is self-transportable with an unrefueled range of 1,260 nautical miles and can operate off ships.
In addition, using external fuel tanks, the Comanche has an unrefueled self deployment range of 1,260 nautical miles. This range provides a rapid force projection capability while freeing strategic transport aircraft to carry other high-priority assets.
The Comanche is an extremely maneuverable aircraft with dash speeds of up to 175 knots (325 kilometers per hour), maximum speeds of 210 knots (390 kilometers per hour) and low fuel consumption allowing more than two hours of endurance, plus reserve, for long-range tactical employment. With the addition of external tactical fuel tanks, the Comanche can operate up to three and one-half hours without refueling.
The Comanche receives tactical information on friendly and enemy units via on-board sensors and digital communications; the information is displayed on a full-color digital map so the crew can make tactical decisions rapidly based on the commander's intent, situation and rules of engagement (ROE).
Mission Processing. Two sets of very high-speed integrated circuit (VHSIC) computers enhance the speed and power of the Comanche's mission processing. Each processor consits of replaceable modules, many common with the Air Force and Navy. If a module fails, the mission processors can reconfigure themselves, allowing the Comanche to remain in the battle and continue its mission despite hardware malfunctions or battle damage.
Communications. The helicopter has the Air Force integrated communications navigation identification avionics (ICNIA) for interoperability and commonality. It also has inter- and intraservice communications in both secure and non-secure voice and digital modes in a variety of different radio functions. The Comanche has two VHF-FM single-channel ground and airborne radio system (SINCGARS) radios, a VHF-AM radio, a UHF-AM radio and a high-frequency (HF) radio for non-line-of-sight communications.
To transmit digital information, the Comanche uses the improved data modem (IDM) that incorporates digital protocols and receives data from the combined arms, joint and combined forces. These protocols include, but are not limited to, the variable message format (VMF), advanced Field Artillery tactical data system (AFATDS), tactical fire direction system (TACFIRE) and Marine tactical system (MTS). The enhanced position location and reporting system (EPLRS) and joint tactical information distributions system (JTIDS) also can be easily incorporated.
Navigation. An embedded global positioning/inertial navigation system (EGI) provides accurate and fail-safe navigation worldwide--even in the absence of terrain features. The system is integrated with other navigational systems and continuously displays the position of its own aircraft on a color digital map to 300 x 300 kilometers of a 1:50,000 scale map. The 1:250,000, 1:1,000,000 and l:2,000,000 scale maps also are options.
Sensors. The Comanche has a suite of integrated sensors from different spectrums to provide a detailed, near realtime picture of the battlefield. The sensors include the electro-optical target acquisition system (EOTAS), the pilotage system and the Longbow fire control radar.
The EOTAS consists of a day TV, second-generation forward-looking infrared (FLIR) and laser rangefinder/ designator. The FLIR provides at least a 40 percent range increase in target detection and more than a 1.00 percent increase in target identification when compared to the first-generation FLIR on the AH-64 Apache and OH-58D Kiowa Warrior. EOTAS increases the crew's stand-off range from threat weapons, enhances the precision of target locations for target hand-overs and improves situational awareness.
Using aided target detection/classification (ATD/C), the crew can scan the battlefield using automation and store the imagery to review later from behind masking terrain. Within seconds, this scan can detect, classify and prioritize air or ground targets. ATD/C is integrated with EGI, providing precise target locations and the ability of the crew to select and prioritize threats for attack by precision weapons.
The night-vision pilotage system (NVPS) features pilot selection of second-generation FLIR or image intensification (I2) to use the best night-vision system for his environmental conditions. Using his helmet-mounted display, the pilot can see flight, navigation and weapon symbology for all operations while looking out of the cockpit.
Approximately one-third of the Comanche fleet will have the Longbow fire control radar to increase detection capabilities. Longbow allows the pilot to "see" through battlefield obscurants and adverse weather. Used in conjunction with EOTAS, it improves the pilot's situational awareness and increases the aircraft's survivability.
Weapon Systems. Comanche weapons include the Hellfire missile (both laserguided and RF), the Hydra 70 2.75-inch family of rockets, air-to-air Stinger (ATAS) missile and a 20-mm turreted gun. The helicopter has six internal weapon stations for the Hellfire, Hydra 70 and ATAS. As missions dictate, the aircraft can use external wing stores, called the enhanced fuel armament management subsystem (EFAMS), to add up to eight additional weapon stations for a total of 14. EFAMS also allows the pilot to mix and match weapons and fuel tanks to perform a variety of missions.
---
Surviving and Sustaining the Fight
Increased survivability of the aircraft is the result of an integrated systems approach in designing the aircraft. These systems are vulnerability reduction (ballistic and electromagnetic interference, or EMI, hardening); susceptibility reduction (IR suppression, acoustic signature and radar cross section); passive countermeasures (radar, chemical and laser detection); active countermeasures (not currently required) and self-defense armaments.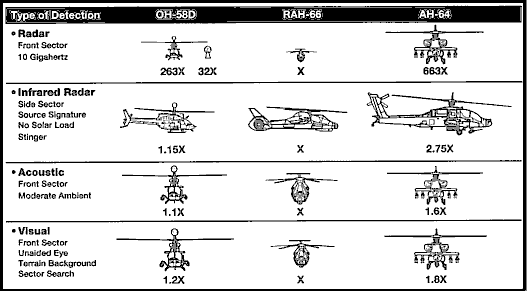 | | | |
| --- | --- | --- |
| | Figure 2: Detectability Comparison. Using the detectability quotient of "X" for the RAH-66 Comanche, the OH-58D Kiowa Warrior and AH-64 Apache are easier to detect--as indicated by the multiples of "X." | |
Comanche's composite airframe is a further development of the "stealth" technology used on the F-117 and B-2 as well as other low-observable technologies to reduce the signature of the aircraft. (See Figure 2.) However, if the aircraft is detected, it can sustain a hit of up to a 23-mm round and still be operational.
Extensive measures for nuclear, biological and chemical (NBC) protection are provided for the crew. The aircraft has point chemical detectors for early warning to help avoid contaminants. If the aircraft must operate in a contaminated area, the cockpit and avionics bays are over pressurized.
Comanche minimizes the commander's logistic tail. It has a modular repair and upgrade architecture to allow maintenance personnel flexibility for repairs and system developers flexibility as technology advances. The two-level maintenance support structure results in simpler remove-and-replace maintenance tasks in the field, requiring only 23 common tools. The Comanche needs significantly fewer maintenance manhours per flight hour--2.6 hours--than our other helicopters.
---
Testing the Fleet
Current
Interim
Objective
Air Cavalry Troop
6 OH-58A/C 4 AH-1
8 OH-58D
12 RAH-66
Attack Bn (Light/Airborne Division)
13 OH-58A/C 21 AH-1
24 OH-58D
24 RAH-66
Attack Bn (Heavy and Air Assault Division/Corps)
13 OH-58A/C 18 AH-1
24 AH-64
9 RAH-66 15 AH-64D
| | | |
| --- | --- | --- |
| | Figure 3: Active Component Aviation Modernization Plan. The objective is to replace OH-58A/C Kiowa scout and AH-1 Cobra attack helicopters with RAH-66 Comanche Reconnaissance and attack helicopters in our force structure, except for the AH-64D Longbow Apache helicopters in heavy and air assault divisions and corps. | |
Performing the armed reconnaissance and light attack missions, the Comanche ultimately will replace the AH-1 Cobra and OH-58 Kiowa helicopters in the cavalry and attack helicopter battalions in the light/airborne and heavy/air assault divisions. (See Figure 3.) Additionally, the Comanche will be fielded in the target acquisition and reconnaissance platoons and companies of the armored cavalry regiments and special operations forces.
In November 1995, the Training and Doctrine Command (TRADOC) Force XXI "Rock Drill" conducted at Fort Monroe, Virginia, explored tactics, techniques and procedures (TTP) for employing this versatile weapon as a division asset. In the exercise, two 12-aircraft Comanche air cavalry troops conducted continuous armed reconnaissance, security, attack and air assault security operations. The experimental air cav troops were employed with unmanned aerial vehicles (UAVs) to extend their range and coverage and were cued digitally by joint surveillance and target attack radar system (JSTARS), the Army aviation command and control system (A2C2S) UH-60 and ground-based command posts. This gave commanders real-time intelligence and situational awareness, culminating in the delivery of lethal precision fires at the decisive time and place. The exercise results indicated that the increased capabilities of the Comanche in the air cavalry troops equated to an additional attack helicopter battalion's worth of combat power for the division.
In the Rock Drill, the Comanche triggered the division's decisive attack on an enemy tank regiment. Using its unique survivability, stealth and advanced target acquisition systems, Comanche penetrated into the enemy's depth, detected and tracked enemy forces, employed other joint and combined arms assets to shape an engagement area and digitally handed-off targets to both extended-range artillery and AH-64D Longbow Apaches. The Apaches fired their radar-guided Hellfire missiles from masked positions at stand-off ranges without being exposed to enemy fires. Remaining on station, the Comanches were able to assess the damage to the enemy and digitally transmit that assessment, which became the decision point to unleash the division's main attack. Comanche was, in effect, the "battlefield quarterback" for the decide, detect, deliver, and assess (D3A) targeting process.
Another benefit reinforced by the Rock Drill was the effectiveness of Comanche in conducting security operations in an economy-of-force role. Because of its survivability, digital connectivity with other battlefield systems, long-range acquisition capability and lethal weapons, the Comanche can be force-oriented and cued to counter the enemy where he is or is most likely to be. During the Rock Drill, one Force XXI Comanche troop demonstrated its potential to perform security missions that requires an air cavalry squadron today.
Testing the Fleet
The 1996 Prairie Warrior, an annual division-level exercise at the Command and General Staff College at Fort Leavenworth, Kansas, will test Comanche as an advanced system for the mobile strike force. In addition, a series of advanced concept technology demonstrations (ACTD) during a three-year period will experiment with the Comanche survivable armed reconnaissance on the digital battlefield (SARDB) in conjunction with various battle labs and other agencies. These and other exercises and experiments will continue to provide more definitive analyses of potential Comanche operations.
As a result of program restructuring, the Army is getting Comanche into the hands of users as early as possible. The early operational capabilities strategy is providing six prototype aircraft and two test-flight aircraft for evaluations in some 3,800 flight hours. Concuffent with developmental tests and evaluations, we're developing and refining Comanche TTP. The goal is to start fielding the Comanche in the objective force configuration of the Aviation Modernization Plan (Figure 3) in 2006.
The Comanche, with its multi-mission versatility, meets the Army's needs for worldwide armed reconnaissance. Although the aircraft is still in the testing phases, it's already clear the Comanche will be a catalyst for exciting innovations in combined arms doctrine and TTP as the commander's eyes and ears on the 21st century battlefield.

---
Major Eric S. Johnson, Aviation, has been the Assistant Training and Doctrine Command (TRADOC) System Manager for Communications, Navigation and Identification (CNI) Avionics on the Comanche at Fort Rucker, Alabama, since 1993. Previous assignments include command of two air cavalry troops, one in the 11th Armored Cavalry Regiment in Germany and the other in the 4th Squadron, 17th Cavalry at Fort Bragg, North Carolina. Other assignments include serving as Aide-de-Camp to the Deputy Commander of V Corps in Germany; Detachment Commander in Task Force 118 at Fort Bragg supporting Operation Prime Chance in the Persian Gulf from 1988 to 1990; and Assistant Brigade Adjutant of the 18th Aviation Brigade and Aeroscout Platoon Leader for the 18th Aviation Company, both also at Fort Bragg.
---