---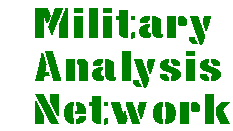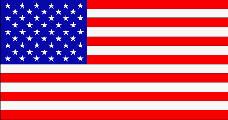 ---
MC-130E/H Combat Talon I/II
The mission of the MC-130E Combat Talon I and MC-130H Combat Talon II is to provide global, day, night and adverse weather capability to airdrop and airland personnel and equipment in support of U.S. and allied special operations forces. The MC-130E also has a deep penetrating helicopter refueling role during special operations missions. The MC-130H conducts infiltrations into politically denied/sensitive defended areas to resupply or exfiltrate special operations forces and equipment. These missions are conducted in adverse weather at low-level and long range. The MC-130H is supported with organic depots for the aircraft, radar, radome, and mission computer. All twenty-four aircraft have been delivered.
Features
These aircraft are equipped with in-flight refueling equipment, terrain-following, terrain-avoidance radar, an inertial and global positioning satellite navigation system, and a high-speed aerial delivery system.
The special navigation and aerial delivery systems are used to locate small drop zones and deliver people or equipment with greater accuracy and at higher speeds than possible with a standard C-130. The aircraft is able to penetrate hostile airspace at low altitudes and crews are specially trained in night and adverse weather operations.
Nine of the MC-130E's are equipped with surface-to-air Fulton air recovery system, a safe, rapid method of recovering personnel or equipment from either land or water. It involves use of a large, helium-filled balloon used to raise a 450-foot (136.5 meters) nylon lift line. The MC-130E flies towards the lift line at 150 miles per hour (240 kilometers per hour), snags it with scissors-like arms located on the aircraft nose and the person or equipment is lifted off, experiencing less shock than that caused by a parachute opening. Aircrew members then use a hydraulic winch to pull the person or equipment aboard through the open rear cargo door.
The MC-130H features highly automated controls and displays to reduce crew size and work load. The cockpit and cargo areas are compatible with night vision goggles. The integrated control and display subsystem combines basic aircraft flight, tactical and mission sensor data into a comprehensive set of display formats that assists each operator performing tasks.
The pilot and co-pilot displays on the cockpit instrument panel and the navigator/electronic warfare operator console, on the aft portion of the flight deck, have two video displays and a data-entry keyboard. The electronic warfare operator has one video display dedicated to electronic warfare data.
The primary pilot and co-pilot display formats include basic flight instrumentation and situational data. The display formats are available with symbology alone or with symbology overlaid with sensor video.
The navigator uses radar ground map displays, forward-looking infrared display, tabular mission management displays and equipment status information. The electronic warfare operator's displays are used for viewing the electronic warfare data and to supplement the navigators in certain critical phases.
During Desert Storm, the MC-130E Combat Talon I played a vital role. One third of all airdrops in the first three weeks of the war were performed by MC-130s. Its primary role was psychological operations, as it air-dropped 11 BLU-82/B general purpose bombs and flew multiple missions air-dropping and dispersing leaflets. Its secondary role was combat search and rescue. Following the Persian Gulf war, MC-130s flew extensively in support of Operation Provide Comfort.
The MC-130E has an improved terrain following/terrain avoidance radar with increased MTBF. The lack of spares and repairable assemblies for the current system has complicated the management of it. An upgrade will significantly increase the reliability and maintainability of the APQ-122 by increasing the MTBF to 40 hours. The acquisition strategy is to award a sole source contract to Raytheon. The FY 2003 budget continues to fund the upgrade from the E-4 autopilot to the improved dual AYW-1 autopilot and the installation of the Ground Collision Avoidance System (GCAS) through FY 2004.
Reliability and maintainability upgrades for the APQ-170 radar include a package compilation of fixes to field reported problems, qualifications testing and lab testing fixes identified under the main MC-130H Combat Talon II production effort. Modifications are form, fit and function replacements for current radar components. All 66 radar equivalent ship sets will be retrofitted by the contractor. These 66 ship sets are comprised of 24 aircraft, six hot mock-ups, two sets in lab testing at the contractor facility, and 34 spare sets. The program funds will be used to procure the upgrade kits and perform the actual retrofit. The installation schedule will be driven by failure rates. This was originally a single year buy, now spread over three years by OUSD. An ECP to Lockheed Martin Federal Systems (APQ-170 contractor) will provide these upgrades.
The Comm/Nav Upgrade Program integrates narrow band SATCOM (NBS), Demand Assigned Access (DAMA) modems, Single Channel Ground and Air Radio System (SINCGARS), HF Automatic Communications Processor (ACP) including common area fills, and SOF common 3.5 inch disk drive into Combat Talon II.
Another upgrade program modifies MC-130H aircraft to add aerial refueling capability, internal fuel tanks and enlarged paratroop door window. The modification provides plumbing and Operational Flight Program (OFP) update.
The United States Special Operations Command (USSOCOM) has a requirement for a C-130 engine infrared (IR) signature suppression system to provide Special Operations Forces (SOF) C-130 aircraft with an IR signature reduction equal to or better than existing systems at a lower cost of ownership. The primary difficulties with present suppressor systems are low reliability and poor maintainability. This C-130 Engine Infrared Suppression (EIRS) Program system will be used on AC-130H/U, MC-130E/H/P, and EC-130E aircraft. The key requirements for the Engine IR Suppression system are: (a) improved reliability and maintainability over existing systems to result in lower total cost of ownership; (b) IR signature suppression levels as good as the current engine shield system (aka. Tubs); (c) no adverse impacts to aircraft performance and ability to accomplish SOF missions; (d) complete interchangeability between engine positions and identified aircraft types. The suppressor is expected to be a semi-permanent installation, with removal being primarily for servicing, allowing the aircraft to perform all required missions with the suppressors installed. There will be up to two competitive contracts awarded for the initial phases of development with a downselect to one contractor for the completion of development and production. The contract will contain fixed price options for procurement, installation, and sustainment of the system.
The Directional Infrared Countermeasures (DIRCM) program develops and procures 60 systems and provides 59 SOF aircraft (AC-130H/U, MC-130E/H) with a DIRCM system capability. The DIRCM system will work in conjunction with other onboard self-protection systems to enhance the aircraft's survivability against currently deployed infrared guided missiles. Growth is planned to add a capability to detect and counter advanced threats. Execution of this program is in concert with a joint US/UK cooperative development/ production effort with the UK as lead. Development and acquisition of the DIRCM system will be in accordance with UK procurement laws/regulations. UK designation for this program is "Operational Emergency Requirements 3/89." In late 1999, Lockheed Martin was awarded the contract to install Northrop Gruman AN/AAQ-24(V) Nemesis DIRCM systems on U.S. Special Operations Command aircraft. The AN/AAQ-24 confuses hostile IR-tracking missiles by directing IR-energy, generated by instense lamps, at the missile's IR seeker. Northrop Gruman announced all manufacturing work associated with the AN/AAQ-24 complete in early 2001. Continuing research associated with the Large Aircraft Infrared Countermeasures (LAIRCM) program will develop a laser-based DIRCM to be fielded later in the decade.
On June 12, 2002, a US Special Operations MC-130H crashed shortly after take-off near the Bande Sardeh Dam, Afghanistan, killing three crewman, two Air Force and one Army Special Forces sergeant, and wounding seven other crewman. Although the cause of the crash remains unknown, military officials said there was no evidence that the aircraft was shot down.
Specifications

Primary Function
Infiltration, exfiltration and resupply of special operations forces
Builder
Lockheed Aircraft Corp.
Power Plant
Four Allison T56-A-15 turboprop engines
Thrust
4,910 shaft horsepower each engine
Length
MC-130E, 100 feet, 10 inches (30.7 meters);
MC-130H, 99 feet, 9 inches (30.4 meters)
Height
38 feet, 6 inches (11.7 meters)
Wingspan
132 feet, 7 inches (40.4 meters)
Speed
300 mph
Ceiling
33,000 feet (10,000 meters)
Load
MC-130E, 53 troops or 26 paratroopers;
MC-130H, 75 troops or 52 paratroopers
Maximum Takeoff Weight
155,000 pounds (69,750 kilograms)
Range
3,110 statute miles (2,700 nautical miles); unlimited with air refueling.
Crew
MC-130E - five officers (two pilots, two navigators and one electronic warfare officer) and four enlisted (one flight engineer, two loadmasters and one communications specialist)MC-130H - four officers (two pilots, one navigator and one electronic warfare officer) and three enlisted (one flight engineer and two loadmasters)
Unit Cost
MC-130E: $42 million (1994 dollars); MC-130H: $72.5 million (1994 dollars)
Date Deployed
MC-130E in 1966; MC-130H in June 1991
Inventory
Active force, 9 MC-130E's and 24 MC-130H's; ANG, 0; Reserve, 5 MC-130E's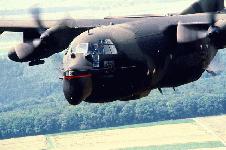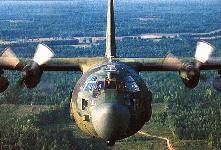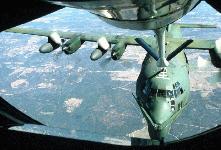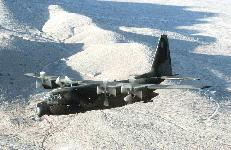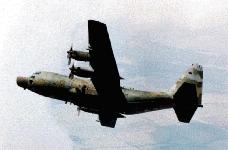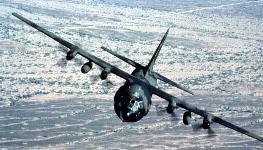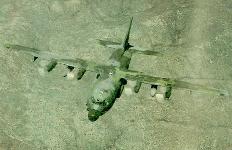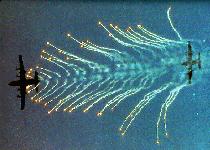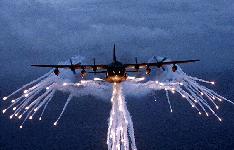 Sources and Resources
---
---
http://www.fas.org/man/dod-101/sys/ac/mc-130e.htm
Maintained by Robert Sherman
Originally created by John Pike
Last updated