---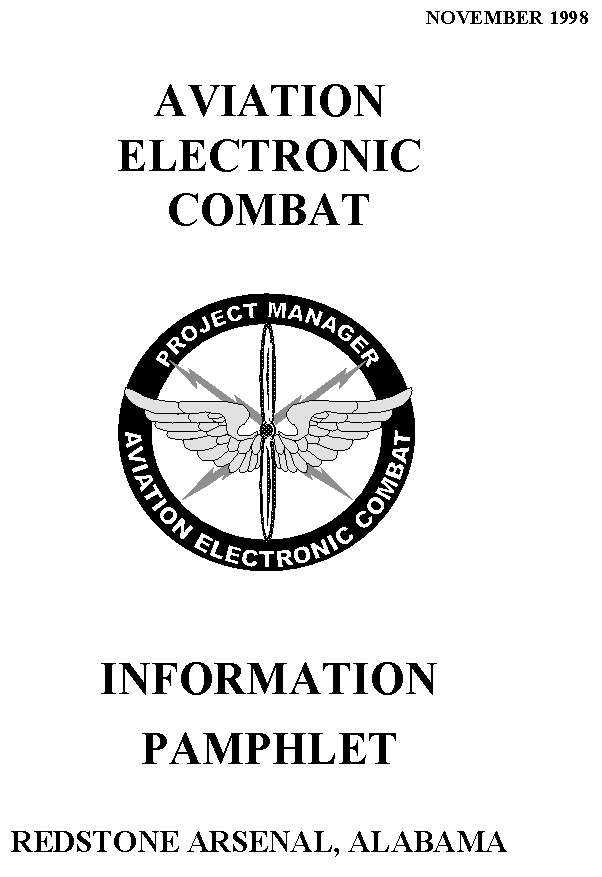 ---
DISCLAIMER
This pamphlet is intended to provide Aviation Electronic Combat (AEC) general equipment information and should in no way be construed as authoritative information. The information provided by this pamphlet will not take precedence over official information provided by the U.S. Army or Department of Defense publications. Questions and comments concerning this pamphlet should be addressed to:
Project Manager for Aviation Electronic Combat
ATTN: SFAE-AV-AEC-L
Building 5681, Room 101
Redstone Arsenal, AL 35898
SPECIAL NOTE
In view of budget constraints imposed upon the originator of this AEC Information Pamphlet to fund its reproduction and mailing, should your office or activity require additional copies for local distribution and use, it is respectfully requested that this pamphlet be reproduced at your installation.
THANK YOU!
Prepared for:
Project Manager for Aviation Electronic Combat
Building 5681, Room 101
Redstone Arsenal, AL 35898
Prepared by:
STE, Inc.
4801 University Square
Suite 29A
Huntsville, AL 35816
under
CONTRACT DAAJ09-96-D-0022
SUBCONTRACT 4600000382
---
III ELECTRONIC COUNTERMEASURES (ECM)
RADAR COUNTERMEASURES

AN/APR-39A(V)1
AN/APR-39A(V)2

INFRARED (IR) COUNTERMEASURES

AN/ALQ-144A(V)1
AN/ALQ-144A(V)3
IR PAINT
C. ELECTRO-OPTICAL (EO) COUNTERMEASURES
AN/AVR-2
AN/AVR-2A

A. COMMUNICATIONS SYSTEMS
AN/ARC-220
IMPROVED DATA MODEM (IDM)
B. NAVIGATION AND SPECIAL MISSION SYSTEMS
AN/ASN-128
H-764G EMBEDDED GPS INERTIAL (EGI)
C. COMMAND AND CONTROL SYSTEMS
ARMY AIRBORNE COMMAND & CONTROL SYSTEM (A2C2S)
AVIATION MISSION PLANNING SYSTEM (AMPS)
ASET II/III/IV ASE TRAINERS
VI TRANSITIONED ELECTRONIC COUNTERMEASURES, AVIONICS, & TRAINING DEVICE
A. RADAR COUNTERMEASURES
AN/APR-39(V)1
AN/APR-39(V)2
AN/APR-44(V)1/3
AN/ALQ-136(V)1
AN/ALQ-136(V)2
AN/ALQ-136(V)5
AN/ALQ-162(V)2
AN/ALQ-162(V)3
AN/ALQ-162(V)4
M-130 (CHAFF) ECM DISPENSER
B. INFRARED COUNTERMEASURES
AN/ALQ-156(V)1
AN/ALQ-156(V)2
M-130 (FLARE) ECM DISPENSER
C. COMMUNICATIONS SYSTEMS
AN/ARC-164
AN/GRC-240
AN/ARC-199
IMPROVED FM
D. NAVIGATION AND SPECIAL MISSION SYSTEMS
AN/AYD-1
AN/APN-209(V)
E. TRAINING DEVICE
AN/TPQ-T4 RADAR TRACKING GENERATOR
APPENDICES:
A - AEC SYSTEMS/AIRCRAFT MATRICES
B - AEC SYSTEMS/NSN/LIN MATRICES
C - AEC SYSTEMS/SPECIAL TEST EQUIPMENT MATRICES