Edwards Speckled Trout fishes for data
Released: 11 Feb 2000
---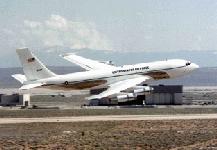 EDWARDS AIR FORCE BASE, Calif. (AFPN) -- An Air Force C-135C Speckled Trout takes off from Edwards on a test mission. The one-of-a-kind aircraft is evaluating new aviation equipment that provides up-to-the-minute weather data to aircrews in flight. (Air Force photo)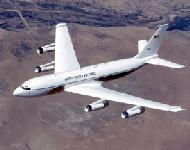 EDWARDS AIR FORCE BASE, Calif. (AFPN) -- The Speckled Trout flies over the Mojave Desert during a test mission here. The one-of-a-kind aircraft is evaluating a new system called Aviation Weather Information that provides up-to-the-minute weather data to airborne aircrews. (Air Force photo)
by Carol Ann Keck
Air Force Flight Test Center Public Affairs
EDWARDS AIR FORCE BASE, Calif. (AFPN) -- The 412th Flight Test Squadron's C-135C Speckled Trout flew its first test mission here recently with new equipment meant to give aircrews up-to-the-minute weather data.
The new system, called Aviation Weather Information, provides meteorological details previously not available in the cockpit.
The Air Force is playing its part in the AWIN cooperative development program with NASA, the Federal Aviation Administration, Boeing, FedEX and other leading industry suppliers to assess the feasibility, safety improvements and effectiveness of providing graphical weather to aircrews.
Early Speckled Trout test missions are being flown in the continental United States with follow-on sorties planned for over the Pacific, said Capt. Mike Shepard, chief of flight test for the 412th FLTS.
With AWIN's upgraded sensors and enhanced systems integration, aircrews now can receive weather images and forecasts relayed via satellite on a continuing basis by using laptop computers. This allows flight crews to avoid most weather-related problems and it enhances their decision-making capability in critical situations.
Following the first leg of the initial mission, the Speckled Trout pilot and 412th commander, Lt. Col. Jim Ratti, said all equipment worked as advertised.
"We were able to update the weather information we had at takeoff for our five-hour flight to Andrews Air Force Base, Md. It was exciting to get current, full-color weather products that were up-to-the-minute," he said.
Although weather was not a factor on this particular flight, Ratti noted that he had been on others where "I'd have given my eyeteeth for a good picture of the thunderstorm situation ahead of us. I know this system has great potential to enhance crew and passenger safety."
In the past, aircrews had to rely on weather reports received in preflight briefings and data about changing conditions that was provided by far-away air traffic controllers along the route.
Now, AWIN will give pilots a real-time look at current global weather conditions.
Aircrews from the 412th are also evaluating types of data provided. Flight testing will identify the required amount of information needed to enhance awareness without over-cluttering cockpit displays.
AWIN equipment, which includes a real-time satellite data link, has recently been installed in a FedEX MD-11 and an Air Force Flight Standards Agency NC-21 for evaluation.
However, the 412th will be capturing more detailed data using its C-135C aircraft and full complement of test engineers, flight engineers and recording equipment.
In fact, the Speckled Trout aircrew should be able to capture all scientific information needed to verify AWIN capabilities.
"They will be able to calculate the impact weather might have on airplane routing and arrival time," said Peter Hibson, AWIN program manager for Boeing.
AWIN is expected to improve safety with graphical and textual weather information.
Weather is a factor in 58 percent of aviation mishaps, according to data compiled by Boeing's safety group.
RELATED SITE

** Edwards Air Force Base, Calif