---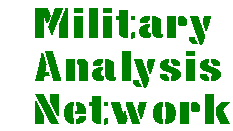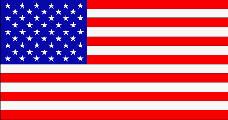 ---
C-135
Derived from Boeing's prototype 707 jet airliner in the early 1950s, the C-135 has been a visible successful partner of the Air Force since the first one was acquired in August 1956. Although most of the 820 units have been KC-135A Stratotankers for the air refueling mission, they have also performed numerous transport and special-duty functions. The breakdown is as follows [individual numbers do not add to total of 820 airframes due to modifications between types:


	 15 - C-135A  - (Model 707-157) -  first flight May 19, 1961
	 30 - C-135B  - (Model 707-158) - upgraded engines
	 39 - EC-135C - airborne control center 
	 26 - NKC-135 - modified for experiments 
	732 - KC-135A - tanker
	 17 - KC-135B - tanker
	161 - KC-135E - re-engined with salvaged 707 engines 
	 12 - KC-135F - French AF for refuelling "Mirage" IVA 
	371 - KC-135R - CFM International F108-CF-100 engines 
	 56 - KC-135Q - special tanker for SR-71  
	 55 - KC-135T - special tanker for SR-71 - reengined 
	  3 - OC-135  - Open Skies observation aircraft 
	  4 - RC-135A - (Model 739-700) - reconnaisance aircraft 
	 10 - RC-135B - (Model 739-445B) - electronic reconnaisance aircraft 
	  5 - VC-135B - VIP transport version of C-135B
	 10 - WC-135C - weather reconnaisance aircraft 

	    - CC-137  - military transport for RCAF 
	    - VC-137A - VIP transport version of Model 707-120 
	    - VC-137B - VIP transport version of Model 707-320B 


EC-135 Worldwide Airborne Command Post System (WWABNCP) variants, in 10 different configurations varying by communications equipment fitted; 39 aircraft representing 7 versions made up the EC-135 family. Also some KC-135As were converted to RC-135s aircraft such as RC-135Ds, and RC-135T. C-135Bs were converted into RC-135Es, RC-135Ss and RC-135Ms which were later converted to RC-135Ws.

C-135 aircraft transport senior military leaders such as the Commander-in-Chief, US Pacific Command; Commander, Pacific Air Forces; and other high-ranking dignitaries. The C-135C Speckled Trout communications aircraft, operated by the Edwards-based 412th Flight Test Squadron, is a modified C-135 that serves as a test bed for emerging technologies. During the June 1996 Joint Warrior Interoperability Demonstration (JWID '96), a full-scale prototype phased-array antenna communications system was installed on board the Speckled Trout avionics testbed. The antenna system successfully was used to receive satellite-transmitted television, military Global Broadcast System (GBS) video and other data. Developmental tests using the C-135 Speckled Trout aircraft have demonstrated the capability to fly precision approaches using a local area differential GPS system. Speckled Trout has been fitted with a millimeter-wave camera and a new radome this summer to test the camera's generation of video images of the forward scene in low-visibility conditions. During the first Expeditionary Force Experiment conducted in September 1998 [EFX 98], participants evaluated multiple onboard command-and-control software tools that receive data through a new wide bandwidth phased array antenna system. The new antenna and software allows the commander to communicate with the rear and forward air operations centers while maintaining awareness of battlefield events. The aircraft, which in the VIP transport role seats 14 passengers, gives the Joint Forces Air Component commander a limited ability to plan and control the simulated battle while in the air en route to the crisis area. Some of the equipment worked and some didn't, particularly the connectivity required to move large amounts of data and to maintain continuous contact.

A suite of electronic equipment has been outfitted in a modified NKC-135 aircraft, now called the "Big Crow" EW Flying Laboratory, with the capability of generating electronic warfare (EW) threat environments and performing realtime data analysis on DoD materiel. : The Big Crow NKC-135 aircraft provides multi-Service electronic countermeasures (ECM) testing and training support. During a nine-month Program Depot Maintenance (PDM) overhaul of the Big Crow, a KC-135E was outfited and configured to serve as a large ECM aircraft as an augmentation to the existing Big Crow aircraft. Upon completion, this aircraft has essentially the same capabilities as the existing Big Crow aircraft to provide high power, long range Stand-Off Jamming that is required by DDG-51, AN/SPY-1 Radar, and SM-2 missile programs for testing in an operationally realistic electronic warfare environment.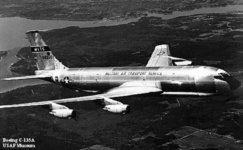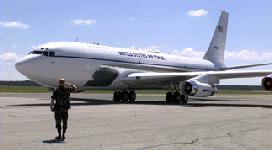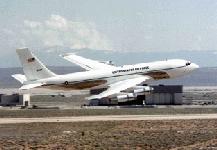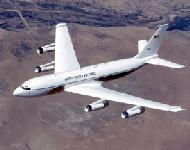 Sources and Resources
---
---
http://www.fas.org/man/dod-101/sys/ac/c-135.htm
Maintained by Robert Sherman
Originally created by John Pike
Updated Tuesday, February 15, 2000 10:21:55 AM