---
SECTION 5 SUBMARINE COMMUNICATIONS SUPPORT SYSTEM ACQUISITION/IMPLEMENTATION STRATEGY
5.1 ACQUISITION STRATEGY
Procuring the SCSS will be an evolutionary process, transitioning from multiple suites of class-specific, closed system equipment to a common (standard) submarine suite incorporating OSA communications equipment. The Navy cannot execute a wholesale replacement of submarine radio rooms, and a replacement radio room with the required features and functionality is currently neither available nor affordable. The transition from today's existing submarine radio rooms to a hybrid SCSS is planned to be completed within a 10 year period. Figure 5-1 provides a notional diagram of this transition strategy. The strategy makes use of common OSA and NDI acquisitions while actively seeking industry participation during the requirements definition and procurement processes.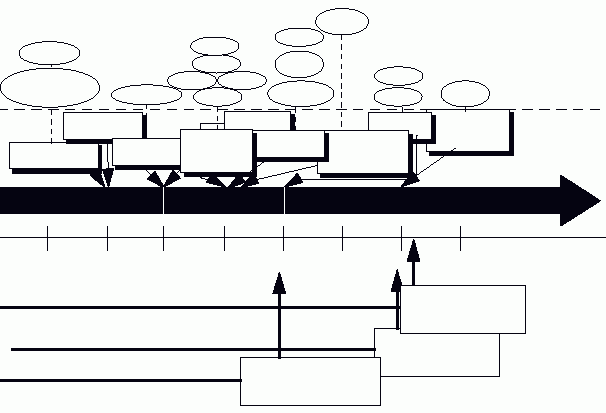 Through commonality, submarine communications systems will be interoperable with Joint/Navy forces. The SCSS will use standard communications software and hardware where feasible, standard interfaces, and will be JMCIS compliant when required. Submarine unique hardware and/or software will only be used when it is not possible (e.g., physically too large or too expensive) to use the Navy's standard system or system components. Commonality will provide several life cycle cost (LCC) advantages in addition to improved interoperability. These advantages are: (1) reduced program costs through sharing of development costs with all Navy platforms; and (2) reduced logistics support costs due to a common logistics pipeline for standard Navy repair parts, software maintenance, and training. Because the SCSS will use Navy standard system components, as well as commercial items whenever possible, the submarine force will actively participate in Navy/DOD standards setting forums to ensure the submarine requirements such as size, space, weight, electromagnetic interference (EMI), and electromagnetic compatibility (EMC) are considered in new equipment procurements and standards. To ensure commonality, the submarine force will actively participate in new, Navy-wide development programs to ensure submarine requirements are being met. To promote Allied Navy C 4 I interoperability and cost savings with the SCSS, efforts will be made to cooperatively share technology through the Foreign Military Sales (FMS) program whenever feasible. Through this process, the benefits of using better C 4 I technology for both the U.S. Navy and Allied Navies may be realized while achieving interoperability at reduced cost. To deliver improved system functionality to submarine communications systems as soon as possible, the SCSS procurement strategy will maximize the use of OSA procurements. OSA is defined in Secretary of the Navy Instruction (SECNAVINST) 5200.32 as:
"A system that implements sufficient open specifications for interfaces, services, and supporting formats to enable properly engineered components to be used across a wide range of systems with minimal changes, to interoperate with other components on local and remote systems, and to interact with users in a style which facilitates portability."
Additionally, the SCSS will make use of NDI procurements where it is consistent with operational requirements. NDI can be either a commercially available COTS product or the product of a previous GOTS procurement. Minor modifications to either COTS or GOTS products are also allowed as NDI. The SCSS acquisition strategy will be streamlined in accordance with DOD Instruction (DODI) 5000.2 and in compliance with the Federal Acquisition Regulations (FAR). It will make use of new innovative procurement methodologies such as "Rapid Development" being employed by the GCCS. Equipment installations will be accomplished using the "turn-key" concept or equipment "block" upgrades in which multiple, coordinated equipment installations take place at one time to save installation funding costs and minimize the total ship availability time required. From a programmatic perspective, the critical path is controlled by Navy acquisition of systems which the submarine must be interoperable with: EHF, DAMA, Link 16, GBS, SACCS, and JMCIS. To reduce the LCCs of the SCSS and to aid interoperability, the SCSS will make maximum use of commonality with Navy and Joint forces. There will, however, be instances when non-standard components and equipment will be required, e.g., the submarine ELF, VLF, LF, and submarine antenna programs. These programs, for both shore and shipboard, do not have a Navy air or surface counterpart or standard. These requirements will remain unique and will need to be managed and supported. The SCSS is being designed as an integrated system and will be installed and maintained as an integrated system. PMW 173 has primary responsibility for executing this program and will ensure that all communications equipment is integrated and installed as a system. The System In-Service Engineering Manager (SISEM) (located at NISE East) has been tasked by PMW 173 to manage all installation and life cycle support. The SISEM is the single point of contact between the fleet and the support infrastructure. In summary, the "Business Plan" SPAWAR PMW 173 will execute to implement the SCSS Exterior Communications System (ECS) aboard all classes of submarines will:
Apply a systems approach to design and implementation of the SARR;
Maximize the use of COTS products;
Use existing Software modules as feasible (i.e., JMCIS);
Provide early establishment of the Government/Industry team and assign the systems integration function responsibilities to industry;
Employ aggressive use of acquisition streamlining regarding COTS; and
Leverage the FMS program whenever possible.
5.2 PLATFORM IMPLEMENTATION STRATEGIES
The goal of the SCSS architecture is a common, flexible suite of COTS, OSA-based equipment, providing enhanced capability at a reduced life cycle cost. To reduce life cycle cost, equipment commonality is needed. Each platform's communications requirements will be met using a standard SCSS, with enhancements or additional numbers of individual equipment as needed. For example, when the TRIDENT SCSS is implemented in FY01, it will support a greater number of VLF/LF channels and a smaller number of UHF channels than is required for the SSN SCSS. These variations are required by the different missions and mission emphasis of the TRIDENT Submarine-Launched Ballistic Missile (SLBM) force. However, these additional VLF/LF capabilities will be provided using the standard SLVR, and not a TRIDENT-unique receiver. Similarly, although there will likely be only one UHF transceiver in the TRIDENT variant of the SCSS, this transceiver will be common with the SSN 688, SEAWOLF, and NSSN class transceiver (Mini-DAMA). Additional, TRIDENT-unique features, including EAM alerting, will be supported via software modules in the SCSS INM. Due to the differing operating schedules and availability of the four classes of submarines (SSN 688, SEAWOLF, NSSN, and TRIDENT), the means by which the SCSS is fielded will differ. For example, SSN 688 class submarines scheduled for extended availability will receive a complete SCSS installation, consisting of BBS, ADS, GFCP, Mini-DAMA, TFDS, EHF LDR, and CTT/JTT. SSN 688 class submarines scheduled for moderate length (4–6 week) availabilities will receive BBS, ADS and selected additional elements of the SCSS. Other SSN 688 class submarines not scheduled for long availabilities will receive one or more SCSS sub-systems via SHIPALTs during upkeep periods. Similarly, the NSSN new construction and SEAWOLF schedules will require differing implementation strategies. Detailed implementation strategies, for each class of submarine, are presented in Sections 5.3 through 5.6.
5.3 SSN 688 IMPLEMENTATION PLAN
The planned installation and integration of SCSS equipment aboard SSN 688 class submarines will occur using one of three implementation strategies. The first installation strategy will make use of the submarine's extended availability time frames such as a ship's Overhaul, Depot Modernization Period (DMP), or Selected Restricted Availability (SRA). This is the optimum installation time frame for SCSS equipment installation because of the length of time required to complete the SCSS install. When a period such as this is not scheduled or is delayed, a second installation strategy encompassing the submarine BBS installation with additional communication ship-alterations as feasible, such as Mini-DAMA, SLVR, etc., will be scheduled based on the a ship's inport pierside availability. The last installation strategy will be used when pierside periods are severely limited; planning will be done on a case by case basis. It will provide a limited "mixture" of SCSS equipment installations (BBS, Mini-DAMA, EHF, ADS, etc.) based on a ship's upcoming deployment and in port availability schedule.
5.4 SEAWOLF (SSN 21) IMPLEMENTATION PLAN
The existing SSN 21 ECS is capable of supporting all current platform communications requirements. It is comprised of legacy, closed system architecture based equipment inter-connected via automated baseband and RF switching systems. The transition of the SSN 21 ECS to the SCSS is driven by the cost reductions and flexible interoperability achievable via ECS commonality, NDI, and OSA. Due to the existing ECS capabilities, the transition to the SCSS will be deferred until a major availability following PSA. Selected SCSS elements, such as SLVR (with ELF and HF P 3 I) or JTIDS/Multi-functional Information Distribution System (MIDS), will be considered for early introduction, as operational requirements and funding support dictate. Existing acquisition programs (SMB, Mini-DAMA, Navy EHF SATCOM Program (NESP)) are also scheduled to be installed in the SSN 21 ECS. These installations will continue as currently planned, but will be coordinated, where feasible, to minimize the disruption to the radio room and submarine schedule.
5.5 TRIDENT IMPLEMENTATION PLAN
To date, the TRIDENT IRR has successfully met all of its original operational requirements, which include: maintaining connectivity with the National Command Authorities (NCA); maintaining a high degree of availability; and maintaining interoperablity with joint strategic communication systems. The current configuration of the IRR is, however, expensive to maintain, is not OSA-based, and does not facilitate rapid technology insertion. The TRIDENT SCSS variant will be introduced to support and exceed existing IRR performance parameters, allow for cost savings, rapid technology insertion via an OSA approach, and assure future interoperability with a modernized C 4 I network. The TRIDENT IRR will transition into the TRIDENT SCSS, with IOC in FY01 and FOC planned for FY06. The SCSS development was initiated in 1993 and will progress through a series of design analyses and prototype revisions to effect a fully automated system radio room on-board TRIDENTs. However, because of noted operational and platform differences between SSNs and TRIDENTs, the TRIDENT SCSS will be considered an SCSS variant to that installed on SSNs. The TRIDENT SCSS variant will be the result of modifications to the SSN SCSS to accommodate: operational requirements (specified system availability, connectivity and RF links to support strategic communications); and environmental (e.g., noise requirements), human machine interface (HMI), and electrical/mechanical interfaces unique to the TRIDENT platform. Moving today's IRR into a modern architecture presents unique challenges for program management, logistics (particularly supply support and training), and integration engineering to support the TRIDENT communications requisites for strategic connectivity and high availability. The TRIDENT SCSS implementation will assume those design change, test, and support processes used to develop the overall SCSS implementation. Specific to the TRIDENT SCSS implementation, attention will be directed within supporting IPTs and working groups (WGs) to ensure that validated strategic communication requirements, acquisition mandates, and unique TRIDENT platform requirements are satisfied. Unlike the phased acquisition and implementation approach described for the SSN SCSS, the acquisition and implementation of the TRIDENT SCSS is expected to be via a turn-key installation. The turn-key concept has been endorsed to accommodate design flexibility and allow insertion of new and state-of-the-art technologies as they evolve. The TRIDENT SCSS variant will be developed and acquired in the same manner as the attack submarine variants. The TRIDENT SCSS prototype will be a land based test site. The first TRIDENT SCSS radio room will be certified and acceptance tested. Subsequent shipsets will be acceptance tested but will not undergo the long certification testing that the existing IRR undergoes. The TRIDENT SSGN, which is currently under consideration, is projected to consist of a TRIDENT SCSS radio room with dual Improved AN/BRA-34, dual Submarine HDR, and one GBS antenna.
5.6 NEW ATTACK SUBMARINE
The NSSN variant of the SCSS will be optimized for cost effectiveness while fitting into a smaller footprint. PMW 173 will select the best ECS solutions from both existing legacy (Navy and/or Joint service) equipment and SCSS equipment prototyped during the SMB and SARR phases. The NSSN ECS will be delivered in early FY01 to support the Combat Control System Module (CCSM) Off-Hull Assembly Test Site (COATS) process. The size and space reductions needed for the 9-rack NSSN radio room will be achieved through ongoing advances in communication equipment technology. The NSSN ECS will leverage the prototyping, development, and design efforts of the SCSS through the SMB and SARR phases. During the SCSS radio room phases (SMB, SARR), the prototypes and proof of concepts will help identify realistic C 4 I capabilities and provide risk assessments which will be used in determining whether or not further development or procurement is warranted for various equipments planned to be procured as part of the SCSS and the NSSN ECS. A notional 9-rack radio room arrangement, based on both legacy and new equipment, is presented in Figure 5-2. The overall NSSN ECS Plan is presented in Figure 5-3. As a separate approach, and for risk reduction purposes, consideration is being given for the design of the NSSN radio room in which complete OSA design and procurement is undertaken without using any legacy submarine communication equipment.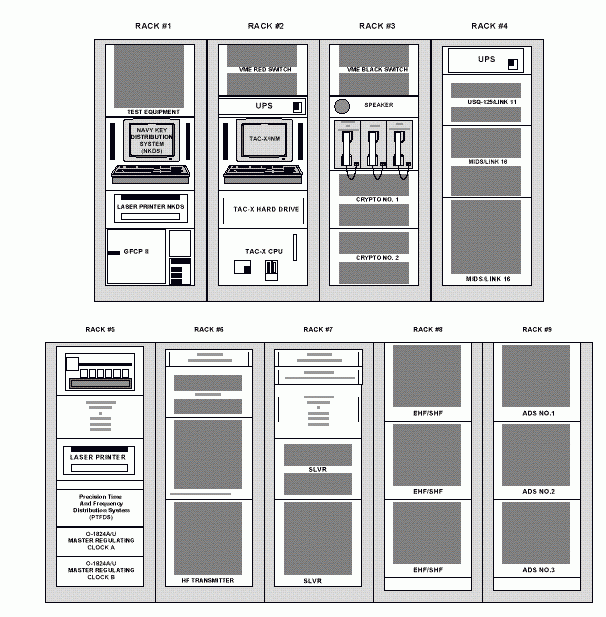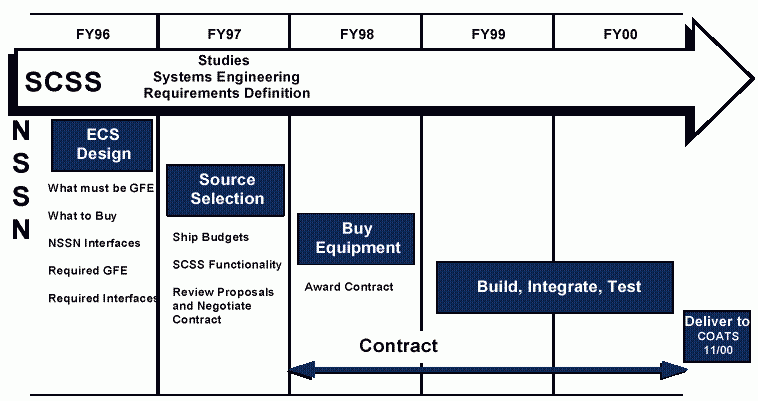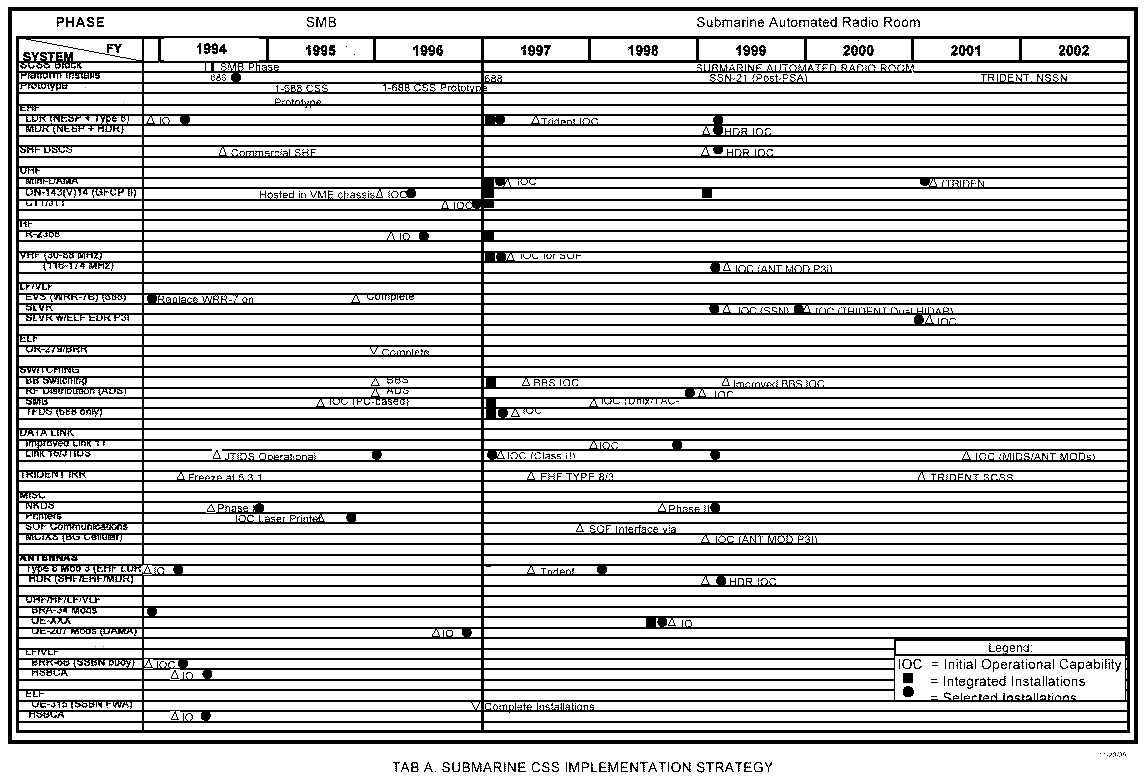 ---