---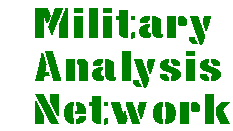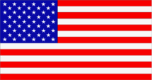 ---
AN/WLD-1
RMS Remote Minehunting System
To sustain operations in the littorals, naval forces must possess an organic capability to assess the extent of the naval mine threat. As part of the advanced forces, surface ships will employ off-board systems to meet the demand for mine reconnaissance of anticipated operating areas. The Remote Mine-hunting System (RMS) is being developed to meet these requirements. RMS will be an organic, off-board system that will be launched, operated, and recovered from a host surface ship and will employ mine reconnaissance sensors. RMS development will follow an evolutionary acquisition process in which contingency systems are delivered to the Fleet as technology matures. The RMS program acquisition strategy calls for a streamlined approach, delivering contingency capabilities to the Fleet near-term, en route to the final, fully-supported RMS system. RMS contingency systems are planned for delivery to the fleet beginning in FY 1999. Completed in August 1994, the Remote Minehunting Operational Prototype (RMOP) represents the first contingency system capability. As a non-developmental initiative within the RMS program, RMOP combines and integrates the AN/AQS-14 minehunting sonar (on a variable depth winch) and the SEABAT forward looking sonar with the DOLPHIN semi-submersible. The Concept Exploration phase for RMS has been completed as highlighted by the development of the Remote Mine-hunting Operational Prototype (RMOP) and completion of the RMS Cost and Operational Effectiveness Analysis (COEA). The remote mine hunting operational prototype was developed during FY94 and successfully demonstrated during Fleet exercise Kernel Blitz in FY95. Additional follow-on developmental contingencies are being advanced to meet mid-term requirements, including improved vehicle performance and integration in Spruance (DD-963)-class destroyers. As part of the advanced forces, surface ships will employ RMS to meet the demand for over-the-horizon mine reconnaissance of anticipated operating areas in support of the ship's individual mission and to prepare for the arrival of other naval forces. The RMS sensor suite will be used against bottom and moored mines for mine reconnaissance in deep water to a portion of the very shallow water (VSW) region. The Remote Minehunting System is intended to provide battle groups and individual surface combatants with an organic means of detecting and avoiding mines. The remotely operated system, using computer aided detection and precise navigation systems, will detect and classify mines and record their locations for avoidance or subsequent removal. The system, with organic handling, control and logistic support, is designed to be air transportable to forces anywhere in the world. The Remote Minehunting System will provide a rapidly deployable mine countermeasures system to surface combatant forces in the absence of deployable mine countermeasures forces.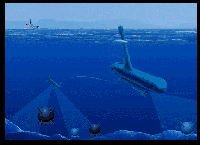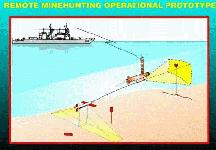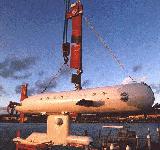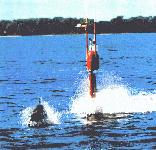 The Remote Minehunting System (RMS) program will use a streamlined acquisition approach to develop and field an organic remote minehunting system for surface combatants. This includes providing the Fleet with interim capability in the form of contingency systems as the program proceeds through development. The RMS is based upon 4 variants or versions, designated (V)1 through (V)4.
The RMS will perform waterborne mine reconnaissance in anticipated operating areas, including navigation choke points and transit lanes. Mine reconnaissance operations conducted by RMS will determine the presence of mine-like objects and safe routes or operating areas around potential minefields, reducing the overall risk from mines. The system will conduct rapid reconnaissance of bottom and moored mines from the deep water region (greater than 200 feet) to the 30-foot contour of the very shallow water region (40 to 10 feet). RMS will support the individual mission of the host ship as well as the missions of multi-ship Naval forces.
The RMS will be a high endurance, offboard, low-observable system which will be operated and maintained from surface ships. The system will use acoustic sensors, which are housed in a variable depth underwater body for the detection, classification, and localization of mine-like objects, and will be capable of over-the-horizon operations. Mission data is telemetered between the towing platform and the Mission Command and Display Subsystem (MC&DS) on the host ship via an RF link. The MC&DS will provide data processing, display, recording, and mission analysis capabilities and will be deployed in a van either aboard ship or at an improved shore site. The offboard vehicle will have self-contained command/control, propulsion, power, and navigation capabilities, and will also be capable of automatic search and recording modes. The host platform will be equipped to provide data processing, display, recording, and mission analysis capabilities. RMS will interface/integrate with existing shipboard systems to communicate tactical mine reconnaissance data to other Naval forces. RMS will maximize the use of open architectures, using the ship's existing hardware wherever feasible (with the ultimate goal of eliminating the MC&DS), including integration into the AN/SQQ-89. The RMS will be designed for a high probability of survival in the minefield by minimizing its signature and providing an obstacle avoidance capability.
Two primary MCM acoustic sensors will be used. The first is a side-looking sonar that can detect and classify bottom and close-tethered mines. The second is a volume search sonar to detect and classify primarily close-tethered and in-volume mines. The volume search sonar will have some capability to detect and classify near-surface mines in lower sea states. Gap-filler and forward-looking sonars supplement the minehunting sonars and provide additional mine detection and avoidance capabilities for the RMS.
Two installation configuration concepts are envisioned for RMS. The first is a modular, self-contained systems capable of being hosted and deployed from several classes of surface ship. To the maximum extent possible, operation and maintenance will be conducted by existing ship¹s force, but a detachment of RMS specialists will support initial training and operation. The system will be capable of deploying with the host ship or being air transported for rendezvous in theater with the host ship. This modular RMS will integrate and interoperate with shipboard command and control systems, and will be designed for rapid pierside installation and removal. When not deployed, the RMS will be stored and maintained at existing, shore-based activities. Under this modular concept, some components of the RMS may be permanently installed and integrated into the host ship.
The second configuration concept is an integral shipboard installation wherein specified present and future ship classes receive the RMS. The design of equipment consoles/ racks and major subsystem components will allow full integration into future ship designs and backfit for appropriate, present ship classes. This configuration will maximize usage of common shipboard equipment. Command, control, and communications will be integrated with the ship¹s combat information center, maximizing the use of open architecture. Ship¹s force, stores, and maintenance areas will be used. The RMS will be designed so that existing Navy logistic elements can assimilate the system with minimal modification to existing ship¹s personnel, equipment configuration, and logistics support.
VARIANT DESCRIPTIONS
The RMS program is structured to develop interim contingency systems to provide the Fleet with near term capability to meet immediate needs for organic, offboard mine reconnaissance systems. The time and resources required to develop and procure a system that meets all of the operational requirements drive the need for these interim systems. The near term capability is important because this capability does not currently exist. The program is based on four variants described below.
(V)1 - (V)1 is a prototype (previously referred to as RMOP) that was procured with mostly NDI components. It is a single system developed using existing equipment which includes the Dolphin semi-submersible and the AQS-14 sonar system. The (V)1 was completed in FY 95. The Navy operated the (V)1 in Exercise Kernel Blitz from the USS JOHN YOUNG (DD973) in March 1995. This system successfully demonstrated this concept of a limited mine reconnaissance capability from a surface combatant. It is operated and maintained by civilian personnel at NSWC/CSS. Because (V)1 has no launch and recovery system, it must be launched and recovered from shore or from a commercial craft with sufficient deck space for the Mil Van and which is outfitted with the proper handling equipment.

(V)2 - This variant comprises a (V)1 with launch and recovery capability from a Spruance Class destroyer. The (V)2 is intended to be operated by shipboard personnel after being trained by personnel from NSWC/CSS.

(V)3 - This variant will be a new vehicle that will employ the same sensor suite as (V)1/(2). The new vehicle must be developed to meet the operational requirement for RMS. The new vehicle is intended to eventually be capable of over-the-horizon operations, and will be capable of being launched and recovered from Spruance-class destroyers. This system will be the first variant introduced to and operated by the Fleet.

(V)4 - This variant will meet the full operational requirements. It is also intended to be fully integrated into the AN/SQQ-89, and to have an integral launch and recovery system. Ships being considered to host (V)4 include, but are not limited to, Spruance- and Arleigh Burke-class destroyers, Ticonderoga-class cruisers, Iwo Jima- and LPD 17-class amphibious assault ships, Oliver Perry-class frigates, and 21st Century-class surface combatants.
On 17 December 1999 Lockheed Martin Integrated Systems, Syracuse, N.Y, was awarded a $77,964,254 modification to previously awarded contract N00024-96-C-6322 for the development of the AN/WLD-1(V)1 remote minehunting system (RMS). Work will be performed in Syracuse, N.Y. (48%); Riviera Beach, Fla. (30%); Portsmouth, R.I. (13%); Greenlawn, N.Y. (4%); Rochester, N.Y. (2.5%); and Iron Mountain, Mich. (2.5%), and is expected to be completed by December 2001.
Sources and Resources
---
---
http://www.fas.org/man/dod-101/sys/ship/weaps/rms.htm
Maintained by Robert Sherman
Originally created by John Pike
Updated Saturday, December 18, 1999 1:02:27 PM