In June 1998, the Navy successfully demonstrated its future unmanned underwater vehicle, the Near-term Mine Reconnaissance System (NMRS). Participating in the Joint Countermine Advanced Concept Technology Demonstration (JCM ACTD) held under NATO auspices off Stephenville, Newfoundland. NMRS was part of a large-scale amphibious warfare exercise designed to showcase emerging shallow water mine warfare technologies. The event was the culmination of a series of operational tests and demonstrations that NMRS had been undergoing since March in preparation for entering service in fiscal year 1999. NMRS is an interim system, which will bring a much-needed organic mine warfare capability to the Submarine Force. In configuration, it is a tethered, torpedo-like vehicle intended for launch and retrieval through a submarine torpedo tube. The Long-term Mine Reconnaissance System (LMRS), the follow-on to NMRS, will be far more capable, and together, these systems will represent the Navy's only covert mine hunting capability.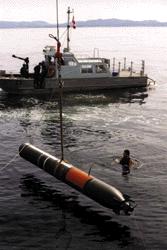 NMRS vehicle, shown above, being recovered by a surface vessel after testing.
When the system is operational, launch and retrieval will be through a submarine torpedo tube.
The NMRS Operational Prototype commenced its at-sea test period in March 1998 at the Dabob Bay Test Range in Keyport, Washington. The UUV Program Office (NAVSEA PMS403) and Northrop Grumman Corporation oversaw the execution and analysis of a detailed series of tests assessing vehicle and drogue stability, hydrodynamic control, navigation, and sensor performance. In order to demonstrate readiness to participate in the ACTD, the field team was required to complete a carefully defined set of NMRS operating objectives within a limited time frame.
The first phase of testing was completed satisfactorily, with four trial sorties through a test minefield seeded at the bottom of Dabob Bay. Both the Forward Looking Sonar (FLS) and Side Looking Sonar (SLS) were able to locate all mineshapes in the field with a high degree of accuracy. Images provided by the SLS allowed operators to classify bottom objects as mine-like or not. Also during this test phase, eight members of the NMRS Navy Cadre began an on-the-job training period in which they gained experience in system operations and maintenance. The Cadre, a detachment under the Commander, Submarine Development Squadron Five in San Diego, California, will be tasked with operation of the NMRS once it reaches the Fleet.
On 1 May 1998, after a detailed review of test results, the NMRS team temporarily secured from range testing to participate in the JCM ACTD. The system was packaged and shipped to the Woods Hole Oceanographic Institution (WHOI), where it was loaded on board the Melville-class oceanographic research vessel Knorr, a 279-foot research ship that serves as a support platform for NMRS operations.
Deploying approximately a dozen new technology systems at various levels of maturity, the JCM ACTD set out to demonstrate a capability to conduct seamless Mine Countermeasures (MCM) operations by space, air, surface, and subsurface platforms. The ACTD was set within the context of a larger NATO-led exercise designated MARCOT/Unified Spirit 98, and its principal purpose was to determine the military utility of generating new MCM data products and using them in combination with legacy systems.
During the demonstration, the NMRS conducted five mine reconnaissance and survey sorties both in deep water areas, with depths greater than 200 feet, and in shallow water (less than 200 feet) with varying bottom types. Since NMRS is designed to operate from a submarine torpedo tube, new procedures were developed to support surface launch and recovery from the research vessel. Navy Cadre members constructed all sortie plans using available information provided about the area and anticipated threat. Ultimately, all taskings were successfully completed, and the NMRS logged more than ten hours of operational search time. Suspected mine-like objects were reported using standard mine warfare messages after detailed reconstruction and review of sonar data from the sorties.
The Navy Cadre benefited particularly from their participation with NMRS in the ACTD. All members of the team gained a better understanding of the concept of operations in a mine reconnaissance scenario, options for NMRS tasking, system operations, data analysis, and message reporting requirements. Overall, this unique environment provided the operators with additional confidence that NMRS will meet or exceed its overall performance objectives and that it will operate reliably under realistic conditions. All indications are that NMRS is a solid warfighting asset that brings significant capabilities to both the submarine and mine warfare communities.
In July, the system returned to Dabob Bay to begin a second phase of testing that focuses on launch and recovery operations. Testing from a Los Angeles-class SSN is planned for January 1999.
Rick Thornton, PMS403, Unmanned Undersea Vehicles