---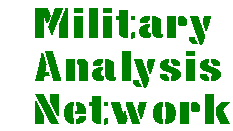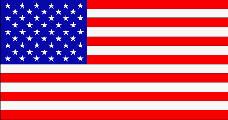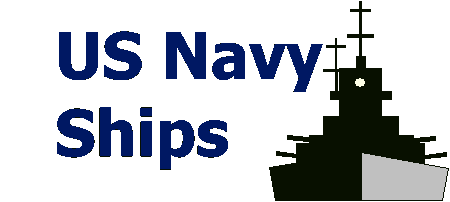 ---
T-AKR 296 Gordon
Large, Medium-speed, roll-on/roll-off ships [LMSR]
Military Sealift Command's newest class of ships — Large, Medium-speed, Roll-on/Roll-off Ships, or LMSR — will significantly expand the nation's sealift capability in the 1990s and beyond. Nineteen LMSRs will have been converted or built at U.S. shipyards by the year 2001. The LMSRs will provide afloat prepositioning of an Army heavy brigade's equipment and a corps' combat support, as well as surge capability for lift of a heavy division's equipment from the United States.

The need for additional military sealift ships was identified in a Congressionally-mandated study by the Joint Chiefs of Staff in the early 1990s. The Mobility Requirements Study focused on Department of Defense transportation during the Persian Gulf War. It highlighted the urgent need for greater sealift capacity to transport military equipment and supplies during wartime and other national contingencies. In response to the sealift shortfall, an ambitious Strategic Sealift Acquisition Program was introduced. Plans called for adding 19 LMSRs which will provide five million square feet of capacity early in the next century.

The LMSR program currently has 19 ships, 5 of which will be conversions of existing commercial container vessels, and 14 of which will be newly constructed ships. All 19 ships use common cargo handling systems, procured by the Navy. LMSRs are being built by three contractors. A performance type procurement description was used, therefore specific ship configurations differ as the respective builders interpret the mission requirements. During the initial Design Phase, the bidding shipyards conducted conceptual design studies in response to Navy-developed performance requirements and commercial standards. These concepts, along with additional design work by the Navy, were used to refine the performance requirements for use in the next phase of the program. In the Engineering Design Phase, five U.S. shipyards selected existing ships as conversion candidates and developed detailed proposals for their conversion into Large, Medium Speed RO/RO's (LMSR's) which met the refined requirements. At the end of this phase, two shipyards were authorized to proceed with the Detail Design and Conversion of five existing ships. Two ships were converted at Newport News Shipbuilding and Dry Dock Company, Newport News, Virginia. Three more ships were converted by National Steel and Shipbuilding Company (NASSCO). These five roll-on/roll-off vessels are operated by Bay Ship Management, Inc. under US Navy Military Sealift Command charter, and are manned by US Merchant Marine personnel. LMSRs can carry an entire U.S. Army Task Force, including 58 tanks, 48 other track vehicles, plus more than 900 trucks and other wheeled vehicles. The ship carries vehicles and equipment to support humanitarian missions, as well as combat missions. The new construction vessels have a cargo carrying capacity of more than 380,000 square feet, equivalent to almost eight football fields. In addition, LMSRs have a slewing stern ramp and a removable ramp which services two side ports making it easy to drive vehicles on and off the ship. Interior ramps between decks ease traffic flow once cargo is loaded aboard ship. Two 110-ton single pedestal twin cranes make it possible to load and unload cargo where shoreside infrastructure is limited or nonexistent. A commercial helicopter deck was added for emergency, daytime landing.

The LMSR ships are Large (950 feet long, 106 feet wide, 55,000 long ton displacement), Medium Speed (24 knots), Roll-on/Roll-off (RO/RO) vessels. The sealift ships will be capable of self-sustained RO/RO and Lift on/Lift off (LO/LO) operations at a pier and in a Logistics-Over-the Shore (LOTS) scenario through stern and side port ramps to a RO/RO Discharge Facility (RRDF). In addition, the LMSR will be capable of self-sustained LO/LO cargo operations in a LOTS scenario by interfacing with lighterage. The LMSR ships are not armed, and do not have a combat system. They do have C3I suite sufficient to perform their intended mission in conjunction with other Naval vessels.

Although their official homeport is Norfolk, VA, the ships of Afloat Prepositioning Ships Squadron Four are always forward-deployed to the Persian Gulf and have no tie whatsoever to Virginia. The normal operational schedule for the ships is to be at anchor off Bahrain 75 percent of the time with some underway time in the Persian Gulf.
Specifications

Builder
Built in Denmark in 1972 and lengthened by Hyundai in 1984.
Conversion
Newport News Shipbuilding
Power Plant
1 Burmeister & Wain 12K84EF diesel;
26,000 hp(m) (19.11 MW);
2 Burmeister & Wain 9K84EF diesels,
39,000 hp(m) (28.66 MW);
3 shafts (center cp prop) bow thruster
Length
956 (289.4 meters)
Beam
105.9 feet (32.2 meters)
Measurement
55,422 tons (56,303.21 long tons)
Cargo capacity
284,064 sq. ft. plus 49,991 sq. ft. deck cargo
Speed:
24 knots (27.6 mph)
Crew:
26 civilian crew (up to 45); up to 50 active duty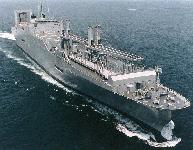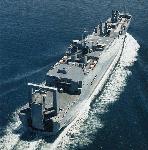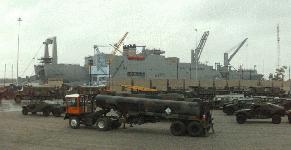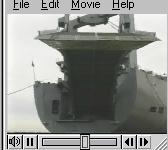 Sources and Resources
---
---
http://www.fas.org/man/dod-101/sys/ship/takr-296.htm
Maintained by Robert Sherman
Originally created by John Pike
Updated Saturday, March 06, 1999 5:15:09 PM