---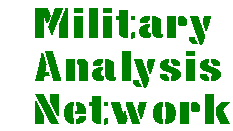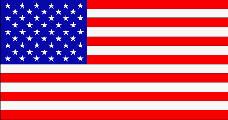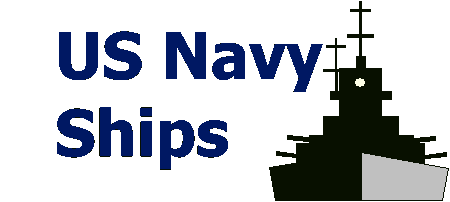 ---
T-AKR 287 Algol
SL-7 Type Fast Sealift Ships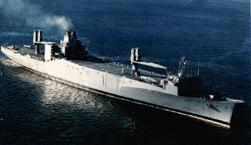 The Fast Sealift Ships, vehicle cargo ships that are nearly the length of an aircraft carrier, are the fastest cargo ships in the world. Fast Sealift Ships are named after supergiant stars. The ships can travel at speed of up to 33 knots and are capable of sailing from the US East Coast to Europe in just six days, and to the Persian Gulf via the Suez Canal in 18 days, thus ensuring rapid delivery of military equipment in a crisis. Combined, all eight Fast Sealift Ships can carry nearly all the equipment needed to outfit a full Army mechanized division.


Fast Sealift Ships are roll-on/roll-off and lift-on/lift-off ships equipped with on-board cranes and self-contained ramps which enable the ships to off-load onto lighterage which anchored at sea or in ports where shore facilities for unloading equipment are unavailable. The vessels are specially suited to transport heavy or bulky unit equipment such as tanks, large wheeled vehicles and helicopters.


All were originally built as container ships for Sea-Land Services, Inc., Port Elizabeth, NJ, but because of high fuel consuption were not cost-effective as merchant ships. Six ships of this class were approved for acquisition in FY81 and the remaining two in FY82. The purchase price included 4,000 containers and 800 container chassis for use in container ship configuration. All eight were converted to Fast Sealift Ships, with the last of the eight conversions completed in 1986. With speeds up to 33 knots, they are the fastest cargo ships ever built. Conversion included the addition of roll-on/roll-off features. The cargo hold was redesigned into a series of decks connected by ramps so that vehicles can be driven in and out of storage areas for rapid loading and unloading. Four cranes were installed, giving the ships the ability to discharge in stream or in ports where shore based cranes have been damaged. When paired, the aft cranes can lift 100 tons while the cranes midships can lift 70 tons. The area between the forward and after superstructures allows for emergency high hover helicopter lifts. Ninety-three percent of a US Army mechanized division can be lifted using all eight ships. Seven of the class moved thirteen percent of all the cargo transported between the US and Saudi Arabia during and after the Persian Gulf War. Six were activated for the Somalian operation in December 1992 and all have been used in various operations and exercises since then.

The FSS are all based in Atlantic and Gulf of Mexico ports. All the FSSs are kept in Reduced Operating Status (ROS) and can be activated and ready to sail in 96 hours. A nucleus crew of eighteen maintains each ship, with twenty five additional crew members coming aboard for activation. The ships are activated periodically to participate in exercises and operations. The Fast Sealift Ships are operated by Bay Ship Management, Inc. under contract with the Military Sealift Command and crewed by US Merchant Marine personnel. The Fast Sealift Ships performed particularly well [during DESERT SHIELD and DESERT STORM] in their part of the overall logistics effort, doing more relative to their numbers than any other type of sealift asset. FSSs have both RO/RO and limited container capabilities and are a rapid and versatile transportation means for unit equipment. They have a larger capacity than breakbulk ships and require less time to load and unload. However, there are only eight FSS ships, thus availability was limited. Unfortunately, one FSS, the Antares, failed off the East coast of the United States with a considerable amount of the 24th Infantry Division (Mechanized) equipment aboard. The ship was towed to Spain. Some of the cargo was airlifted to Saudi Arabia but most had to be unloaded and reloaded aboard another FSS returning from her initial voyage. This cargo arrived about three weeks later than planned. (Before the war, the Antares had been scheduled for major overhaul, but this was delayed. Thus a degree of risk was accepted in the decision to use Antares to speed the deployment.)

The FSS size and speed allowed the remaining seven ships to deliver more than 13 percent of the total cargo of the unit equipment. FSS carried the 90,000 short tons of equipment for the 24th Infantry Division (Mechanized) at average speeds of 27 knots. Although normally on 96-hour standby, the first FSS was ready to deploy in 48 hours. The typical FSS load included more than 700 Army vehicles such as M-1 tanks, M-2 fighting vehicles, and fuel trucks. By comparison, 116 World War II Liberty Ships would have been required to move the same tonnage in the same period.
Specifications

Builders:
T-AKR 287, 289, 293; Rotterdamsche D.D.Mij N.V., Rotterdam, Netherlands
T-AKR 288, 291; Rheinstahl Nordseewerke, Emden, West Germany
T-AKR 290, 292; A.G. Weser, Bremen, West Germany

Conversions:
T-AKR 287, 288, 292; National Steel and Shipbuilding, San Diego CA
T-AKR 289, 293; Pennsylvania Shipbuilding, Chester PA
T-AKR 290, 291; Avondale Shipyards, New Orleans LA
Power Plant:
2 - Foster-Wheeler boilers, 875 psi (61.6kg/cm2); 9500F (5100C);
2 - GE MST-19 steam turbines; 120,000 hp (89.5 MW);
2 - shafts(60,000/shaft)

Length:
946.2 feet (288.4 meters) Overall Length
Waterline Length: 893 ft
Beam:
Waterline Beam: 106 feet (32.3 meters)

Displacement:
Light Displacement: 29,692 tons
fully loaded 55,350 long tons
Full Displacement: 61,987 tons
Dead Weight: 32295 tons
Speed:
33 knots

Crew:
42 (fully operational);
24 (USCG minimum);
18 (reduced operating status)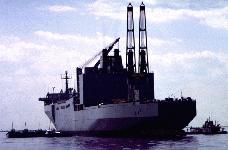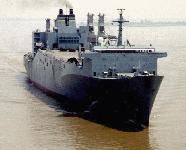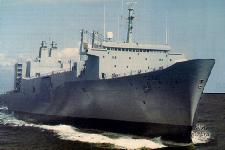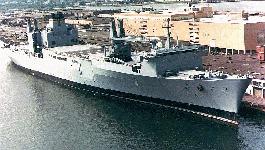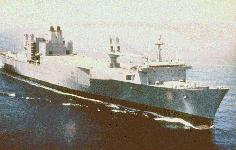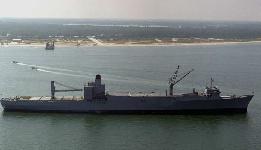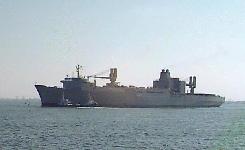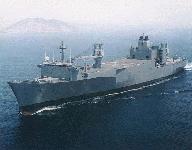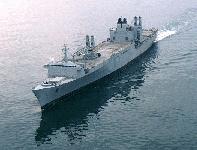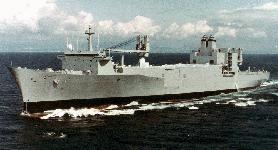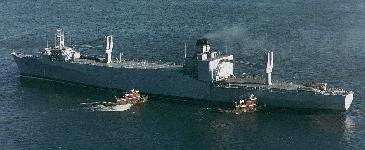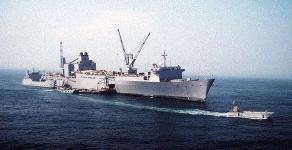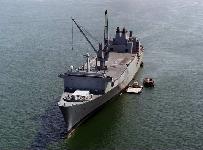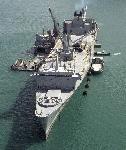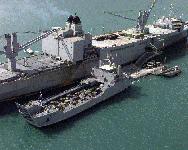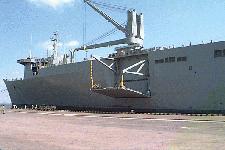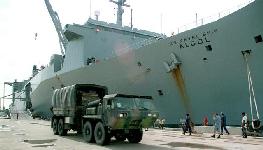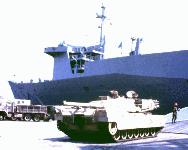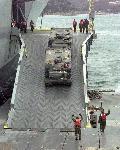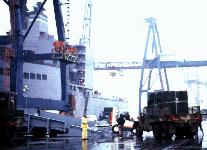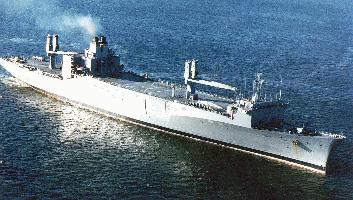 Sources and Resources
USNS Antares bound for Croatia Military Sealift Command Newsrelease 25 Feb 1999 -- For the second time in less than seven months, Military Sealift Command has been called to transport U.S. military equipment and supplies to Bosnia for the NATO peacekeeping mission Operation Joint Guard.
Capella, Strong Texan and Maersk Constellation saving big bucks for Defense Department Military Sealift Command Newsrelease 07 Mar 1997 -- The ships are delivering and returning equipment being used in the combined U.S./Australian military exercise Tandem Thrust '97 off the Australian coast. The savings results from employing a combination of ships from the MSC long-term-chartered fleet and a reduced-operating-status Fast Sealift Ship, or FSS.
---
---
http://www.fas.org/man/dod-101/sys/ship/takr-287.htm
Maintained by Robert Sherman
Originally created by John Pike
Updated Saturday, March 06, 1999 11:57:34 AM