---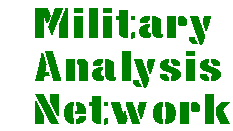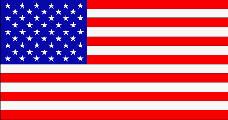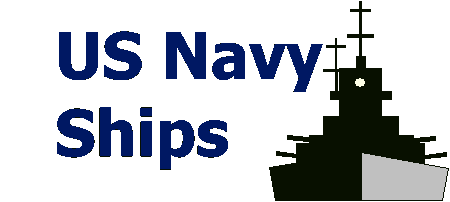 ---
T-AK 2062 American Cormorant
T-AK 2062 American Cormorant is a float-on/float-off asset prepositioned in Diego Garcia. American Cormorant carries port-opening lighterage and small watercraft for the U.S. Army. The ship is diesel-powered and is operated by Osprey-Acomarit. The semisubmersible Heavy Lift Prepositioning Ship [HLPS] carries the equipment required to establish a working port. The ship's cargo deck can be placed 26 feet below the water's surface by ballasting the ship to a draft of 66 feet. In this way, barges and other embarked watercraft may be floated off directly into the water. The barges contain the materiel-handling equipment needed to move container and equipment ashore. Additionally, three tug boats, two LCM 8s, a ROWPU barge, and a floating 100-ton crane barge are embarked aboard the HLPS.

The ability to quickly move a significant Army watercraft "package" into a contingency area is vital. Once the Navy has conducted the initial assault landings during any contingency, the Army is responsible for all subsequent sustainment operations. These include getting equipment, troops and supplies ashore, opening and operating ports, and sustaining water main supply routes. Though most Army watercraft can self-deploy across great distances, doing so takes a lot of time and endangers the crew. By using American Cormorant. the Army can project the force in about a third of the time. The watercraft crews can fly in to meet the prepositioned equipment, cutting the time it takes to get the vessels into operation. Providing the right mix of watercraft and other equipment aboard American Cormorant gives local commanders in contingency areas exactly what they'll need to immediately start solving problems encountered during theater-opening missions. American Cormorant's embarked watercraft also carry forklifts, cargo-container handlers and similar devices. These allow soldiers to immediately begin unloading and moving the supplies and materials carried in the ship's 40 commercial cargo containers.

Designed as a conventional oil tanker, the ship was built in Sweden and launched in 1975 as Kollbris. In 1982 she returned to Sweden for conversion into a semi-submersible, heavy-lift carrier, returning to service as Ferncarrier. As the term "semi-submersible" implies, the vessel can load and unload main-deck cargo by sinking low enough to allow cargo to float on and off. This is accomplished by a process known as ballasting ---- taking on water in special internal tanks ---- which can lower the ship up to 26 feet below her normal draft in about six hours. It takes about the same amount of time to return the vessel to her normal draft. Though semi-submersibles were designed primarily to move large and unwieldy off-shore oil rigs, they soon proved equally adept at transporting small naval vessels and other military hardware. Indeed, Ferncarrier's 1982 maiden voyage was a military one. Chartered by Britain's Ministry of Defence, the ship carried an accommodation barge and two launches to the Falkland Islands just after the end of fighting there between British and Argentine forces.

In November 1985 Ferncarrier was purchased by Cormorant Shipholding, reflagged as an American vessel and renamed American Cormorant. She has since been operated on time charter for the Army by Osprey-Acomarit Ship Management of Bethesda, Md., and is crewed by some 20 American merchant sailors. Officially homeported in Philadelphia, Pa., the ship is forward-deployed at Diego Garcia in the Indian Ocean.

Exercise Big Red, conducted every two years, allows American Cormorant's cargo of watercraft ---- three LCM-8 landing craft, two larger LCU-2000 utility landing craft, three 100-foot tugboats, a barge-mounted 300,000-gallon-per-day reverse-osmosis water purification unit and a 100-ton floating crane ---- to be offloaded for inspection, repair and modification. The comprehensive overhaul is carried out at the US Army Depot at Hythe, a one-of-a-kind watercraft support facility near the sprawling Southampton port complex. Once thoroughly repaired and upgraded, the Army vessels are restocked with refurbished equipment and supplies before being reloaded aboard American Cormorant. The ship then returns to its "on-station" base at Diego Garcia island in the Indian Ocean, from where it can quickly deploy to virtually any contingency area in Southwest or Southeast Asia.
Specifications

Builder
Power Plant
Length
738 feet
Beam
135 feet
Draft
32 feet
Displacement
69,555 tons
Capacity
Speed
knots ( mph)
Crew
Aircraft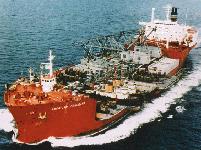 Sources and Resources
MSC saves $20 million on ship charter contract Military Sealift Command Newsrelease 24 Mar 1997 -- The contract award for the first heavy lift ship went to Cormorant Shipholding Corporation of Bethesda, Md.--$60.5 million for the 59-month charter of MV American Cormorant. Van Ommeren Shipping (USA), Inc. of Stamford, Conn., received the second contract with an estimated value of $23.6 million for the charter of the MV Strong Virginian.
Operation Big Red '99 by Tony Johnson Army Logistician JANUARY-FEBRUARY 2000 -- Partially submerging is how the American Cormorant offloads the cargo of ocean-going tugboats, landing craft, and equipment and supplies it carries for the Army.
---
---
http://www.fas.org/man/dod-101/sys/ship/tak-2062.htm
Maintained by Robert Sherman
Originally created by John Pike
Updated Thursday, October 19, 2000 6:13:29 AM