---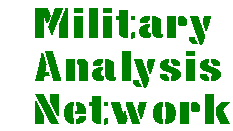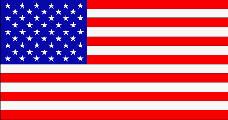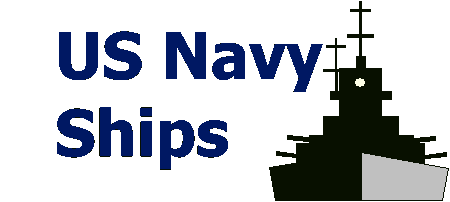 ---
T-AE 26 Kilauea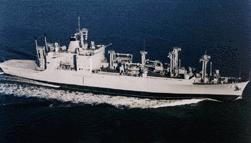 The Ammunition ships 's mission is transport and deliver of bombs, bullets, missiles, mines, projectiles, powder, torpedoes, and various other explosive devices and incendiaries, as well as associated ordnance cargo to the various ships in the Fleet, while underway. This type of support is necessary in order to achieve and maintain the Navy's requirement for a high degree of logistical independence. These efforts enable the Navy to more effectively perform its functions of sea control and projection of power ashore. Their Secondary Mission involves providing limited quantities of fuel, water, and combat store products, in addition limited ship repair and maintenance services, as well as special project services. To get their Job done they utilize (CH-46) SEA KNIGHT Helicopters for Vertical Replenishment (VERTREP), as well as the conventional Connected Replenishment (CONREP) abilities using seven CONREP Stations.

This modern class of auxiliary support ship has brought an increased capability to the Fleet for underway replenishment. With their advanced design replenishment facilities, they can more affectively accomplish the rapid transfer of ammunition and other cargo to Fleet units at sea. The ships replenish other Fleet units with bombs, bullets, missiles, mines, projectiles, powder, torpedoes, various other explosive devices and incendiaries, as well as associated ordnance cargo. Secondarily, they maintain a replenishment-at-sea capability for limited quantities of fuel, water, and combat stores. The ships also have facilities for limited ship repair and maintenance services, as well as special project services.

The ships have four cargo holds, which break down into 14 magazines. A magazine is the level within the cargo hold, and is defined as a magazine due to the stowage of ammunition and the requisite fire detecting and fire fighting items found on each level. The four cargo holds are serviced by six high speed cargo weapons elevators. The ships have a certified helicopter flight deck and can handle any US military helo as well as most commercial and allied helicopters. There are 7 unrep cargo transfer stations and 1 fuel delivery station. The ships can receive fuel at sea from any of 4 stations. Flint is also self-sufficient in the loading and discharge of ammunition or cargo from the ship to a pier or barge. There are four cargo booms which allow shore or barge transfer.

Modern Underway Replenishment (UNREP) facilities include the capability to support and operate two assigned medium-lift "Sea Knight" Helicopters - the Navy's CH-46. This added dimension of logistic support capability allows for the Vertical Replenishment (VERTREP) of ordnance cargo and combat stores. Fleet units requiring resupply inside, or even somewhat outside, the immediate horizon of the support ship can now be served by VERTREP utilizing these helicopters. They also maintain the capability for Connected Replenishment (CONREP). This can be accomplished simultaneously with VERTREP. There are seven CONREP stations - four stations to port and three to starboard. They can all be rigged for the Standard Tension Replenishment Alongside Method (STREAM) System. The STREAM System employs a specially designed trolley riding on a constant high-tension span wire. As dictated by the operational situation and resupply requirements, any or all of the station can be utilized concurrently. One ship can be replenished underway alongside to port, while another ship is being serviced alongside to starboard.

Ammunition ships operated by Military Sealift Command provide logistic support to US Navy ships at sea. USNS Kilauea was the first ship of the Kilauea class ammunition ship to be transferred to Military Sealift Command Oct. 1, 1980. Flint was transferred in August 1995, Butte in June 1996, Kiska in August 1996 and Mount Baker in December 1996. USNS Shasta (T-AE 33) was transferred Oct. 1, 1997. USS Santa Barbara (TAE 28) — transfered to MSC operation on September 30, 1998, and the final ship -- Mount Hood -- is apparently pending transfer. Ships undergo a civilian modification overhaul during which accommodations are improved, main armament taken out and ships outfitted for reduced crewing by MSC.

The ships are outfitted with a Fleet satellite communication system. In comparison to other systems, this modern and efficient system is less likely to suffer processing delays due to radio frequency interference or message traffic backlogs. Command and control directives and operation orders can be processed on a near real- time basis, as can logistic requirement requests from other Fleet units. The ships are equipped with an automated propulsion system. This system permits personnel in the Pilot House to control the ship's speed directly, as the propulsion plant responds to their orders. The system also features a mode that allows personnel in the engineering operation station to light-off boilers and operate the propulsion plant by remote control. The ships have three oil-fired Foster Wheeler D-Type Boilers, each capable of full power of producing 87,900 pounds of steam-per-hour, at a pressure of 615 pounds-per-square-inch. The main propulsion plant consists of a high pressure steam turbine to a low-pressure steam turbine geared-drive combination which can develop up to 22,000 shaft horsepower. This drives a single shaft, with a six-bladed propeller, 20 feet in diameter. The ships have a speed capability in excess of twenty knots, which is enhanced by their bulbous bow, as is their sea-keeping ability in rough seas. This better enables her to keep pace with fast-moving Task Forces at sea. USS Shasta (AE 33) was transferred to the Military Sealift Command (MSC) for further service to the Pacific Fleet on 01 August 1997. Shasta was commissioned on 22 February 1972 in Charleston,South Carolina and has been homeported in the San Francisco Bay area ever since. During her quarter century of service, Shasta provided carrier battle group support in the Gulf of Tonkin during the Viet Nam War and in the Arabian Gulf during the Gulf War. She was most recently sailing with the Nimitz Battle Group in the Straits of Taiwan during the 1996 Taiwan elections that drew interest from the Chinese main land. In addition to these deployments Shasta sailed to the Western Pacific and Indian Ocean on eleven other occasions. The five ships of the improved Kilauea-class were to be slightly larger, with gas-turbine propulsion.

The new Auxiliary Dry Cargo Carrier ADC(X) will replace aging ammunition ships and dry cargo ships in the Navy's Combat Logistics Force (CLF), including the T-AE 26 Class ships in the 2007 timeframe.
Specifications

Builders:
General Dynamics, Quincy and Ingalls Shipbuilding

Power Plant
3 Foster-Wheeler boilers; 600 psi (42.3kg/cm2); 8700F (4670C)
1 turbine, 22,000 hp (16.4 MW);
1 shaft 22,000 shp, 6 bladed Fixed Pitchpropeller
Automated Propulsion System (APS)
Length
Overall Length: 564 ft
Waterline Length: 540 ft
Beam
Extreme Beam: 81 ft
Waterline Beam: 81 ft
Draft
Maximum Navigational Draft: 31 ft
Draft Limit: 28 ft
Displacement
Light Displacement: 11915 tons
Full Displacement: 20169 tons
Dead Weight: 8254 tons
Speed
20 knots

Aircraft
2 UH-46E Sea Knight helicopters (cargo normally embarked)
Hangar: 2 /aprox.50' x 15' x 16.5'
Deck: aft helicopter flight deck
Crew
125 civilians, plus 55 naval personnel, including a helicopter detachment

Armament:
None
Miscellaneous Features:
Cargo Hold: 60,000 cu.ft./6,000 Tons of Munitions
2 Refrigerators for Ships Stores (RAS)
7 Replenishment stations for (CONREP)
7 100,000 Gallon Fuel Tanks/ 2,500 Tons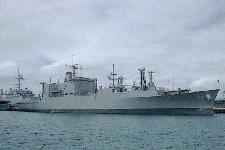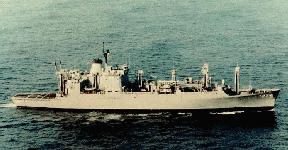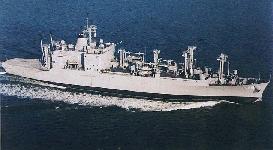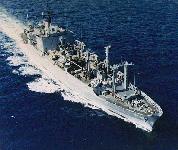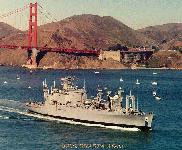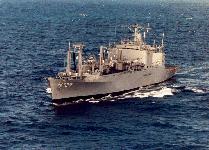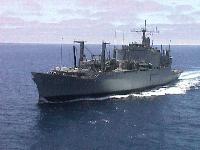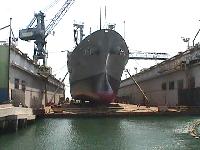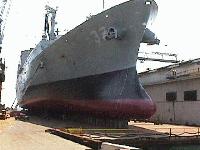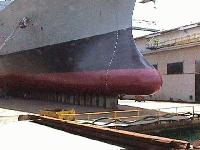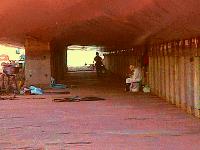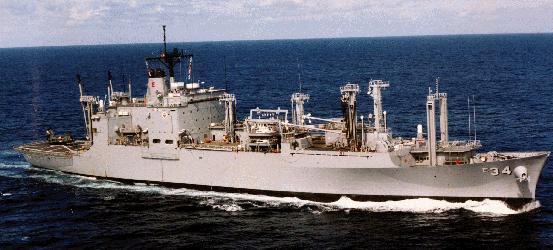 !!! 500 kb JPEG !!!
Sources and Resources
---
---
http://www.fas.org/man/dod-101/sys/ship/tae-28.htm
Maintained by Robert Sherman
Originally created by John Pike
Updated Friday, March 05, 1999 3:06:13 PM