Submarines are the most covert platforms for inserting special operations forces (SOF) into the littorals. The submarine combines stealth and endurance with sophisticated communications equipment, sensors, and navigation suites to facilitate the precise insertion of Navy Sea-Air-Land (SEAL) teams and other special operations forces close to their littoral objectives, while providing a reliable means for their extraction once their tasking is accomplished.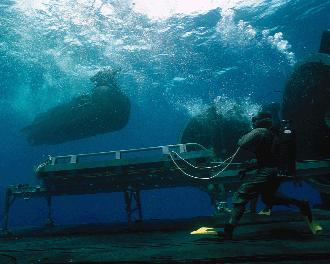 The Submarine Force forward-deploys specially configured 637- and 688-class attack submarines (SEASUBs) that are ready to respond on short notice to in-theater contingencies. With their embarked SEAL platoons, SEASUBs exercise frequently with NATO nations and other countries. SEASUB highlights in 1998 included highly successful operations by USS L. Mendel Rivers (SSN-686) in the Central Command area.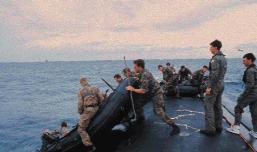 Two submarines, USS Kamehameha (SSN-642) and USS James K. Polk (SSN-645) are configured for dual Dry Dock Shelter (DDS) operations. Kamehameha participated in Exercise FOAL EAGLE – an important annual joint Seventh Fleet/Republic of Korea exercise. James K. Polk has just completed her final overseas deployment; she will be decommissioned in 1999. Kamehameha is scheduled to remain in service until 2001.
Studies are under way to evaluate conversion of the first four TRIDENT hulls to SOF/Strike Warfare platforms after their removal from strategic service. In concept, this will yield a platform that can carry over 150 Tomahawk strike missiles and deploy a SOF capability better than any currently available.