---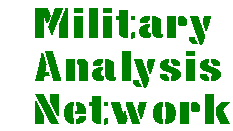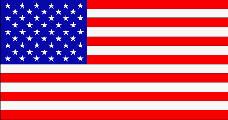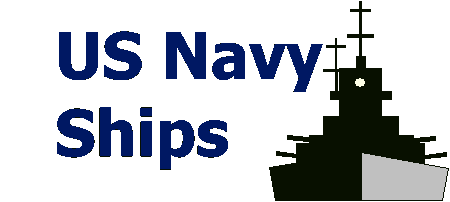 ---
DDG-37 Farragut / Coontz
The Farragut class guided missile destroyers were constructed in the late 1950s and early 1960s. The ships were also known as the Coontz class, since DDG 40 Coontz was the first designed and built as a guided missile ship. The three earlier ships of the class were initially designed as all gun hunter killer destroyers (DK), and were were subsequently converted to carry the new Terrier surface-to-air missile. The ships were significantly larger than previous destroyers, and the term "frigate" was reactivated to describe them. This class of ships was initially classified as Destroyer Leader [DL], and subsequently reclassified as Guided Missile Frigate [DLG] in 1956. The ships were again reclassified in 1975, as Guided Missile Destroyer [DDG], and given new hull numbers [eg, DLG 10 King became DDG 41].

Despite periodic modernizations the classes was retired in the early 1990s. Modernization with the New Threat Upgrade (NTU) package was considered for these ships was terminated since modernization would not have been cost effective given the limited service lives remaining. As part of the 1989 Amended budget submission, the decision was made to accelerate the retirement of these ships to achieve complete retirement of the class (except Mahan (DDG 42) which received NTU modernization in 1982 as a test package) by the end of FY 93. The highly capable, multi-mission, AEGIS equipped, Arleigh Burke (DDG 51) class replaced these ships.

DDG-25 through DDG-30 were DDG-2 Charles Adams class ships built in the United States for Australia and Germany. DDG-1, as well as DDG-31 through DDG-36, were destroyers converted to carry guided missiles, all of which were striken from active service between 1978 and 1988.

DDG-47 Ticonderoga and DDG-48 Yorktown were subsequently redesignated CG-47 and CG-48. It is unclear whether DDG-49 and DDG-50 were formally assigned to Vincennes or Valley Forge prior to their designation as CG-49 and CG-50, though in any event the DDG numerical sequence resumed with DDG-51 Arleigh Burke.
Ships

Name
Number
Builder
Homeport
Ordered
Commissioned
Decommissioned
Farragut
DDG 37
Bethlehem
Norfolk
27 Jan 1956
10 Dec 1960
31 Oct 1989
Luce
DDG 38
Bethlehem
Mayport
27 Jan 1956
20 May 1961
01 Apr 1991
MacDonough
DDG 39
Bethlehem
Charleston
27 Jan 1956
04 Nov 1961
23 Oct 1992
Coontz
DDG 40
Puget Sound NSY
Norfolk
18 Nov 1955
15 Jul 1960
04 Oct 1989
King
DDG 41
Puget Sound NSY
Norfolk
18 Nov 1955
17 Nov 1960
28 Mar 1991
Mahan
DDG 42
San Francisco NSY
Charleston
18 Nov 1955
25 Aug 1960
15 June 1993
Dahlgren
DDG 43
Philadelphia NSY
Norfolk
23 Jul 1956
08 Apr 1961
31 Jul 1992
William V. Pratt
DDG 44
Philadelphia NSY
Charleston
23 Jul 1956
04 Nov 1961
30 Sep 1991
Dewey
DDG 45
Bath
Charleston
10 Aug 1957
07 Dec 1959
31 Aug 1990
Preble
DDG 46
Bath
Norfolk
16 Dec 1957
09 May 1960
15 Nov 1991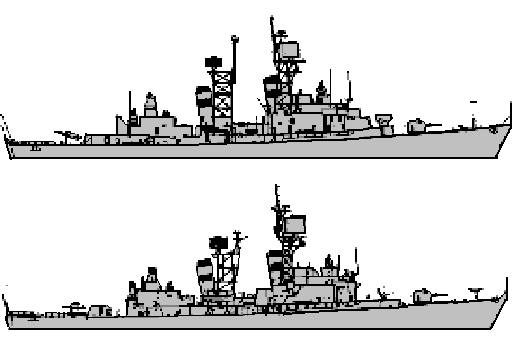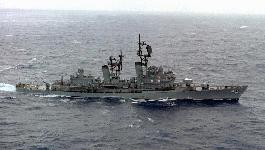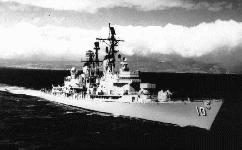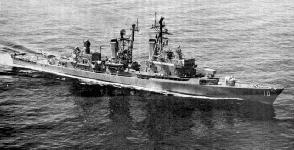 Sources and Resources
---
---
http://www.fas.org/man/dod-101/sys/ship/ddg-37.htm
Maintained by Robert Sherman
Originally created by John Pike
Updated Saturday, March 06, 1999 12:23:41 PM