---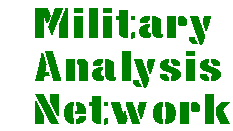 ---
Leclerc
The Leclerc tank is not simply a tank within the classsic meaning of the term, but rather a weapon system. As a tank incorporating the products of the most recent technologies, it reaches a level of excellence on each traditional quality: mobility, protection, fire power. As a system of weapons it integrates these functions in a unit whose management is optimized in particular by electro-data processing and the capacities of the communication systems. The essential capacities of Leclerc are the following: a very great effectiveness in the duel against all the adversary armoured tanks in day or night (any time) at ranges of more than 3000 meters. It includes a gun of with an automatic loading system which make it possible to quickly select the type of ammunition, capable of firing when the tank be moving and which improve appreciably the rate of fire of up to 6 shots/minute. The long-range fire control system stabilizes the sight, and the gun remain permanently pointed at the target selected. There are two sights: one for the commander of the tank and the other for the operator. The turret can acquire the target with gyrostabilisers, and a video recopy of the images allows sharing of information between the two.

Unequalled mobility is obtained by the synergy between the motor, the kinematic chain, and the hydropneumatic suspension. A very balanced general protection is obtained not only by modular shieldings but also by compactness and thus low visibility, which combined with the very great agility of the tank makes it a difficult target to hit. Centralized management is performed on a large number of parameters of a tactical or logistic nature: the digitalization of the data forward by a bus and are exploited inside the tank which optimizes the entirety of its functions. Also outside, via the radio operator station, it is possible to better employ the whole of the tanks engaged in an operation in particular by the use of the system of control and command installed on board.

Being able to resist the most severe stresses of combat of high intensity and to attack the most hardened targets, it is a powerful tool able to assume all the missions reserved for the units of the armoured forces whatever the environment, the type and the form of engagement (traditional, chemical or nuclear, high average or low intensity). The principal armament is a gun of 120 mm with a smooth bore and a length of 52 calibers, drawing all types of ammunition with combustible casings with standard NATO. A total of 40 shells can be embarked, including 22 in automatic loading. The secondary armament is one 12.7 mm machine-gun and one 7.62 mm machine-gun in the superstructure.
Specifications
Designation/Name
Leclerc
Producer
France
Date Production Began
1991
Crew Size
3
Combat Weight
54,500kg
Length (hull)
6.88m
Length (gun forward)
9.87m
Width
3.71m
Height (to turret roof)
2.53m
power unit
diesel engine hyperbar V8 of power 1500 ch/DIN.
Max Road Speed
71kmh
Max Road Range
550km
650 km with tanks of 1300 L and 400 L out of releasable barrels
average speed any ground
40 to 50 km/h
Armament (main gun)
120mm
Armament (coaxial)
12.7mm MG
Armament (anti-aircraft)
7.62mm MG
Current Using Countries
France
United Arab Emirates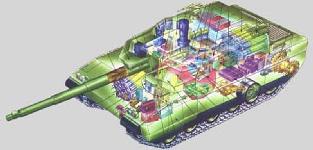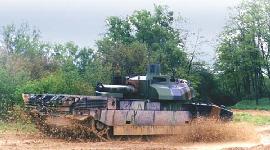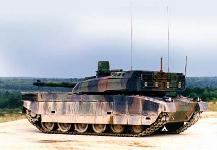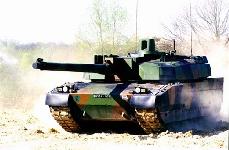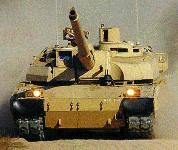 Sources and Methods
---
---
http://www.fas.org/man/dod-101/sys/land/row/leclerc.htm
Maintained by Robert Sherman
Originally created by John Pike
Updated Saturday, June 19, 1999 6:37:33 AM