Cascavel I
Original vehicle had a US M36 37-mm gun turret.
Cascavel II
Variant with a French 90-mm gun from AML-90.
Cascavel III
Uses the 90-mmCockerill gun and new transmission.
Cascavel IV
Has a new engine and transmission, improved day and night optics with laser rangefinder, and .a 50 cal antiaircraft MG.
Specifications

Date of Introduction
1977
Proliferation
At least 18 countries (all variants)
Crew
3
Troop Capacity
None
Combat Weight (mt)
13.4
Chassis Length Overall (m)
5.19
Height Overall (m)
2.36
Width Overall (m)
2.66
Drive Formula
6 x 6
Automotive Performance
Engine Type
212-hp Diesel
Cruising Range (km)
880
Speed (km/h)
Max Road - 100
Max Off-Road - INA
Average Cross-Country - INA
Max Swim - N/A
Fording Depth (m)
1.0 unprepared
Radio
INA
Protection
Armor, Turret Front (mm)
16
Applique Armor (mm)
N/A
Explosive Reactive Armor (mm)
N/A
Active Protective System
N/A
Mineclearing Equipment
N/A
Self-Entrenching Blade
N/A
NBC Protection System
N/A
Smoke Equipment
6 smoke grenade launchers
Main Armament
Caliber, Type, Name
90-mm gun, Engesa EC-90 (Cockerill-type)
Rate of Fire (rd/min)
INA
Loader Type
Manual
Ready/Stowed Rounds
24/ 20
Elevation (°)
-8/+15
Fire on Move
INA
Auxiliary Weapons
Caliber, Type, Name
7.62-mm MG, INA
Mount Type
Coax
Maximum Aimed Range (m)
2,000
Max Effective Range (m)
Day
INA
Night
INA
Fire on Move
Yes
Rate of Fire (rd/min)
INA
Caliber, Type, Name
.50 Cal M2 HB MG
Mount Type
Cupola
Maximum Aimed Range (m)
2,000
Max Effective Range (m)
Day
2,000
Night
INA
Fire on Move
Yes
Rate of Fire (rd/min)
INA
ATGM Launcher
N/A
Firing Ports
N/A
FIRE CONTROL Name
INA
Main Gun Stabilization
N/A
Rangefinder
LV3 laser rangefinder
Infrared Searchlight
N/A
Sights w/Magnification
Gunner
Day
SS-123, 10x
Field of View (°)
INA
Acquisition Range (m)
INA
Night
SS-122 II channel, 5.6x
Field of View (°)
INA
Acquisition Range (m)
INA
Commander Fire Main Gun
No
MAIN ARMAMENT AMMUNITION
Caliber, Type, Name
90-mm APFSDS-T, Engequimica-produced
Maximum Aimed Range (m)
INA
Max Effective Range (m)
Day
2,000+
Night
INA
Armor Penetration (mm)
INA
90-mm HE-T, Engequimica-produced
Maximum Aimed Range (m)
INA
Max Effective Range (m)
Day
2,200
Night
INA
Armor Penetration (mm)
INA
Other Ammunition Types
HEAT-T, HESH-T, Smoke, Cannister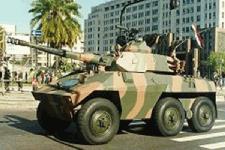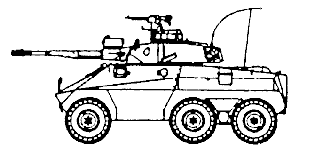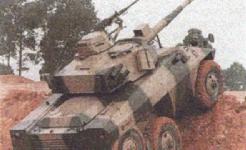 Sources and Resources
---
---
http://www.fas.org/man/dod-101/sys/land/row/ee-9.htm
Maintained by Robert Sherman
Originally created by John Pike
Updated Sunday, September 19, 1999 11:00:01 AM