---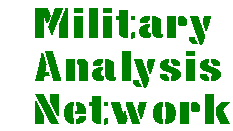 ---
9P140 Uragan (Hurricane)
220-mm Multiple Rocket Launcher
The 9P140 Uragan (previously referred to incorrectly as BM-22) is the world's first modern fin and spin-stabilized heavy rocket system. The BM-27 was first seen in 1977, hence the preliminary designation MRL M1977. The launcher, 9T452 transloader, rockets, and support equipment constitutes the 9K57 complex. The 220-mm rocket launcher (16-round) BM-27 is mounted on a ZIL-1 35 8x8 truck chassis similar to that used for the FROG-7 system. Launch tubes are arranged in three banks, with the lower two banks having six tubes each and the upper bank having four tubes. Essentially a scaled-up version of the BM-21, the 9P140 use many of the same design features.

The Russian BM-27 MRL system, with rocket projectiles of 220mm in caliber, boasts a firing range of up to 40 km. The BM-27 fires rockets with high-explosive fragmentation, chemical, and scatterable-mine submunition warheads. The fin- and spin-stabilized rockets are estimated to have a range of 35,000-40,000 meters, greatly exceeding the ranges of earlier Soviet heavy rocket launchers. The maximum rate of fire for the BM-27 is approximately one round per second. Reloading the launcher with a second set of 16 rockets takes up to 20 minutes.

The 9P140 and its transloader are both based on variants of the gasoline-powered ZIL-135LM 8-ton 8x8 chassis. The truck is unusual in that it uses two engines, each driving the wheels on one side of the truck, and only the front and rear axles steer. The 9P140 cab has a blast shield that is raised during firing, and the vehicle is stabilized during firing by two manually emplaced hydraulic jacks at the rear of the chassis. The launcher has electrically powered traversing and elevating mechanisms. During travel, the launcher assembly is oriented rearward and a light sheet metal cover over the muzzle end of the tubes prevents foreign material from entering the tube. This is a safety feature that is designed for travel when loaded. There is no such cover for the muzzle end of an unloaded launcher.

The BM-27 launch vehicle is complemented by a reload vehicle, also based on the ZIL-1 35 chassis. It is a flatbed vehicle carrying 16 rockets arranged in two stacks positioned on either side of the vehicle bed. A loading device used to transfer the rockets from the reload vehicle to the launcher is mounted between the two stacks.

The BM-27 replaced the 122-mm rocket launcher (40-round) BM-21 in the rocket launcher brigade of front- level artillery divisions and in the rocket launcher regiment at army level. However, it was not expected to replace the BM-21 at division level.
Specifications

Alternative Designations
9P140 Uragan
Date of Introduction
1977
Proliferation
At least 7 countries
Description
Crew
4
Chassis/Carriage
ZIL-135LM 8x8 wheeled
Combat Weight (mt)
20.0
Chassis Length Overall (m)
9.3
Height Overall (m)
3.2
Width Overall (m)
2.8
Automotive Performance
Engine Type
2 each - 177 hp, 8 cylinder, 4-stroke gasoline engines
Cruising Range (km)
500 km
Speed (km/h)
Max Road
65
Max Off-Road
INA
Cross-Country
INA
Max Swim
N/A
Fording Depths (m) Unprepared
1.2
Emplacement Time (min)
3
Displacement Time (min)
3
Radio
R-123M
Protection
Armor, Front (mm)
None
Armor Side (mm)
None
Armor Roof (mm)
None
Self-Entrenching Blade
No
NBC Protection System
No
Smoke Equipment
No
ARMAMENT
Launcher
Caliber, Type, Name
220-mm, 9P140
Number of Tubes
16 (2 rows of 6 tubes and 1 row of 4 tubes)
Launch Rate
Full Salvo Time
16 rounds in 20 seconds
Single Rocket Interval
1.25 seconds per rocket
Loader Type
Manual
Reload Time
15-20 minutes
Launcher Drive
Electric
Traverse
(°)
Left
30
Right
30
Total
60
Elevation (°) (-/+)
-0/+55°
FIRE CONTROL
Indirect Fire
PG-1M Panoramic Telescope (PANTEL)
Collimator
K-1
Fire Control Computer
None
Position Location System
None
MAIN ARMAMENT AMMUNITION
Caliber, Type, Name
220-mm Frag-HE, 9M27F
Indirect Fire Range (m)
Minimum Range
10,000
Maximum Range
35,000
Warhead Weight (kg)
100
Rocket Length (m)
4.8
Maximum Velocity
INA
Fuze Type
Electronic timing (ET)
220-mm DPICM, 9M27K
Indirect Fire Range (m)
Minimum Range
10,000
Maximum Range
35,000
Warhead Weight (kg)
90
Rocket Length (m)
5.1
Maximum Velocity
INA
Fuze Type
Electronic timing (ET)
220-mm Antitank, 9M27K2
Indirect Fire Range (m)
Minimum Range
10,000
Maximum Range
35,000
Warhead Weight (kg)
90
Rocket Length (m)
5.1
Maximum Velocity
INA
Fuze Type
Electronic timing (ET)
Caliber, Type, Name
220-mm Antipersonnel, 9M27K3
Indirect Fire Range (m)
Minimum Range
10,000
Maximum Range
35,000
Warhead Weight (kg)
90
Rocket Length (m)
5.1
Maximum Velocity
INA
Fuze Type
Electronic timing (ET)
220-mm Antitank, 9M59
Indirect Fire Range (m)
Minimum Range
10,000
Maximum Range
35,000
Warhead Weight (kg)
90
Rocket Length (m)
5.1
Maximum Velocity
INA
Fuze Type
Electronic timing (ET)
Other Ammunition Types
None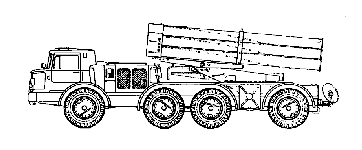 Sources and Methods
---
---
http://www.fas.org/man/dod-101/sys/land/row/9p140.htm
Maintained by Robert Sherman
Originally created by John Pike
Updated Saturday, June 19, 1999 6:37:33 AM