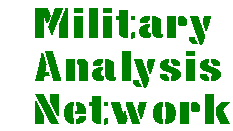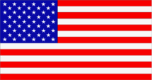 ---
M24 Chaffee Light Tank
The M24 Chaffee -- arguably the best light tank of World War II -- was a fast light armoured vehicle with the ability to deliver relatively large caliber direct fire with the excellent 75 mm M6 gun. More than 4.000 produced by Cadillac and Massey-Harris during 1943-45. The first reached Europe in late 1944, where they proved very effective and highly reliable.

However, at the outset of the Korean War American forces equiped with the with M24 Chaffees performed poorly against the enemy's T-34/85s, and these US units were soon augmented with M26 Pershings and M46 Pattons, along with M4A3E8 Shermans with the long 76mm gun. It remained in American service until 1953, by which time it wa totally replaced by the the M41 Bulldog.

After 1945 the M24 Chaffee was used by many American allies. The French army used them in Indo-China, including at the battle of Dien Bien Phu. Though obsolete by the mid-1960's, it remains in service in some countries. In Taiwan the platform has been re-equipped with a 90mm gun.
Specifications

Weight
18,370 kg ( 40,500 lb.)
Length
5.5 m ( 18 ft)
Width
: 2.95 m (9.67 ft)
Height
2.5 m ( 8.1 ft)
Forward speed
56 km/h ( 35 mph)
Reverse speed
Engine
2 Cadillac V8-cylinder 44T24 petrol-engines developing 110 hp each
Vertical obstacle climb
Maximum width ditch
Fording Depth
Crew
5
Armor
9 mm (0.35 in) to 25 mm ( 0.98 in)
Armament
1 x 75mm gun
2 x .30 in MG
1 x .50 in MG (Anti-Aircraft mount)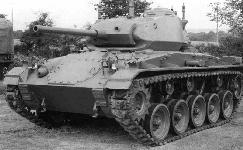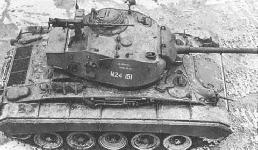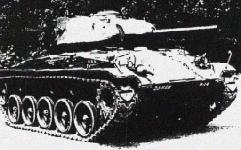 Sources and Resources
http://www.fas.org/man/dod-101/sys/land/m24.htm
Maintained by Robert Sherman
Originally created by John Pike
Updated Saturday, August 07, 1999 6:35:42 AM