---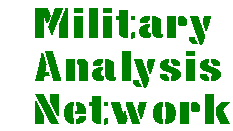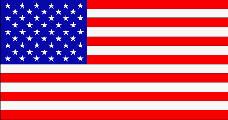 ---
T-38 Talon
The T-38 Talon is a twin-engine, high-altitude, supersonic jet trainer used in a variety of roles because of its design, economy of operations, ease of maintenance, high performance and exceptional safety record. It is used primarily by Air Education and Training Command for undergraduate pilot and pilot instructor training. Air Combat Command, Air Mobility Command and the National Aeronautics and Space Administration also use the T-38 in various roles.
The T-38 has swept-back wings, a streamlined fuselage and tricycle landing gear with a steerable nose wheel. Two independent hydraulic systems power the ailerons, flaps, rudder and other flight control surfaces. The instructor and student sit in tandem on rocket-powered ejection seats in a pressurized, air-conditioned cockpit. Critical components are waist high and can be easily reached by maintenance crews. Refueling and preflight inspections are easily performed. The T-38 needs as little as 2,300 feet (695.2 meters) of runway to take off and can climb from sea level to nearly 30,000 feet (9,068 meters) in one minute.
Student pilots fly the T-38A to learn supersonic techniques, aerobatics, formation, night and instrument flying and cross-country navigation. More than 60,000 pilots have earned their wings in the T-38A. Test pilots and flight test engineers are trained in T-38A's at the U.S. Air Force Test Pilot School at Edwards Air Force Base, Calif. Air Force Materiel Command uses T-38A's to test experimental equipment such as electrical and weapon systems.
Pilots from most North Atlantic Treaty Organization countries are trained in the T-38A at Sheppard AFB, Texas, through the Euro-NATO Joint Jet Pilot Training Program. The National Aeronautics and Space Administration uses T-38A aircraft as trainers for astronauts and as observers and chase planes on programs such as the space shuttle.
Air Education and Training Command uses a modified version, the AT-38B, to prepare pilots for fighter aircraft such as the F-15, F-16 and A-10. and F-111. This model carries external armament and weapons delivery equipment for training. The Talon first flew in 1959. More than 1,100 were delivered to the Air Force between 1961 and 1972 when production ended. Approximately 562 remain in service throughout the Air Force.
An ongoing program called Pacer Classic, the structural life extension program for the T-38, is integrating 10 modifications, including major structural renewal, into one process. As a result, the service life of T-38s should extend to the 2010. Additionally, the introduction of the T-1A Jayhawk significantly relieved the T-38's work load.
Specifications

Primary Function
Advanced jet pilot trainer
Builder
Northrop Corp.
Power Plant
Two General Electric J85-GE-5 turbojet engines with afterburners
Thrust
2,900 pounds (1,315 kilograms) with afterburners
Length
46 feet, 4 1/2 inches (14 meters)
Height
12 feet, 10 1/2 inches (3.8 meters)
Wingspan
25 feet, 3 inches (7.6 meters)
Speed
812 mph (Mach 1.08 at sea level)
Ceiling
Above 55,000 feet (16,667 meters)
Maximum Takeoff Weight
12,500 pounds (5,670 kilograms)
Range
1,000 miles (870 nautical miles)
Armament
T-38A: none; AT-38B has provisions for external armament
Unit Cost
$756,000
Crew
Two, student and instructor
Date Deployed
March 1961
Inventory
Active force, 562; ANG, 0; Reserve 0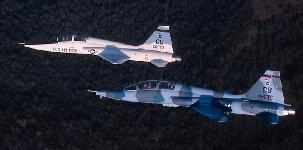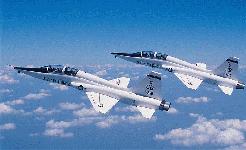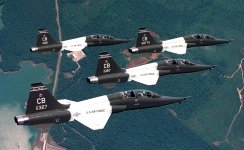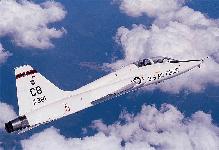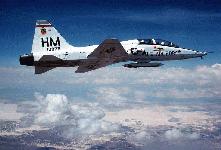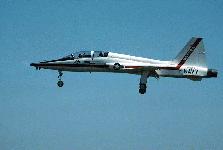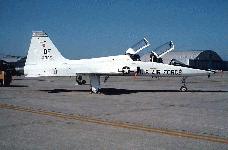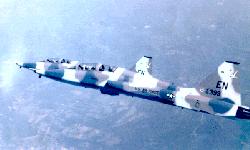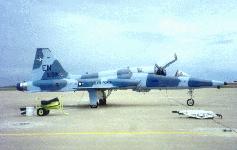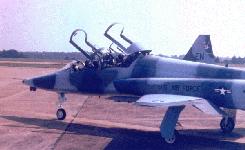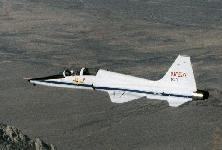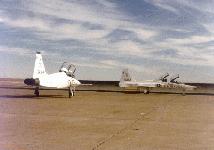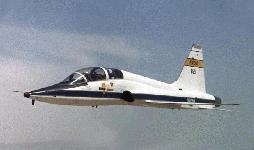 Sources and Resources
Upgraded T-38 being tested at Columbus (AFPN) 17 September 1999 --The T-38C is expected to reduce maintenance costs by eliminating dozens of mechanical displays, and replacing them with a few state-of-the-art computer displays. A built-in test system, which identifies faulty components, simplifies troubleshooting and reduces aircraft turn-around times will simplify maintenance.
---
---
http://www.fas.org/man/dod-101/sys/ac/t-38.htm
Maintained by Robert Sherman
Originally created by John Pike
Updated Friday, November 19, 1999 9:14:12 AM