---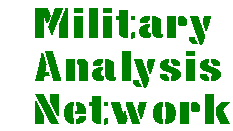 ---
PAH-2 Tiger
The Tiger constitutes an entirely new generation of helicopters for the armed forces of Germany and France. One of the most advanced combat helicopter in the world today, Tiger offers flexibility and mission diversity to meet the new challenges facing Western alliance and United Nations member countries following the collapse of the Warsaw Pact. Rapid reaction forces, the Franco-German Brigade, Euro-Corps and similar units can make use of Tiger's inherent multi-mission capabilities which include: dedicated anti-tank missions, mixed ground-target engagements, escort/combat support missions, surveillance and reconnaissance missions as well as protection missions for unarmed transport helicopters flying humanitarian aid missions.

The Germans and French are co-developing the PAH-2 Tiger attack helicopter, which has many of the capabilities of the American AH-64 Apache. The EUROCOPTER Group, owned 70% by AEROSPATIALE France and 30% by Daimler Aerospace (DASA) of Germany, designs and manufactures a wide range of civil and military helicopters in the 2 to 10 ton class. Today, EUROCOPTER is the world's leading manufacturer of civil helicopters, with more than 11.000 helicopters in service in 126 countries.

Despite the political impetus behind co-operation from the French and German Governments, the Tiger was subject to a troubled and protracted gestation. Discussions on a joint program began in the late 1970s, but differences between French and German requirements delayed formal commitment until 1983. In order to reconcile the different requirements of the French and German armies, the industrial consortium was required to produce a common airframe with three separate weapons and equipment fits. And in 1987 rising costs induced a simplified program with the same helicopter to be procured by both countries.

An initial batch of 160 helicopters, 80 for Germany and 80 for France, will be procured. The German Army's total requirement of 212 and the French Army's requirement of a total of 215 Tiger helicopters remains unchanged. Production and final assembly of the machines will be at the Eurocopter plants in Donauwörth (Germany) and Marignane (France). Cost and work shares are divided between the two partner countries on a 50:50 per cent basis. Deliveries will commence in 2002.
VARIANTS
The Tiger HAP is an air-to-air combat and fire support medium-weight (6 ton) helicopter fitted with 2 MTR 390 engines. It is daytime and night combat capable and is operable in NBC environments. Three basic parameters were taken into account right from the start of the development phase: low (visual, radar and infrared) detectability, which provides excellent survivability on the battlefield, maximum efficiency of the weapons and the associated fire control systems without heavier workload for the crew, and an optimized logistic concept offering minimum ownership costs. The Tiger HAP is fitted with a 30-mm gun turret; 68-mm submunition rokets, and air-to-air Mistral missiles. It also features a firing sight with 3 sensors: infrared, TV camera and direct optical channel. The complete avionics suite includes multi-purpose color displays and radar/laser warning receivers. The MTR390 high technology propulsion system was designed for the new twin-engined Franco-German Tiger attack helicopter.
The Tiger UHT is a multi-role fire support helicopter. The Trigat Fire and Forget missiles and/or the Hot missiles it carries offer anti-tank capability, while 68-mm rockets ensure air-to-ground fire support. A 12.7 mm air-to-air gun pod and air-to-air Stinger missiles can also be installed. The helicopter also features a mast-mounted sight with a second-generation IRCCD infrared channel and a TV channel, as well as a nose-mounted IRCCD control FLIR for the pilot. Countermeasures include radar/laser/missiles launch/missile approach warning receivers and decoy launchers.
The Tiger HAC is an anti-tank helicopter which supports the same equipments as the Tiger UHT. Weaponry includes Trigat and/or Hot anti-tank missiles and air-to-air Mistral missiles.
Specifications

Country of Origin
Builder
Eurocopter
Role
Scout, escort, anti-tank, fire support
Similar Aircraft
Wing Span
Length
Height
Weight
6,000 kg/13,230 lb
Engine
MTR390 turboshaft
Maximum speed
179 mph
Cruising speed
HCP (roof sight) 280 km/h-150 kts
U TIGER (mast sight) 260 km/h-140 kts
Range
800 km-432 n.m.
Maximum Endurance
3 hrs 25 min
Service Ceiling
Armament

Up to 2x22 rockets
up to 2x12 rocket pods
up to 2x2 Mistral air-to-air missiles
up to 2x4 HOT anti-tank missiles
30 mm turreted gun

Crew
Cost
User Countries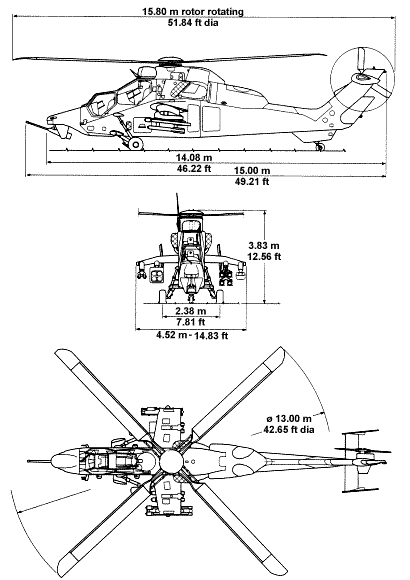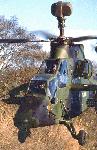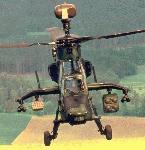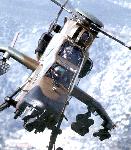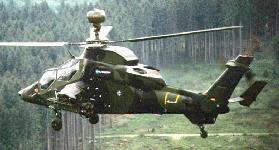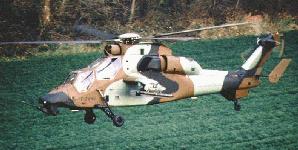 Sources and Resources
---
---
http://www.fas.org/man/dod-101/sys/ac/row/tiger.htm
Maintained by Robert Sherman
Originally created by John Pike
Updated Tuesday, September 21, 1999 10:18:15 AM