---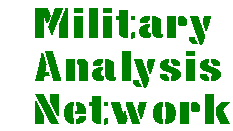 ---
MiG-21 FISHBED
J-7 (Jianjiji-7) / F-7
YF-110
The MiG-21F is a short-range day fighter-interceptor and the first major production version of the popular MiG-21 series. It is but one of many versions of this aircraft that have served in the air arms of many nations around the world. The E-5 prototype of the MiG-21 was first flown in 1955 and made its first public appearance during the Soviet Aviation Day display at Moscow's Tushino Airport in June 1956. During the Vietnam War, MiG-21s were often used against U.S. aircraft. Between April 26, 165, and January 8, 1973, USAF F-4s and B-52s downed 68 MiG-21s. More than 30 countries of the world-including nations friendly to the U.S. -have flown the MiG-21. At least 15 versions of the MiG-21 have been produced, some outside the Soviet Union. Estimates place the number built at more than 8,000, a production total exceeding that of any other modern jet aircraft.

The Soviets licenced the manufacture of the MiG-21F and its engine to China in 1961, and assembly of the first J-7 (Jianjiji-7 Fighter aircraft 7) using Chinese-made components began early 1964. The first flight of the Shenyang-built J-7 came on 17 January 1966, and Chengdu production of the J-7-I began in June 1967. Neither version was produced in large numbers. Subsequent modifications included development of the J-7-II / J-7B which began in 1975 with production approved in September 1979. Development of F-7M and J-7 III started in 1981. The J-7 III is the Chinese equivalent of MiG-21MF. Substantially reworked from the J-7 II, the J-7 III first flight occured on 26 April 1984. Jointly developed by Chengdu and Guizhou (GAIC), the J-7 III entered PLA Air Force and Navy service beginning in 1992, with production continuing thereafter.

Other development efforts extended through the F-7M Airguard which received a production go-ahead in December 1984. In 1988 China delivered the first 20 of 60 F-7M Skybolts to Pakistan. As upgrades, Karachi reportedly was leaning to a totally indigenous Chinese aircraft over the Grumman-influenced Sabre II, or F-7P. Development of the "Super 7" upgrade was terminated with the end of American technical assistance following the Tienanmen repression of 1989.

The aircraft has mid-mounted delta wings with small square tips. There is one turbojet inside the body. There is a small round air intake in the nose. There is a single exhaust. The fuselage is a long, tubular body with a blunt nose and bubble canopy. There is one belly fin under the rear section. There is a large dorsal spine flush with the canopy. The tail fin swept-back and tapered with a square tip. The flats are mid-mounted on the body, swept-back, and tapered with square tips. The J-7FS modification adds a radar to a reconfigured air intake, while the "Super 7" upgrade would have completely reworked the front end of the aircraft, adding a much larger radar and ventral air inlets, along with various other less pronounced improvements.

By 1989 Chinese production was running at a rate of as much as 14 aircraft per month, primarily for export. The J-7 aircraft was the most widely produced Chinese fighter, replacing older J-6 fighters, the Chinese version of the MiG-19. In 1995 it was projected that J-7 production would continue for at least another decade, resulting in a total inventory of nearly 1000 aircraft by 2005, but in fact the PLAAF inventory has remained static since then at about 500 aircraft, suggesting that production has either been suspended or terminated.

MiG-21 aircraft acquired by the United States under the Foreign Materiel Acquisition/Exploitation program are designated as the YF-110.
Specifications

Countries of Origin
Russia / China
Builder
Mikoyan-Gurevich [Russia]
Xian Aircraft [China] @ Shenyang, Chengdu & Guizhou
Variants
MiG-21F Fishbed C
MiG-21PF Fishbed D
MiG-21PFM Fishbed F
MiG-21R Fishbed H
MiG-21S Fishbed H
MiG-21RF Fishbed H
MiG-21SM Fishbed J
MiG-21M (Type 96/Hindustan Aeronautics-India)
MiG-21PFMA Fishbed J
MiG-21MF Fishbed J
MiG-21SMT Fishbed K
MiG-21SMB Fishbed K
MiG-21bis-A Fishbed L
MiG-21bis-B Fishbed N
MiG-21U Mongol A
MiG-21US Mongol B
MiG-21UM Mongol B
J-7 / F-7 Fishbed
J-7 II / F-7B Fishbed
J-7 III Fishbed
F-7M Airguard
F-7P Skybolt
Similar Aircraft
Fitters, all models,
Mirage III/5,
A-4 Skyhawk
Role
Ground-attack
interceptor,
trainer
Span
23 ft. 6 in.
Length
51 ft. 9 in.
Height
15 ft. 9 in.
Weight
18,080 lbs. max.
Engines
MiG-21 = Tumansky R-11F-300 @ 12,675 lbst w/afterburner
J-7 III = Wopen-13 turbofan @ 14,550-lbst
Crew
One
Maximum speed
1,300 mph.
Cruising speed
550 mph.
Range
MIG-21 = 400 mi range
MIG-21bis = 600 nm range
J-7 = 230 mi / 370 km lo-lo-lo radius
J-7B = 375 mi / 600 km radius w/ 2 PL-2 AAM + internal fuel
J-7B = 450 mi / 750 km radius w/ 2 PL-2 AAM + drop tanks
J-7M = 550 mi / 875 km radius w/ 2 PL-2 AAM + drop tanks
J-7 III = 525 mi / 850 km radius hi-hi-hi air superiority w/ 2 AAM + drop tanks
J-7 III = 340 mi / 550 km radius lo-lo-hi ground attack w/ 2 bombs + drop tanks
J-7 III = 1,350 mi / 2,200 km ferry range
Service Ceiling
50,000 ft / 14000 meters
Internal Fuel
2277 kg MIG-21pfs
2364 kg MIG-21bis
869 kg J-8
In-Flight Refueling
No
Drop Tanks
MIG-21bis = Drop tank with 391kg of fuel for 51nm range
MIG-21bis = Drop tank with 631kg of fuel for 80nm range
MIG-21bis = Drop tank with 391kg of fuel for 50nm range
J-7 = 800 l drop tank with 639kg of fuel for 111nm range
Take-Off Runway
F-7M = 700-950 m (2,300-3,120 ft)
J-7 III = 800 m (2,625 ft) with afterburning
Landing Runway
F-7M = 600-900 m (1,970-2,955 ft) with brake-chute
J-7 III = 550 m (1,805 ft) with flap blowing, drag-chute and brakes
Sensors
MIG-21pfs = Spin Scan (R1L) radar, RWR, Balistic bombsight MIG-21bis = Jay Bird radar, RWR, Balistic bombsight
J-7 = Type 222 ranging radar, RWR, Ballistic bombsight
Armament
One NR-30 30mm cannon plus
MIG-21pfs = K-13 AA-2 atoll, FAB-500, FAB-250, UV-16-67 rocket pods
MIG-21bis = UV-69 57 rocket pods, AA-8 Aphid, FAB-250, FAB-500
J-7 = 2 PL-2 or PL-7 AAM and 1 800 L drop tank (685 nm)
User Countries

Afghanistan
Albania (J-7)
Algeria
Angola
Azerbiajan
Bangladesh
Bulgaria
Burma
Cambodia
China (J-7)
Congo
Croatia
Cuba
Czech Republic
Republic
Egypt
Ethiopia
Finland
Germany
Gunea
Hungary
India
Iran
Iraq
Kazakhstan
Laos
Libya
Madagascar
Mali
Mongolia
Mozambique
Nigeria
North Korea
North Yemen
Pakistan (J-7)
Poland
Romania
Slovakia
South Yemen
Sri Lanka
Sudan
Syria
Tanzania
Vietnam
Yugoslavia
Zambia
Zimbebwe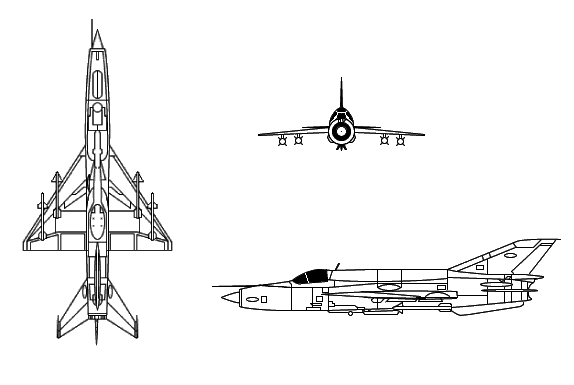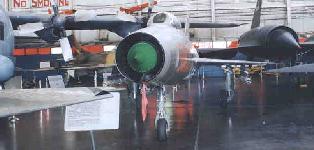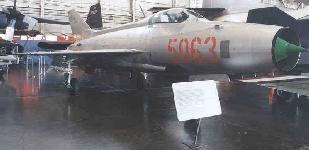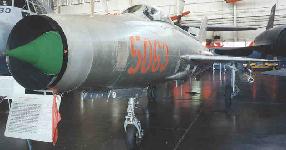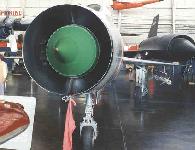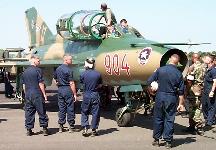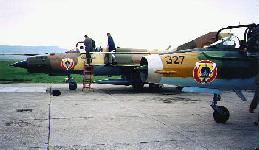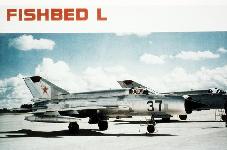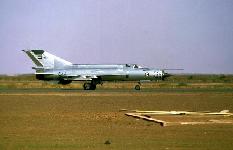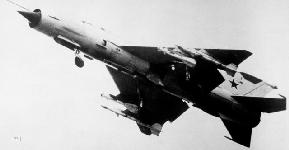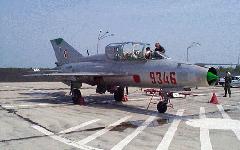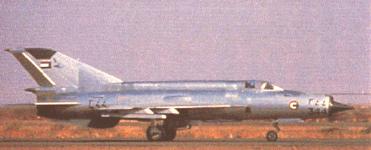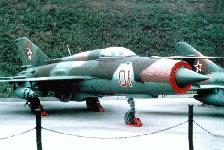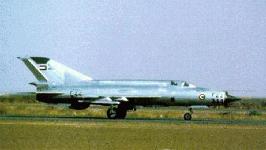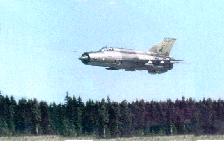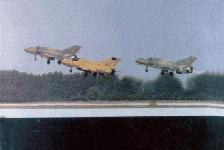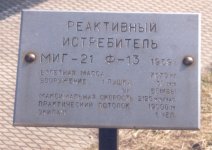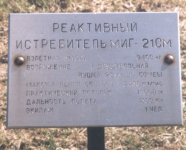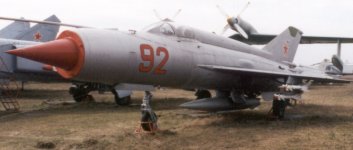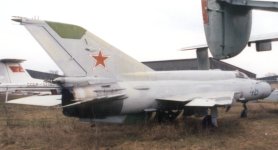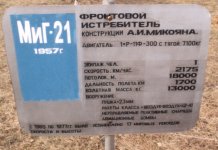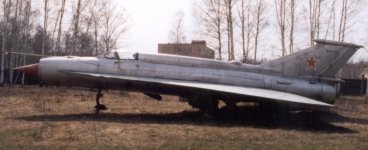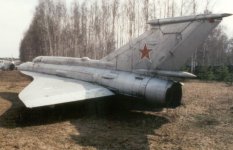 J-7 (Jianjiji-7 Fighter aircraft 7) / F-7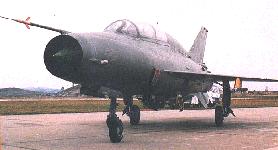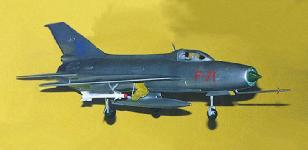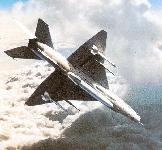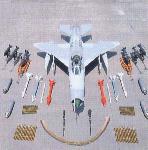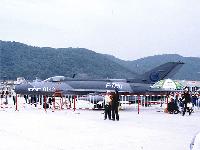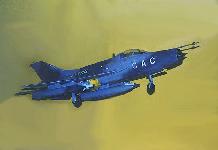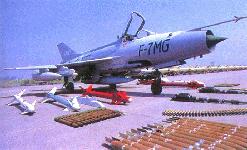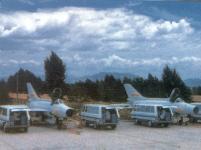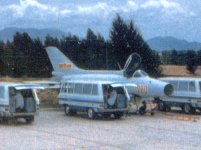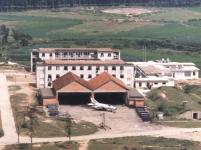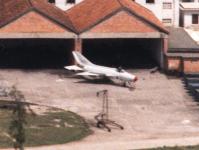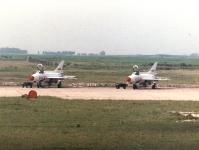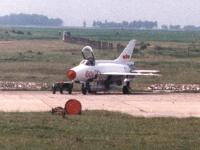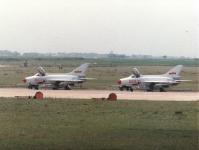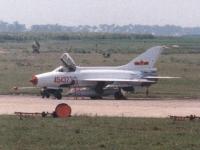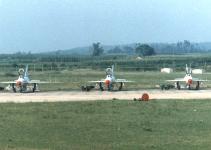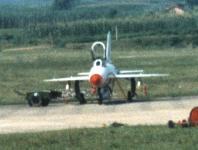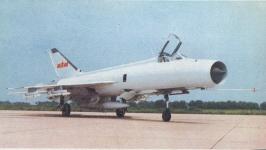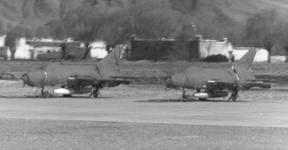 F-7FS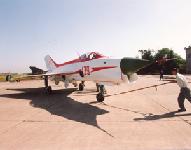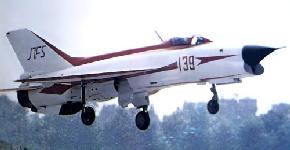 F-7P Sabre II "Super 7"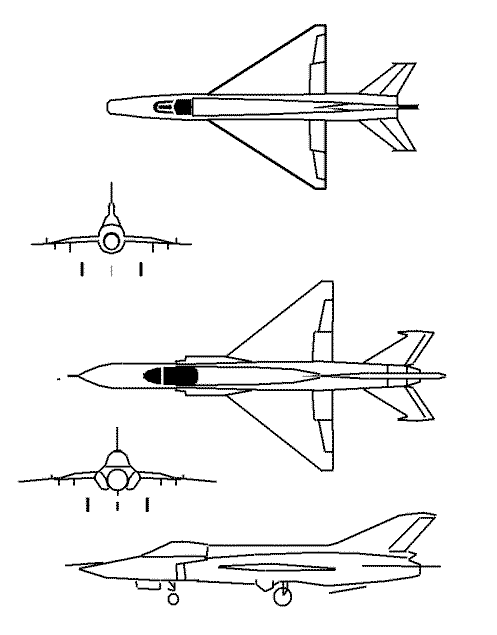 Sources and Resources
---
---
http://www.fas.org/man/dod-101/sys/ac/row/mig-21.htm
Maintained by Robert Sherman
Originally created by John Pike
Updated Monday, June 26, 2000 2:05:40 PM