---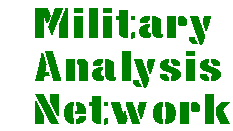 ---
Mi-8 HIP
The MI-8 HIP is a multi-role transport helicopter capable of carring troops or supplies as well as conducting armed attackes with rockets and guns. It is often used to resupply guerrillas, insert detachments or provide close air support to attacking units. Designed as a transport helicopter, the Mi-8 proved a multi-purpose machine. The cable external suspension, equipped with the weight-measuring device, makes it possible to carry large size cargoes weighing up to three tons. If required, it became both combat, rescue and artillery observation helicopter.

The large, five-blade main rotor is mounted over the engine at the body midsection, while a weapon-carrying platform is mounted at the lower body midsection. External stores are mounted on weapons racks on each side of the fuselage. The HIP C has four external hardpoints; the HIP E, HIP H, have six; other variants have none. Not all available munitions are employed at one time, mission dictates weapon configuration. Twin turboshaft engines are mounted on top of the fuselage with two round air intakes just above the cockpit and rounded exhaust ports aft. The Mi-8 is capable of single-engine flight in the event of loss of power by one engine (depending on aircraft mission weight) because of an engine load sharing system. If one engine fails, the other engine's output is automatically increased to allow continued flight. The fuselage consists of a long, bus-like body with a rounded nose and glassed-in cockpit. Interior seats are removable for cargo carrying. The rear clamshell doors open, an internal winch facilitates loading of heavy freight. Floor has tiedown rings throughout. The aircraft carries a rescue hoist capable to 150 kg, and a cargo sling system capable to 3,000 kg. Two fuel pods are offset and mounted low on the body, which features an upswept rear section and tricycle landing gear. The tail boom tapers to the small, swept-back, and tapered fin with rotor on top right or left, with small flats mounted forward of the fin.

The first Mi-8 flew in January of 1960, and by 1985, more than 1500 Mi-8 were built. Mil Moscow helicopter plant joint stock company is the major designer and producer of military transport, civil transport, heavy-lift,multi-role helicopters. Mil is associated with the Rostov and Kazan production enterprises. Kazan is the oldest helicopter manufacturing plant in Russia and makes Mi-8 and Mi-17 helicopters. the Mi-8 was exported to Czechoslovakia, Algeria, East Germany, Hungary, Bolivia, Poland, Bulgaria, Yugoslavia, Finland, and Ethiopia.
VARIANTS
Mi-8T: The HIP C is a medium assault/ transport version. The probable armament is 57-mm rockets, bombs, or AT-2C/ SWATTER ATGMs.
Mi-8VPK: The HIP D is an airborne com-munications platform with rectangular communication canisters mounted on weapons racks.
Mi-8TVK: The HIP E is used as a gunship or direct air support platform. Airframe modifications add 2x external hardpoints for a total of 6, and mount a flexible 12.7-mm machinegun in the nose. The probable armament is 57-mm rockets, bombs, or AT-2/SWATTER ATGMs.
Mi-8MT/MTV/MTB/-171-17: The HIP H is an upgraded medium assault/ transport version. The designation Mi-17 is for export; the Russian armed forces called it Mi-8MT. The Mi-17 can be recognized because it has the tail rotor at the starboard side, instead of the port side. See separate Mi-17 entry.
Mi-8SMV: The HIP J is an airborne jamming platform characterized by small boxes on the left side of the fuselage.
Mi-8PPA: The HIP K is an airborne jamming platform characterized by 6x "X"-shaped antennas on the aft fuselage.
Mi-9: The HIP G is an airborne command post characterized by antennas, and Doppler radar on tailboom.
The Mi-14 is a modification of Mi-8 for naval applications, mainly used against submarines. Mi-14 has a boat-like lower fuselage with pontoon on either side, retractable landing gear, a radar dome under the nose, and an internal weapons bay.
Comparison

Variant
Mi-8
Mi-17 Hip H
Engine
2 TV2-117, 1482 hp each
2 TV3-117VM 1900 hp each
Weight
11100-12000 kg
13000 kg
Maximum speed
230-250 km/h
250 km/h
Cruising speed
225 km/h
220 - 240 km/h
Service Ceiling
4500 m
6000 m
Specifications

Country of Origin
Russia
Builder
Mil
Date of Introduction
1967
Role
Armed assault-transport
Similar Aircraft
Puma, Mi-2 Hoplite, Super Frelon
Blades
Main rotor: 5
Tail rotor: 3

Rotor diameter
Main Rotor : 21.3 meters [70 ft]
Tail Rotor : 3.9 meters
Length
Length (rotors turning): 25.2 m
Length (fuselage): 18.2m [61 ft]
Height
18 ft 6 in ( 5.65 m)
Width
2.5 m
Cargo Compartment
Floor Length: 5.3 m
Width: 2.3 m
Height: 1.8 m
Weight
Maximum Gross: 12,000 kg
Normal Takeoff: 11,100 kg
Empty: 6,990 kg
Engine
2 TV2-117, 1482 hp each
Maximum speed
230-250 km/h
Cruising speed
122 kts (140 mph; 225 km/h)
Range
Maximum Load: 350 km
Normal Load: 460 km
With Aux Fuel: 950 km
Fuel
Internal: 445 liters
Internal Aux Tank: 915 liters ea.
External Fuel Tank: 745 liters in port tank,
680 liters in starboard tank
Service Ceiling
Service: 4,500 meters
Hover (out of ground effect): 800 meters
Hover (in ground effect): 1,900 meters

Vertical Climb Rate
9 m/s
Standard Payload
HIP C: 24 troops, or 3,000 kg internal or external loads on 4x hardpoints.
HIP E: 24 troops, or 4,000 kg internal or 3,000 kg external on 6x hardpoints.
HIP J/K: antennas on aft section of fuselage.
Armament
HIP E mounts a flexible 12.7-mm machinegun in the nose
2 - 7.62-mm or 1x 12.7-mm MG
4-6 - AT-2C Swatter or AT-3 Sagger ATGMs
4-6 - 57-mm rocket pods (16 each)
2 - 80-mm rocket pods (20 each)
4 - 250-kg bombs
2 - 500-kg bombs
2 - 12.7-mm MG pod
2 - Twin 23-mm gun pods
1,830 liters Additional fuel tanks
Loaded combat troops can fire personal weapons through windows from inside cabin.
Survivability/Countermeasures
Main and tail rotor blades electrically deiced.
Infrared jammer, chaff and flares.
AVIONICS
The Mi-8 is equipped with instruments and avionics allowing operation in day, night, and instrument meteorological conditions.
Crew
3 (2x pilots, 1x flight engineer)
Cost
$900,000 (1991 used)
$3,200,000 (new)
User Countries
At least 54 countries -- Armenia, Azerbaijan, Afghanistan, Algeria, Angola, Belarus, Bulgaria, Cambodia, CIS, Croatia, Cuba, Czech Republic, Egypt, Germany, Guyana, Hungary, Iran, Iraq, Madagascar, Mongolia, Mozambique, Nicaragua, North Yemen, People's Republic of China, Slovakia, SouthYemen, Sudan, Syria, Ukraine, Vietnam, Yugoslavia, Zambia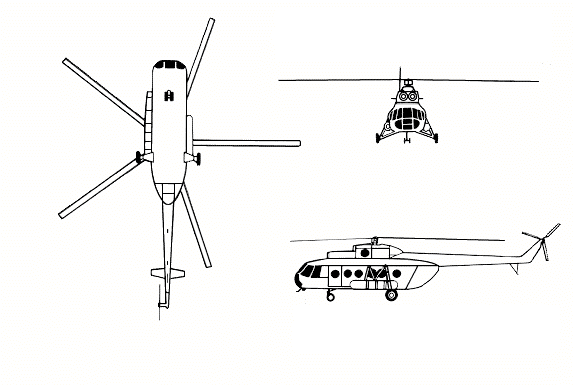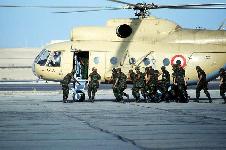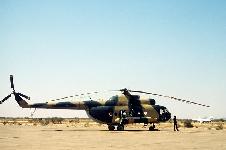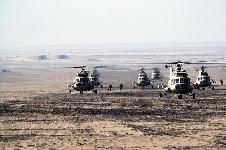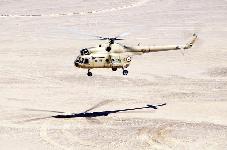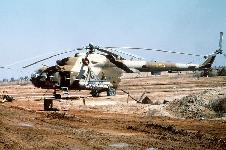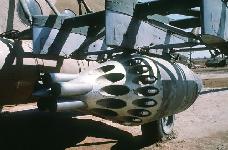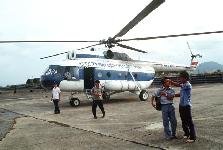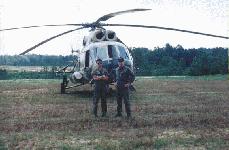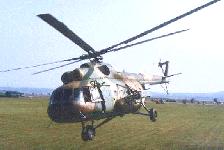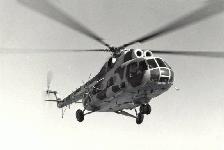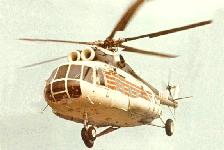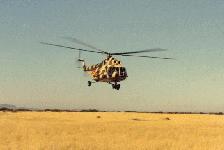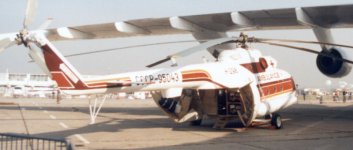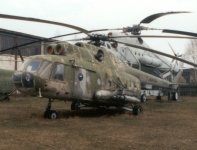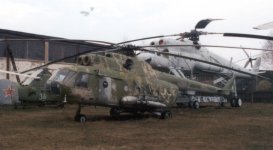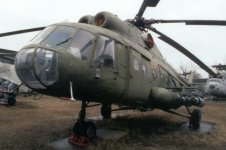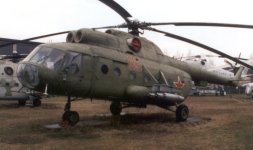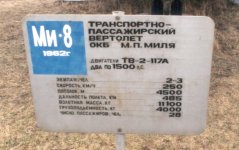 Sources and Resources
---
---
http://www.fas.org/man/dod-101/sys/ac/row/mi-8.htm
Maintained by Robert Sherman
Originally created by John Pike
Updated Saturday, June 17, 2000 3:09:30 PM