---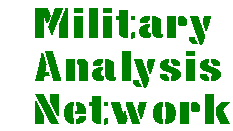 ---
HF-24 Marut
The Hindustan Aeronautics Limited HF-24 Marut fighter-bomber was built in India, based on a design by Kurt Tank, famous for his Focke-Wulf aircraft built for Germany during WWII. The Marut featured a small swept wing and excellent maneuverability. It had limited combat potential because of the low engine power, and could barely reach supersonic speeds in level flight. The first prototype flew on June 17, 1961, with a total of 147 aircraft built, including 18 two-seat HF-24 Mk 1Ts.

Delay in availability of the HF-24 Marut for the ground attack fighter mission led, in 1966, to the Indian Air Force [IAF evaluating and the Government purchasing the Sukhoi Su-7BM, deliveries of which from the Soviet Union were to commence in March 1968. As the sixties translated to the seventies, the IAF consolidated its expansion plans, attaining its 45-squadron goal. Obsolescent equipment was steadily withdrawn to be succeeded by increasing numbers of HF-24s, MiG-21FLs and SU-7BMs.

Indian planners anticipate that any future war with Pakistan will be a high-intensity, short-duration affair (partly because of diplomatic intervention by third parties). Consequently, the IAF is developing a powerful tactical strike force to facilitate rapid advances by ground elements. Offensive air support will be furnished by MiG-23BN and MiG-27 squadrons, augmented by the MiG-21M Fishbed-J and Ajeet (an upgraded version of the British Gnat). As of the mid-1980s aging Hawker Hunter Mk 56 and Sukhoi Su-7 fighter-bombers were being removed from the inventory. The HF-24 Marut served until 1985. The various development programmes to enhance the operational performance of the HF-24 Marut by HAL were abandoned for one reason or the other. The Government of India concluded an agreement with the Soviet Union for the MiG-23 variable-sweep fighter to meet the Tactical Air Strike Aircraft (TASA) requirement. Four squadrons, then flying the HF-24 and Sukhoi Su-7 were re-equipped with the MiG-23BN.
Specifications

Year:
1961
Crew:
1
Engines:
2 * 2200kg HAL/R.R. Orpheus Mk.703
Wing Span:
9.00m
Length:
15.87m
Height:
3.60m
Wing Area:
28m2
Empty Weight:
6195kg
Max. Weight:
10908kg
Speed:
1128km/h
Ceiling:
13750m
Range:
800km
Armament:
4*g30mm 48*r68mm 1814kg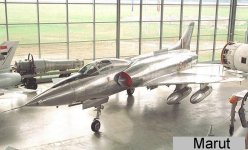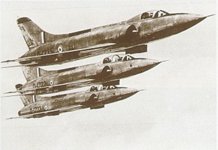 Sources and Resources
---
---
http://www.fas.org/man/dod-101/sys/ac/row/marut.htm
Maintained by Robert Sherman
Originally created by John Pike
Updated Saturday, June 17, 2000 2:57:06 PM