---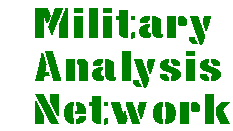 ---
J-8 (Jian-8 Fighter aircraft 8) / F-8
The J-8 was the first PLAAF aircraft of domestic design, with design work beginning in 1964. The overall configuration is a rather straightforward enlargement of the MiG-21/J-7 layout to accomodate two engines. Although it resembled Mikoyan's experimental Ye-152A, contrary to some early reports, it was not based on that aircraft. Production began in December 1979, with about 100-150 units of the first configuration entering service. Design work on the improved J-8-2 began in 1980, with production beginning in the late 1980. As with the cancelled "Super 7" upgrade to the single-engine J-7, the J-8-2 completely reworks the front end of the aircraft, adding a much larger radar and ventral air inlets, along with various other less pronounced improvements. The best that can be said of the J-8 is that once upgraded it will be no more than an advanced obsolete aircraft, comparable in configuration and aerodyanmic performance to the Su-15 FLAGON.
The Jian-8IIM upgrader, co-developed by China and Russia, is the result of a thorough modernization of the F-8M fighter ("M" standing for export-only weaponry in China's weapon designation system) and has actually become a new-generation fighter plane. The first flight of this version was conducted on 31 March 1996. It features upgraded electronics systems, the lack of which has disadvantaged China's fighter planes for a long time.
The J-8 and J-8II aircraft are trouble-prone aircraft with a poor weapon suite and an inefficient engine. At best, the J-8-II can be compared with an early model (1960s) US F-4 Phantom. In fact, after twenty-six years the J-8-II is still in the development stage, has resulted in only about 100 fighters deployed, and meets none of the requirements of the PLAN.
The twin-engined Jian-8IIM is claimed to be better equipped to survive damage than single-engined F-16A/C and Mirage 2000 series. The high-altitude high-speed performance of the Jian-8IIM is superior to the F-16A/C, F-18, and Mirage 2000; and its radar and electronic equipment are better than those of the F-16A and are similar to those of F-16C, F-18,and Mirage 2000-5. By using the new, powerful WP-13B engines, the Jian-8IIM fighter boasts greatly improved low-altitude maneuverability, which is slightly better than that of the F-18 and Mirage 2000-5, but still inferior to that of the F-16. The Jian-8IIM fighter will probably be equipped with Russia's or China's helmet sight and advanced PL-9 and P-73 missiles, with which it will outperform the F-16C in close-range air combat. Phazotron, a Russian firm, has signed contracts with China to provide 150-200 improved Zhuk radars mainly in support of China's new F-8II fighter, but also to equip the new Chengdu J-10 fighter. These radars have six times the data and signal processing power of the basic variant and greater detection range than the current 80KM. They can track while scanning on 24 targets, display up to 8 of them, and simultaneously provide fire-control solutions for 2-4 of them.
The Jian-8IIM does not use large amounts of expensive composite material and titanium alloy, and it is not equipped with complicated maneuverable flaps, as found on the F-7MG and F-16. Consequently, although their combat capabilities are similar, the Jian-8IIM is much cheaper than the F-16C. Though mature and reliable, the Jian-8IIM is rather cumbersome. With a fuel load exceeding that of the F-16, its operating range is shorter than that of the latter. However, if specified by a customer, the Jian-8IIM could incorporate composite material, titanium alloy, and maneuverable flaps to further enhance its maneuverability and expand its external storage capacity and radius of action.
Specifications

Country
People's Republic of China (PRC)
Designation
Jian-8 Finback
Type
Intercept
Builder
Shenyang Aircraft
Wing Span
30 ft in ( 9.3 m)
Length
70 ft 10 in (21.6 m)
Height
17 ft 9 in ( 5.4 m)
Weight
21,600 lb ( 9,820 kg) empty
31,500 lb (14,300 kg) normal takeoff
39,200 lb (17,800 kg) max takeoff
Engine
2 Wopen 13A-II turbojets @ 14,815 lbst thrust
Maximum speed
1,450 mph / 2,340 km/h / Mach 2.2
Cruising speed
800 mph / 1,300 km/h
Ceiling
18-20,000 meters
Range
700 nm / 1300 km cruise radius (est.)
Internal Fuel
3994 kg
Drop Tanks
480 L drop tank with 383kg of fuel for 34nm range
800 L drop tank with 639kg of fuel for 56nm range
In-Flight Refueling
No
Payload
Crew
One
Sensors
Izmurd raging radar, RWR, Ballistic bomb sight. Will be upgraded with APG-66 radar
Armament
2 23mm Cannon (J-8 only; not found on J-8II)
1 underfuselage hardpoint
6 underwing hardpoints for fuel, bombs, rockets, or missiles
4 PL-2 or PL-7 and 800 L drop tank (680 nm)
2 PL-2 or PL-7 and 2 480 L drop tank and 1 800 L drop tank (741nm)
Inventory
Basing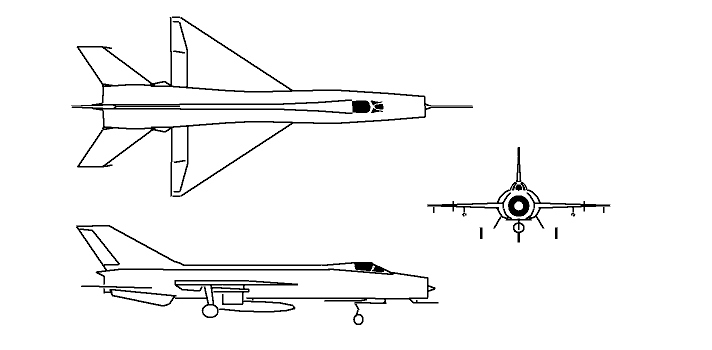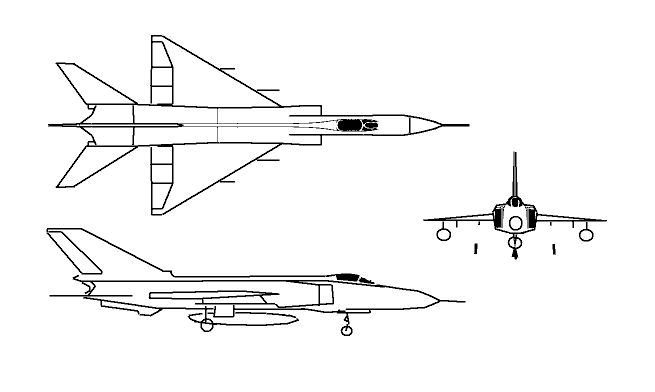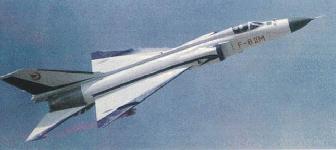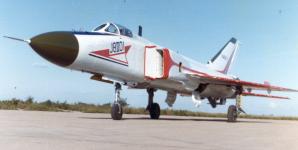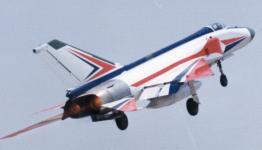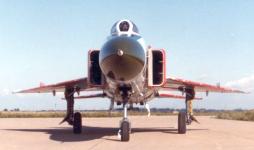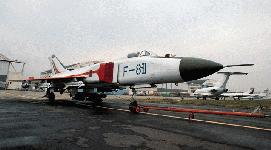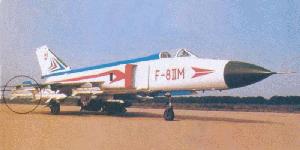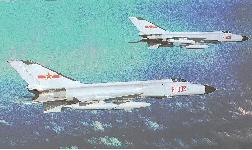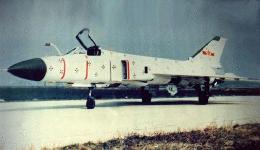 Sources and Resources
"China Makes Public New Sophisticated Weapons" by Yuan Lin - Hong Kong Kuang Chiao Ching 16 Dec 96 No 291, pp 72-74 [Hong Kong Journal on New Weapons : FBIS-CHI-97-015 : 16 Dec 1996]
---
---
http://www.fas.org/man/dod-101/sys/ac/row/j-8.htm
Created by John Pike
Maintained by Steven Aftergood
Updated Monday, June 26, 2000 2:05:40 PM