---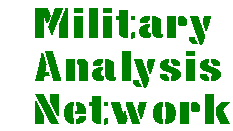 ---
Hawk - British Aerospace
The British Aerospace Hawk is a light-attack and trainer similar to the Alpha Jet, M.B.326, AMX, F-5 Freedom Fighter. Through a continuing update and modernization program, the 20-year old Hawk is still known as one of the world's best advanced trainers and light-attack aircraft. With a crew of two, if features low-mounted, swept-back wings that are tapered with curved tips. One turbofan engine is located inside the body, with semicircular air intakes alongside the body forward of the wing roots and a single exhaust. The top line of the fuselage curves up from the pointed nose to incorporate the long clear cockpit canopy then slopes down to the jetpipe, giving a humped appearance, with slightly-swept vertical and horizontal tail surfaces.

The maximum level speed of the Hawk is over 1000 km/h and the aircraft can attain supersonic speed (M1.2) in a dive. The Royal Air Force bought 175 Hawk Mk T1 aircraft in the late 70's. RAF Hawks are used in advanced jet and weapons training. US Navy and USMC train pilots with a T-45 Goshawk derivative of the basic BAe Hawk. Other user countries include Brunei, Finland, Indonesia, Kenya, Kuwait, Malaysia, Oman, Saudi Arabia, South Korea, and United Arab Emirates.

In the current RAF training programme, the Hawk T1 is the first jet aircraft that a student pilot will fly. An advanced, and very successful trainer, Hawk is used to teach operational tactics, air-to-air and air-to-ground firing, air combat and low-level operating procedures. To supplement the Tornado F3 force, a number of Hawk T1A advanced trainers have an additional task as point defence fighters. In this role, the aircraft carry two Sidewinder air-to-air missiles and a 30mm Aden cannon. The RAF's Aerobatic Team, the Red Arrows, operate the Hawk T1A, and in time of war or crisis would also carry out the point defence fighter role.
Specifications

Country of Origin
UK
Builder
British Aerospace
Role
Light-attack, trainer
Similar Aircraft
Alpha Jet, M.B.326, AMX, F-5 Freedom Fighter
Wing Span
31 ft (9.42 m)
Length
39 ft (11.94 m)
Height
Weight
Engine
One Rolls-Royce/Turbomeca Adour Mk 151 turbofan of 5,200lb st.
Maximum speed
622mph (1,000km/h) at sea level
Cruising speed
Range
Service Ceiling
Armament
Hawk T1
One 30mm Aden cannon pack and
up to 5,600lb (2,540kg) of underwing stores (rockets, bombs and missiles) T1A - in addition has inboard pylons for

Sidewinder AIM-9 air-to-air missiles.
Crew
Two
Cost
User Countries
Brunei, Finland, Indonesia, Kenya, Kuwait, Malaysia, Oman, Saudi Arabia, South Korea, United Arab Emirates, UK, USA (T-45 Goshawk).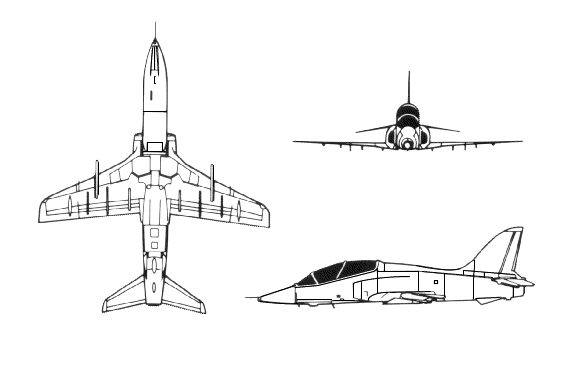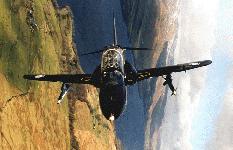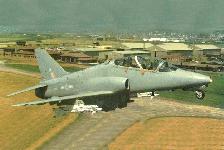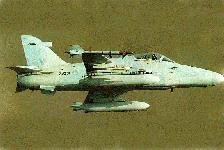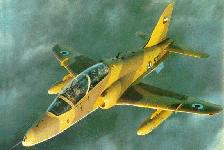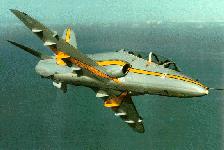 Sources and Resources
---
---
http://www.fas.org/man/dod-101/sys/ac/row/hawk.htm
Maintained by Robert Sherman
Originally created by John Pike
Updated Thursday, March 11, 1999 7:47:49 PM