---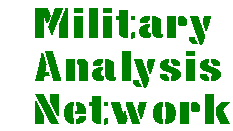 ---
EC 635 - Light Utility Helicopter (LUH)
The EC 635 - Light Utility Helicopter (LUH) is the military version of the EC 135 and applies the same technology. It is built by the EUROCOPTER Group, owned 70% by AEROSPATIALE France and 30% by Daimler Aerospace (DASA) of Germany. The EC 635 is a light-weight twin-engined, eight seats multi - role helicopter with wide use of composite material and crashworthy designed seats and fuel system. New generation high set main rotor and shrouded tail rotor systems (Fenestron type) provide low noise and safe operation. High operational efficiency, adverse weather day / night operations, high performance with power reserve and an advanced maintenance concept are among the key features of the EC 635. The military EC 635 is offered with two powerplant options. The FADEC controlled Turbomeca Arrius 2B1 or the Pratt & Whitney 206B engines provide fast cruising speed and long range. Utilising the aircraft's inherent multi - role capability the EC 635 is suited for military and para - military operations as utility, training, troop transport, reconnaissance and SAR. The helicopter's cabin is accessible through side sliding doors and two large rear clam-shell doors, is particularly suited for disaster relief missions and humanitarian aid.
Specifications

CHARACTERISTICS (Sea level, ISA)
EC 635 P1 ARMY
EC 635 T1 ARMY
Maximum weight
2,835 kg/6,250 lb Alternate gross-weight 2,900 kg/6,400 lb
2,835 kg/6,250 lb Alternate gross-weight 2,900 kg/6,400 lb
Capacity
1 pil.+7/8 sold. or 2 pil.+6/7 sold.
1 pil.+7/8 sold. or 2 pil.+6/7 sold.
Maximum useful load (including mission fuel)
1,380 kg/3,042 lb
1,380 kg/3,042 lb
Sling load capacity
1,360 kg/3,000 lb
1,360 kg/3,000 lb
Maximal operational weight with external load
2,900kg/6,400 lb
2,900kg/6,400 lb
Power plant
2 X Pratt & Whitney PW 206B
2 X TURBOMECA ARRIUS 2B1
Take-off power (A.E.O.)
528 kW/708shp
530 kW/711 shp
Maximal continuous power (A.E.O.)
419 kW/562shp
425kW/570 shp
Fast cruise speed ( at maximum weight)
260 km/h-140 kts
260 km/h-140 kts
Maximum range with standard tank(s)*
685 km-370 n.m.
675 km-365 n.m.
*With take-off at maximal weight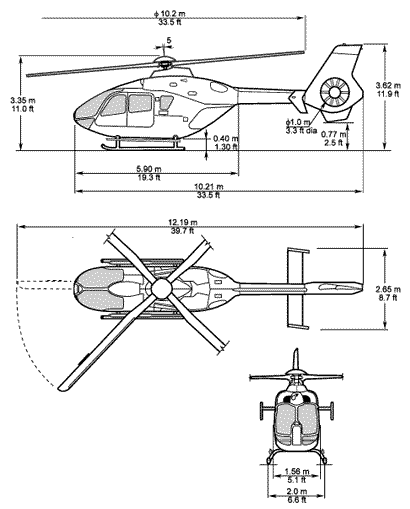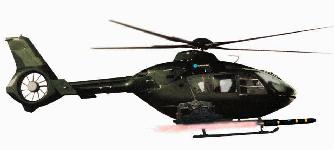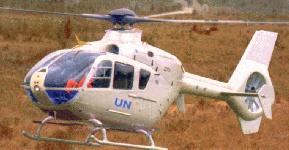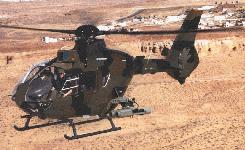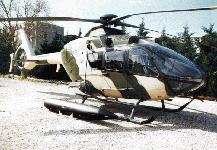 Sources and Resources
---
---
http://www.fas.org/man/dod-101/sys/ac/row/ec635.htm
Maintained by Robert Sherman
Originally created by John Pike
Updated Tuesday, September 21, 1999 10:18:15 AM