---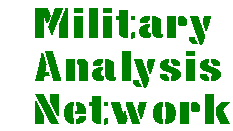 ---
AS 565 Panther
SA 360 Dauphin 2
Z-9
The Dauphin 2 is a medium weight multipurpose civil twin-engine helicopter. The Dauphin 2 is the military version of the Dauphin series. It is a complete redesign of the civilian Dauphin with only tail similarities remaining. The Dauphin 2 also has retractable landing gear as opposed to the fixed gear on the civilian Dauphin. It is built by the EUROCOPTER Group, owned 70% by AEROSPATIALE France and 30% by Daimler Aerospace (DASA) of Germany.

First flown in 1973, this single engined utility helicopter was used in a variety of roles including helicopter gunship/attack. Designed for transporting passengers (Offshore, corporate or VIP) and for carrying out missions in the Public Services (Police, Fire- fighting). The AS 565 Panther is the military version of the Dauphin, capable of transporting 8 to 10 commandos to the combat zones, casualty evacuation and logisitic support. The AS 565 SB is the armed version of the shipborne Panther. It can be carried on board a combat vessel to improve the vessel's observation, reconnaissance and attack capabilities well beyond the range of the vessel's detection system.

With a four-blade main rotor, two turboshaft engines are ounted side by side on top of the cabin with an air intake on side of motor hump and exhausts at the rear of the hump. The teardrop-shaped body features a tapered boom to the tail fin, a rounded nose and stepped-up cockpit, and retractable gear and flat bottom. The tail flats feature swept-back tips forward of the swept-back and tapered fin with a blunt tip. The rotor is inside a housing at the bottom of the fin. A weapons carrying platform is installed on some models.
Specifications

Country of Origin
France
Builder
AEROSPATIALE
Role
Assault-transport (8 to 10 troops), utility, attack
Similar Aircraft
Lynx, Gazelle, Hirundo A109
Rotor diameter
39 ft, 2 in (11.94 m)
Length
37 ft, 6 in (11.43 m)
Height
Weight
4,300 kg/9,480 lb
Engine
2 TURBOMECA ARRIEL 2 C
Maximum speed
Cruising speed
275 km/h-148kts
Range
814km-440 n.m.
Service Ceiling
Armament
Rockets, antitank missiles on SA 365M model
4 Aerospatiale AS 15 TT missiles on AS 565 SB
Crew
Normally two. Three with crew chief
Cost
User Countries
France, People's Republic of China (Z-9), USA
more than 600 of the Dauphin/Panther family of machines have been sold to more than 170 customers in 50 different countries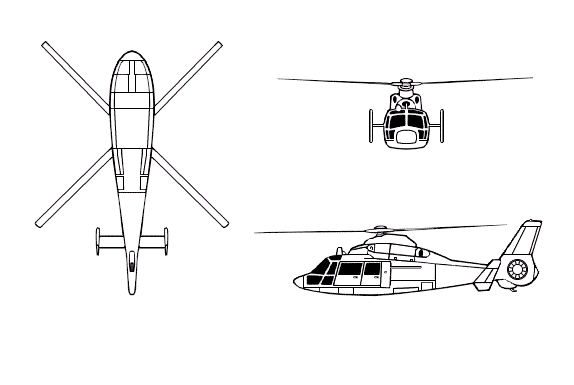 Sources and Resources
---
---
http://www.fas.org/man/dod-101/sys/ac/row/dauphin.htm
Maintained by Robert Sherman
Originally created by John Pike
Updated Tuesday, September 21, 1999 10:18:15 AM