---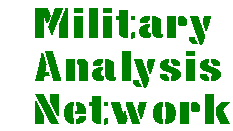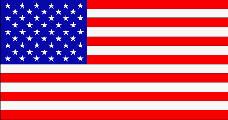 ---
F-5 Freedom Fighter / Tiger
The development of the Northrop F-5 began in 1954 when a Northrop team toured Europe and Asia to examine the defense needs of NATO and SEATO countries. A 1955 company design study for a lightweight supersonic fighter that would be relatively inexpensive, easy to maintain, and capable of operating out of short runways. The Air Force did not initially look favorably upon the proposal, since it did not need for a lightweight fighter. However, it did need a new trainer to replace the Lockheed T-33, and in June of 1956 the Air Force announced that it was going to acquire the trainer version, the T-38 Talon. On April 25, 1962, the Department of Defense announced that it had chosen the aircraft for its Military Assistance Program (MAP). America's NATO and SEATO allies would now be able to acquire a supersonic warplane of world-class quality at a reasonable cost. On August 9, 1962 the aircraft was given the official designation of F-5A Freedom Fighter. Optimized for the air-to-ground role, the F-5A had only a very limited air-to-air capability, and was not equipped with a fire-control radar. The F-5B was the two-seat version of the F-5A. It was generally similar to the single-seat F-5A but had two seats in tandem for dual fighter/trainer duties.

Although all F-5A production was intended for MAP, in October 1965, the USAF "borrowed" 12 combat-ready F-5As from MAP supplies and sent them to Vietnem with the 4503rd Tactical Fighter Wing for operational service trials. This program was given the code name of *Skoshi Tiger" ("little" Tiger). and it was during this tour of duty that the F-5 picked up its Tiger nickname.

On November 20, 1970, the Northrop entry was declared the winner of the IFA (International Fighter Aircraft) to be the F-5A/B's successor. The emphasis was be on the air-superiority role for nations faced with threats from opponents operating late-generation MiG-21s. An order was placed for five development and 325 production aircraft. In January of 1971, it was reclassified as F-5E. The aircraft came to be known as *Tiger II*

The US Navy Fighter Weapons School (the so-called "Top Gun" school) at NAS Miramar acquired a total of ten F-5Es and three F-5Fs for dissimilar air combat training. Because of the F-5's characteristics, which were similar to the MiG-21, was used as 'agressor' aircraft, equipping the FWS and VF-126 at NAS Miramar, plus VF-43 at NAS Oceana. All three units later disposed of their Tiger IIs in favor of the General Dynamics F-16N. These Tiger IIs were passed on to VF-95 at NAS Key West and VFA-127 at NAS Fallon. During FY 1996, VFC-13 moved from NAS Miramar, CA, to NAS Fallon, NV, and transitioned from 12 F/A-18 to 25 F-5 aircraft. VFC-13's flight hour program will increase to offset the scheduled decommissioning of the two remaining Active Component adversary squadrons, VF-45 and VFA-127. This transition to the F-5 adversary aircraft will provide Active and Reserve Navy pilots with air-to-air combat training at significant savings to the taxpayer. Recent estimates show that the F-5 can be operated at one third of what it costs to operate an F/A-18.
Specifications

F-5A Freedom Figher
F-5E Tiger II
Engines
Two General Electric J85-GE-13 turbojets,
rated at 2720 lb.s.t., 4080 lb.s.t. with afterburning.
Two General Electric J85-GE-21A turbojets, 5000 lb.s.t. with afterburning.
Maximum speed
925 mph (Mach 1.4) at 36,000 feet.
Maximum cruising speed: 640 mph (Mach 0.97) at 36,000 feet
Maximum cruising speed without afterburning: Mach 0.98 at 36,000 feet.
Service ceiling
50,500 feet.
51,800 feet
Range
with maximum fuel -- 1387 miles.
Combat radius with maximum payload -- 195 miles
Combat radius with maximum fuel and two 530-pound bombs 558 miles.
with maximum fuel -- 1543 miles
Combat radius with maximum fuel and 2 Sidewinder missiles -- 656 miles.
wingspan
25 feet 3 inches,
26 feet 8 inches
length
47 feet 2 inches,
48 feet 2 inches
height
13 feet 2 inches,
13 feet 4 inches
wing area
170 square feet.
186 square feet
Weights:
8085 pounds empty,
11,477 pounds combat,
13,433 pounds gross,
20,677 pounds maximum takeoff
9683 pounds empty, 13,350 pounds combat, 15,745 pounds gross, 24,676 pounds maximum takeoff.
Armament
two 20-mm cannon
in the fuselage nose. Two AIM-9 Sidewinderat the wingtips
Five pylons carry up to 6200 pounds of ordinance or fuel tanks
loads can include four air-to-air missiles, Bullpup air-to-surface missiles, bombs, up to 20 unguided rockets, or external fuel tanks.
two 20-mm M39A2 cannon with 280 rpg
two AIM-9 Sidewinder missiles at wingtips
Five pylons can carry up to 7000 pounds of ordnance or fuel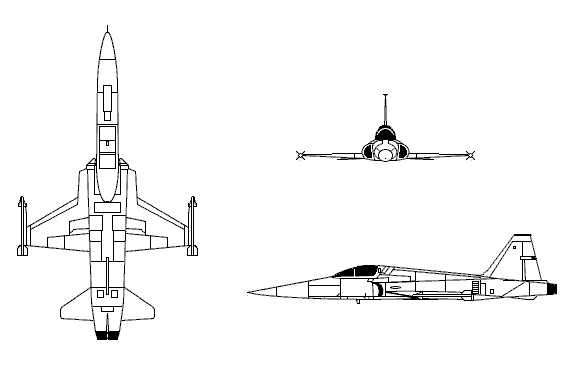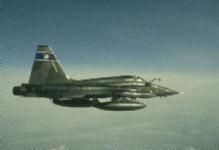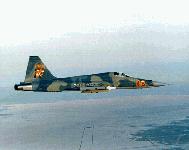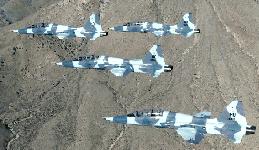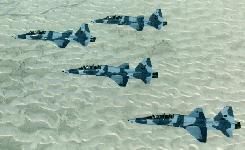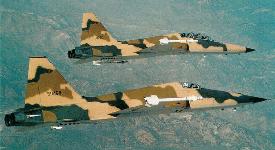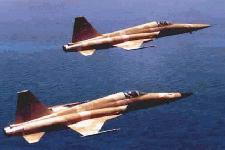 Sources and Resources
Testing may give F-5E longer lease on life Tester February 26, 1997 -- Recently, the algorithms used by NavAir to monitor F-5 fatigue life expended (FLE) were updated. The new algorithms unfortunately resulted in a significant life reduction from what had previously been expected.

Northrop F-5 Joe Baugher's American Military Aircraft Encyclopedia
---
---
http://www.fas.org/man/dod-101/sys/ac/f-5.htm
Maintained by Robert Sherman
Originally created by John Pike
Updated Monday, December 27, 1999 5:25:18 PM