First WC-130J delivered to Air Force
Released: 14 Oct 1999
---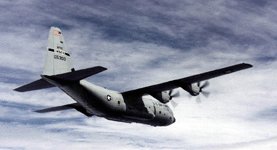 The Air Force accepted its first WC-130J Oct. 12. The new weatherbird can fly higher, faster and farther than any of its other C-130 predecessors. (Courtesy photo)



by 1st Lt. Dave Huxsoll
Aeronautical Systems Center Public Affairs
WRIGHT-PATTERSON AIR FORCE BASE, Ohio (AFPN) -- The Air Force took delivery of its first WC-130J aircraft Oct. 12.
The aircraft is assigned to the Air Force Reserve Command's 53rd Weather Reconnaissance Squadron at Keesler Air Force Base, Miss. Six others are scheduled for delivery to the base this year, and three more in 2000.
The WC-130J Hercules is a special weather reconnaissance version of the new Lockheed Martin C-130J cargo plane. Its mission is to fly into the eye of hurricanes to retrieve critical information about active storms. The 53rd WRS, a component of the 403rd Wing, is the only unit in the Department of Defense that flies this mission. The WC-130J program is managed by the C-130J Development System Office here.
In September 1998 the C-130J DSO signed a contract with Lockheed Martin Aeronautical Systems, Marietta, Ga., to modify six C-130Js to the "W," or weather, configuration. This involved installing and integrating special avionics and weather sensors, as well as making structural modifications. The DSO later exercised contract options to modify an additional four C-130J aircraft. The contract to modify all ten aircraft is valued at $62.9 million.
The WC-130Js will replace the squadron's fleet of ten WC-130H-model aircraft. The J models are based on the familiar C-130 platform that the Air Force has flown for more than 40 years, but with many improvements, including new engines and avionics, as well as the addition of two mission computers and two head-up displays.
All of this will enhance the crew's ability to perform its mission, said Capt. Pat Bowar, WC-130J program manager.
"The new weatherbird will be able to fly higher, faster and farther than its predecessor," he explained. The C-130J's Allison AE2100D3 engines generate 29 percent more thrust and increase fuel efficiency by 15 percent over the older models, while bringing the aircraft to a cruising altitude of 28,000 feet in 14 minutes. Standard C-130J "glass cockpit" avionics and computer software automate many tasks, allowing crewmembers to spend more time on the mission.
Sensors mounted on the outside of WC-130Js provide real-time temperature, humidity, barometric pressure, radar-measured altitude, wind speed and direction. These are used to calculate a complete weather observation every 30 seconds. These aircraft also deploy dropsondes, instruments ejected out the aircraft and deployed by parachute through the storm to the sea. During descent, they gather real-time weather data and relay it back to the aircraft.
This information is transmitted by satellite directly to the National Hurricane Center for input into the national weather data networks. Forecasters use the data to better predict the path of a storm or hurricane.

RELATED SITES

* C-130 Hercules
* Aeronautical Systems Center
* Air Force Reserve Command
* Keesler Air Force Base, Miss.
* Wright-Patterson Air Force Base, Ohio