---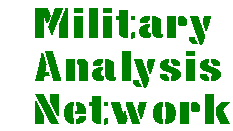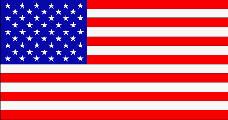 ---
A-7 Corsair II
Built originally on the airframe of the F-8U Crusader, the A-7 underwent a number of modifications since its 1965 introduction. The A-7 Corsair II, which is retired, was used by TAC for close air support attack missions. The A-7E was the final fleet version of the A-7. After more than two decades of service, however, it was replaced by the F/A-18 Hornet.The A-7E had a 20mm gun and can carry payloads of up to 15,000 pounds of bombs and missiles. Eight ordnance stations were available. A-7E Corsair IIs were part of the two-carrier battle group that conducted a joint strike on selected Libyan terrorist-related targets in 1986. Together with carrier-based F/A-18s, A-7s used anti-radiation missiles to neutralize Libyan air defenses.

F/A-18s replaced A-7Es in the carrier air wing mix. The last two squadrons transitioned in FY 1992. Replacing A-7s with F/A-18s gave operational commanders more flexibility by allowing them to employ the F/A-18s in either the fighter or attack role. Also, a smaller number of aircraft (85) are needed in an F/A-18 equipped carrier air wing than in an A-7E equipped carrier air wing (94).
Specifications

Contractor
Ling-Temco-Vought (Prime, now Northrop Grumman Corp.)
Power Plant
Single Allison/Rolls Royce TF41-A-400 non-afterburning turbofan engine with a static thrust rating of 15,000 pounds
Accommodations
A-7E Pilot only
TA-7C Two seats
Performance (A-7E/TA/7C)
Maximum speed at 20,000 feet Mach .94
Range greater than 1,900 nautical miles
Avionics & Countermeasures
APQ-126 multi-mode nav/attack radar [Texas Instruments]
AVQ-7 raster HUD
ASN-91 INS, ASN-190 Doppler navigation system
ASU-99 projected map display

ALR-45 RWR
ALR-50 SAM warning system [Magnavox]
ALQ-126 ECM [ Sanders]
APR-43 tactical radar warning system [Loral]

ALQ-119 ECM [Westinghouse]
ALQ-131 ECM [Westinghouse]
ALQ-123 IR countermeasures [Xerox]
ALQ-126 DECM [Sanders]
ALQ-162 tactical communications jammer [Eaton AIL]
ALQ-162 radar jammer Northrup
Armament (A-7E/TA-7C)
One internally mounted M61A1 20 mm six barrel cannon
Six wing pylons
Two fuselage launch stations
Pylons can carry a large single weapon, multiple racks capable of six weapons per rack, or triple racks with three weapons per rack.
Can carry 15,000 pounds of payload
Compatible with practically all first line ordnance used by the U.S./USAF/NATO.
Mission and Capabilities
Modern, sophisticated, integrated, highly versatile airborne weapon system platform
Capable of performing a variety of search, surveillance, and attack missions
Can carry four externally wing-mounted 300 gallon fuel tanks, coupled with a variety of ordnance on remaining stations.
Can conduct in-flight refueling operations
Capable of transferring more than 12,000 pounds of fuel
Fully integrated digital navigation/weapon delivery system is common to all current USN/USAF attack aircraft.
Avionics system—which is based on state-of-the-art electronics, digital computing techniques, and an automation philosophy—provides unparalleled mission effectiveness and flexibility.
The Forward Looking Infrared (FLIR) capability means the A-7's night attack accuracy is equivalent to day attack accuracy.
Consistently capable of delivering bombs with an accuracy of less than 10 mils Circular Error Probable (CEP) and guns at less than 5 mils CEP.
During Desert Storm, demonstrated more than 95% operational readiness and did not miss a single combat sortie.
Has flown more than 120,000 combat sorties and provided unprecedented response in Vietnam, Libya, Grenada, Panama, and Desert Storm.
Survivability is enhanced via armor plating in critical areas and a state-of-the art DECM.
Modernized with a new solid-state rate gyro assembly in the Automatic Flight Control System and a wing enhancement program that virtually eliminates flight hours as a constraint for measuring aircraft service life.
Average scheduled/unscheduled direct maintenance man hours per flight hour is 11.
External Dimensions:

| | |
| --- | --- |
| Wing Span | 11.8m |
| Wing span over missiles | |
| Wing chord: at root | 4.72m |
| Wing chord: at tip | 1.18m |
| Wing aspect ratio | 4 |
| Width, wings folded | 7.24m |
| Length overall | 14.06m |
| Height overall | 4.90m |
| Tailplane span | 5.52m |
| Distance between fin tips | |
| Wheel track | 2.90m |
| Wheelbase | |

Areas:

| | |
| --- | --- |
| Wings, gross | 34.83m2 |
| Ailerons (total) | 1.85m2 |
| Leading-edge flaps (total) | 3.46m2 |
| Trailing-edge flaps (total) | 4.04m2 |
| Vert Tail Services (total) | |
| Horz Tail Services (total) | |
| Tailerons (total) | |

Weights and Loadings:

Weight empty
8,676kg
Maximum fuel weight
Maximum external stores load
Take off weight (normal)

Fighter mission

Attack mission

Maximum

Maximum wing loading (attack mission)

Performance (At Maximum Takeoff Weight of 19,050kg):

Max level speed @ S.L.
600 knots
Max speed, intermediate power
Approach speed
T-O run @ maximum take-off weight of 1,705m
Minimum wind over deck:

Launching

Recovery

Combat radius, interdiction, hi-lo-lo-hi
Combat endurance, CAP 150 nm
from aircraft carrier
Ferry range, unrefueled w/max internal & external fuel
2,485nm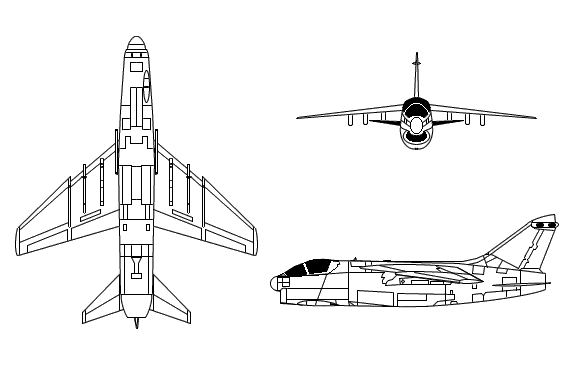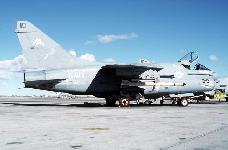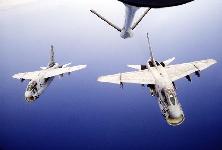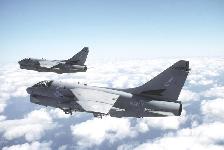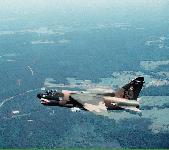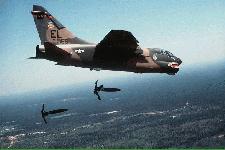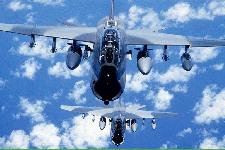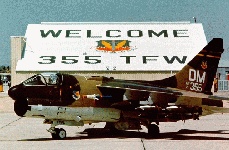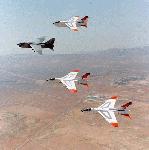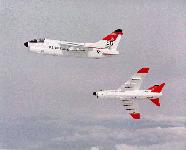 Sources and Resources
---
---
http://www.fas.org/man/dod-101/sys/ac/a-7.htm
Maintained by Robert Sherman
Originally created by John Pike
Updated Friday, December 25, 1998 2:27:23 PM